Resources for Garden Clubs
Use these photos and text to let your members, friends, and family know about your club's partnership with Garden Design.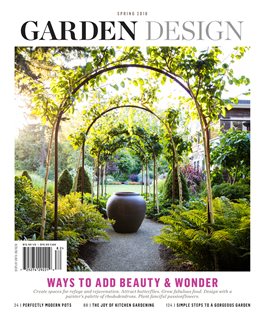 Always include the cover image in your promotion. Click on the cover to download the cover image of our current Spring 2018 issue. Do the same for the photos below. The cover photo does not need a photo credit.
Thank you for being a garden club partner with us!
Below are photos and text you can use in your newsletter or on your social media accounts to let people know about your special offer (first issue free plus $12 donated back to your club with every new subscription).
You can cut down the text as needed, but always credit the photographer and link to your club's offer.
If you ever have any questions, please email Dayna or Linda or call 855-624-5110 (Monday-Friday, 8am-5pm PST).
Here is text you can use; don't forget to insert your club's name and special offer link*:
If you don't get Garden Design yet, the Spring 2018 issue is a great one to start off with! Friends of CLUB NAME get their first issue free when they subscribe, plus $12 will be donated to CLUB NAME! Go online to SPECIAL LINK or call (855) 624-5110 (Monday - Friday, 8 - 5 PST) and mention this offer.
* If you are unsure of your special link, please contact Dayna or Linda.
Highlights from the Spring 2018 issue:
Always include an image of the magazine cover in your newsletter promotion. In addition to the cover, here are stories you can highlight for this issue.
Click on the photos below to download and share in your newsletter or on social media pages. Please make sure to always credit the photographer and link to your offer page.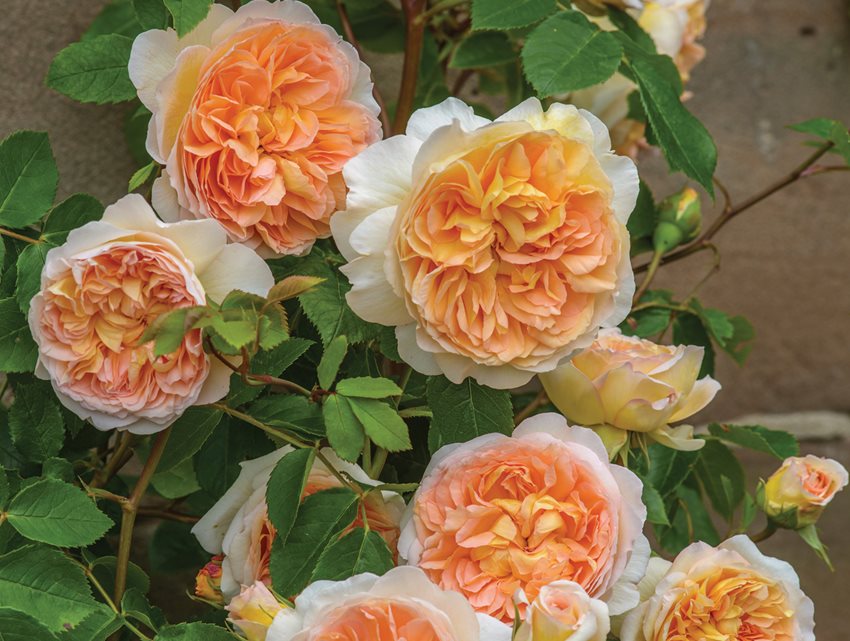 See three new roses from David Austin Roses that are sure to delight gardeners in Zones 5 through 9 in the Spring 2018 issue of Garden Design. Photo by David Austin Roses.
Click to download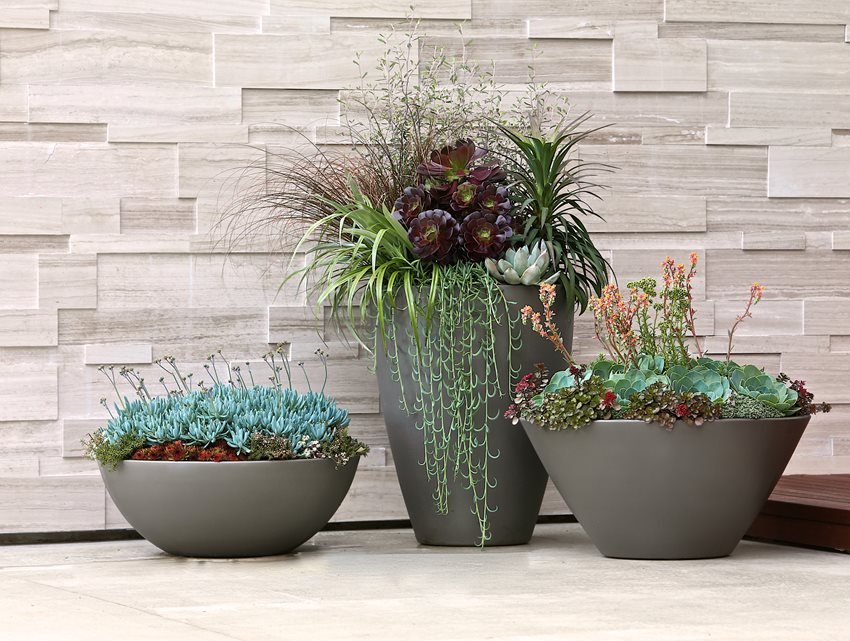 Todd Holloway of Pot Incorporated designs sleek, modern planters that set off his dramatic plant combinations. Like a frame around a painting, Holloway's planters complement what's in them. Learn how he began creating pots and get his tips for planting a well-designed container in the Spring 2018 issue of Garden Design. Photo by Todd Holloway.
Click to download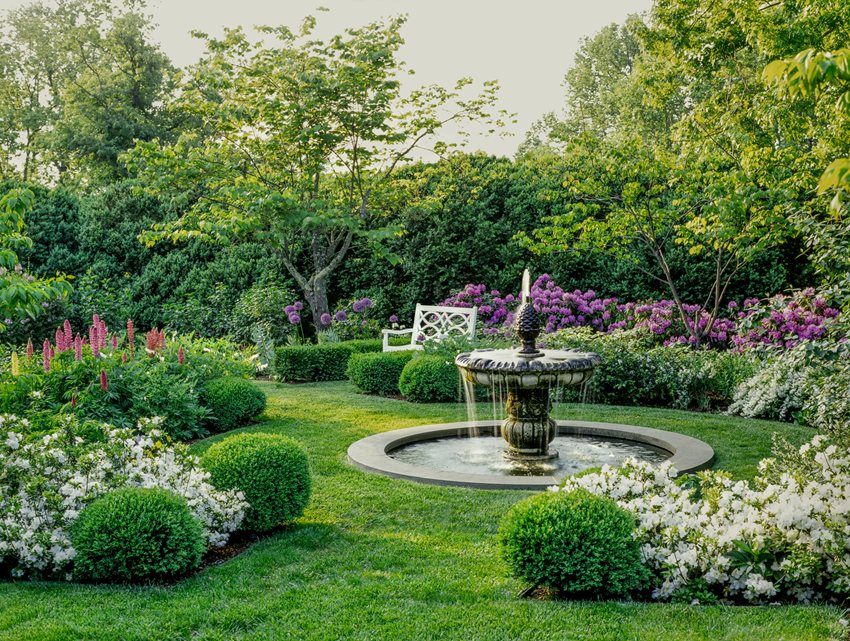 Rhododendron 'English Roseum' (far right, purple) is touted for its high tolerance of sun, cold, and humidity. It produces dome-shaped clusters of 8 to 10 lilac-rose flowers. Its glossy leaves reach 6 inches long. This dense shrub grows to about 6 feet tall and wide and does well in Zones 4-8. See 29 more rhododendron varieties in the Spring 2018 issue of Garden Design. Photo by Roger Foley.
Click to download
Exotic-looking passionflowers bring flowers, fragrance, fruit, and butterflies to the garden. See 17 stunning varieties in the Spring 2018 issue of Garden Design. Photo by Ngoc Minh Ngo.
Click to download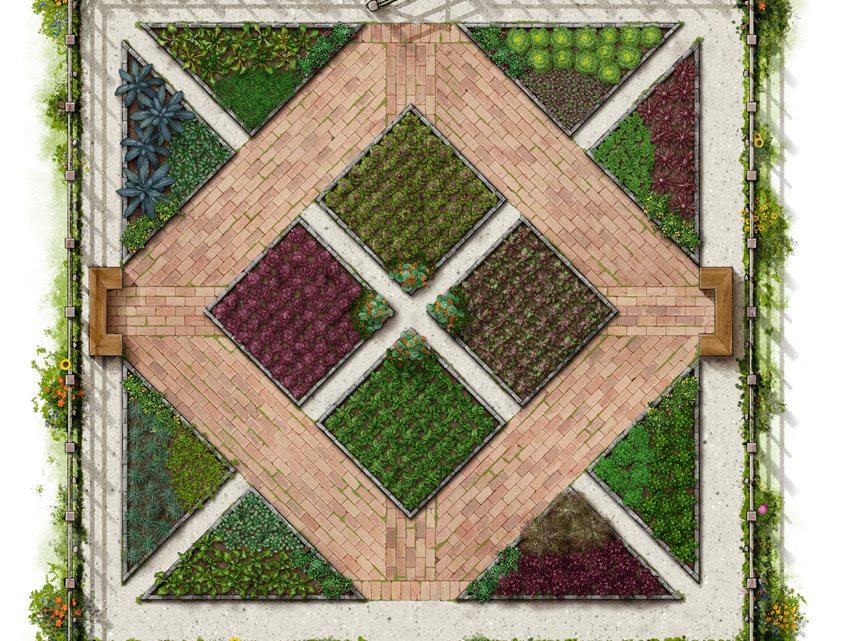 "Once you taste a carrot freshly pulled from the soil or a pepper twisted off a green stem, there is no turning back." Says author and gardener Ellen Ecker Ogden of edible gardening. Ogden designed two beautiful edible garden plans (with suggested plants and everything) for Garden Design readers. See both of them in the Spring 2018 issue of Garden Design. Illustration by Irene Laschi.
Click to download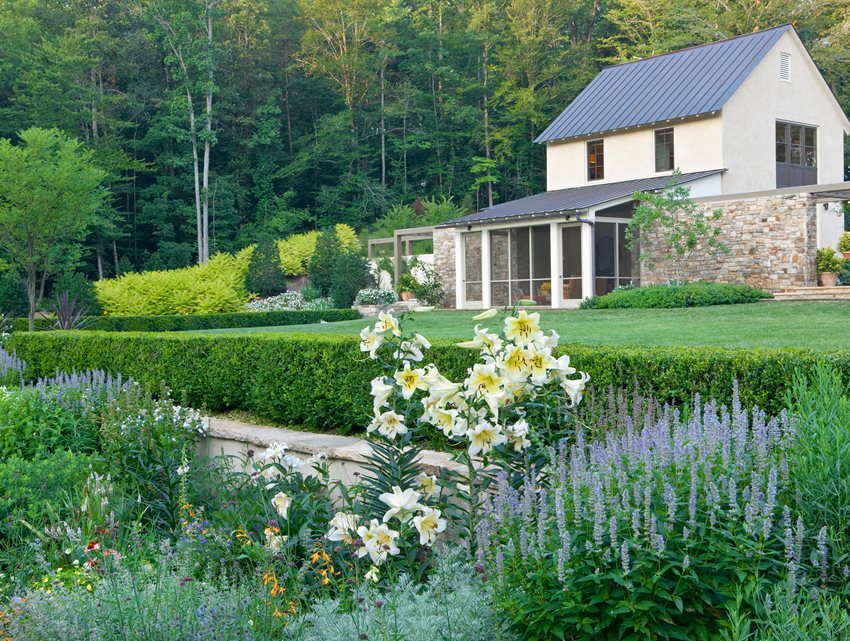 See how one landscape architect blurred the lines between inside and out at his Virginia retreat, far from the crowds in the Spring 2018 issue of Garden Design. Photo by Roger Foley.
Click to download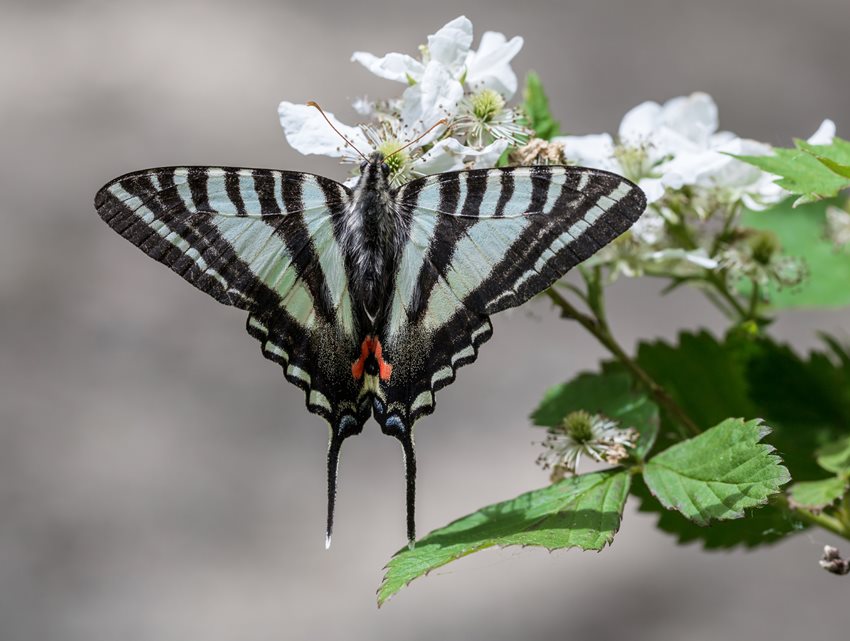 Our butterflies need more than plants for nectar—they must have larval host plants to survive. Learn what entomologist Doug Tallamy suggests you can do to help the butterflies in your garden in our Spring 2018 issue of Garden Design. No photo credit needed.
Click to download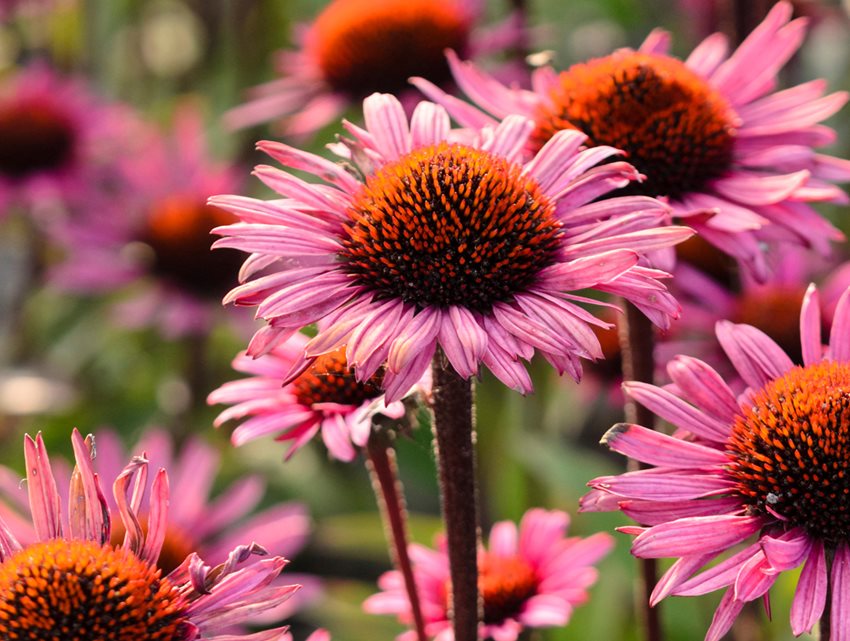 Echinacea purpurea 'Fatal Attraction' is one of eight deer-resistant U.S.-native plants that are part of the meadow garden designed by Piet Oudolf at the Delaware Botanic Gardens. See more of this garden (and learn how a group of garden- and nature-lovers got Oudolf to design the new garden's meadow!) in the Spring 2018 issue of Garden Design. Photo by Steffen Hauser botanikfoto Alamy.
Click to download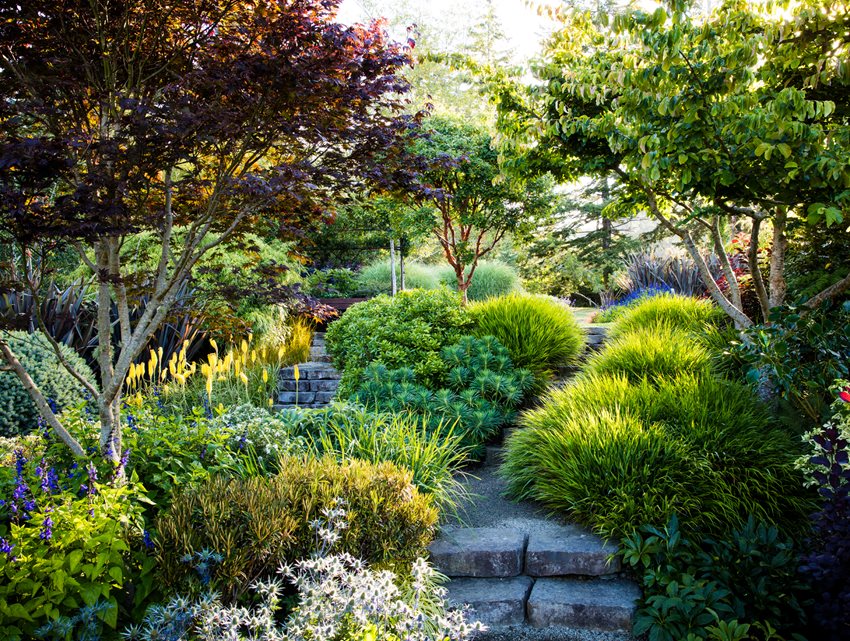 A design team transformed an expansive lawn into a meandering wonderland of paths and outdoor rooms for play and healing. See more of this garden and learn how it was created in the Spring 2018 issue of Garden Design. Photo by Claire Takacs.
Click to download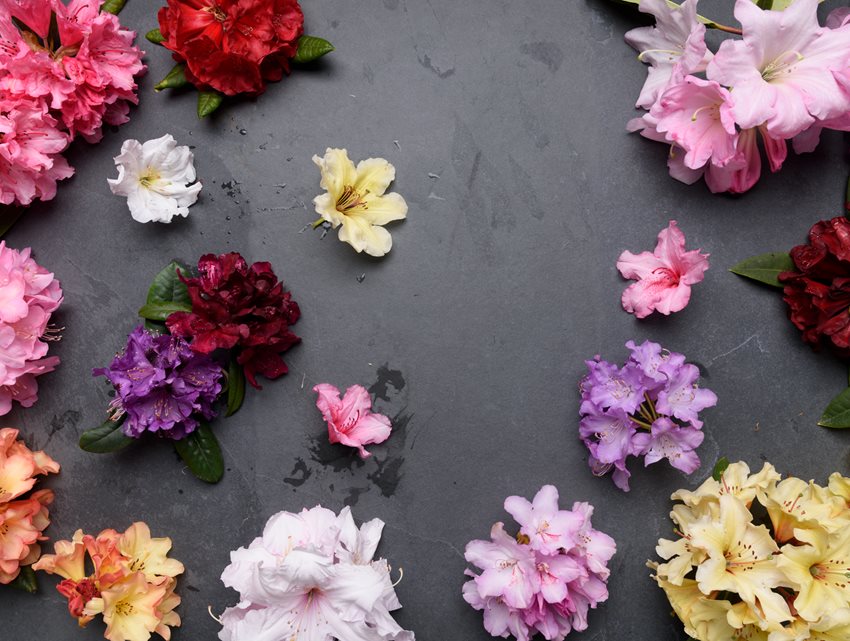 Rhododendrons awaken the spring garden with an assortment of colors that range from creamy white to deep maroon. See 30 beautiful varieties in the Spring 2018 issue of Garden Design. Photo by Georgianna Lane.
Click to download
Helpful Hints to Promote Your Special Offer
Add it to your website so current and potential members can see it.
Mention the offer at every meeting.
Send an email to all your members, highlighting the offer. (We can help you with this! Just ask)
Have your flyers out on display at each meeting
Share the offer in your newsletters.
Share the offer on your Facebook page or other social pages.
Tell your family and friends who enjoy gardening about the offer.
Always make sure you use your special link so your group earns $12 for each new subscription!
What successful clubs are doing:
After our monthly garden club meeting, I sent an e-mail message to ALL members about the magazine and ordering details that I received from you.
—Lincoln County Garden Club
We have been promoting it on our FB feed and with a press release.
—Garden Club of Long Valley
I sent out the link with your explanation of how it benefits our club to subscribe. Then before the raffle, I presented the website link again with a recap of your words.
—Hasentree Garden Club
I promoted it at our general meeting when I was behind the podium. I also had your flyers available on the table when the folks walked in along with a couple of the magazines so folks could look through the magazine. I also wrote an article for our monthly newsletter and included the picture that you sent.
—Southwestern Indiana Master Gardener Association
I passed the magazine and fliers around while reading the positive points in subscribing to the publication.
—Home Garden Club
I sent the info via email, and the ½ sheet you sent me was put in our newsletter.
—McHenry County Extension Master Gardeners
About Garden Design Magazine
Garden Design magazine readers are garden enthusiasts! They love the full-length stories (with lots of glorious photography) on plants, gardens, and design ideas to put to use.
There are no ads in Garden Design. Yes, you read that right—no ads. Just 148 pages of beautiful gardens and plants delivered to you each quarter. These are more like books.
Many of the stories unfold over 8 to 20 pages. So you get the behind-the-scenes look at topics you care about most—designing with plants, landscape design, container gardens, kitchen gardens, houseplants, and more.
Each magazine is collectible and coffee table worthy. It's filled with large, bold photography so you can appreciate the details of gardens that make them great.
Garden Design is printed 4 times per year: March, June, September and December (Spring, Summer, Autumn and Winter) Each issue is set to arrive to subscribers by the end of the month that it's printed.
Please call Dayna or Linda if you have any questions: 855-624-5110 (Monday-Friday, 8am-5pm PST).