Summer Party in a Chicago Garden
Restauranteur Rick Bayless throws open his backyard to celebrate the community he's built around cooking and growing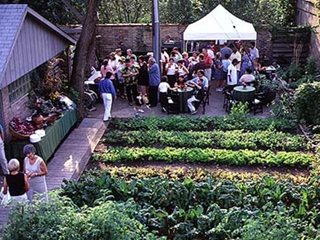 Photo by: Christopher Hirshimer.
The frilly-edged lettuce, sturdy red chard, and big-bellied radishes have the night off. Freshly weeded and watered in their neat beds, they're here to party. It's pig roast at the home of Chicago restaurateurs Rick and Deann Bayless. Everyone (and everything) involved with the couple's world-acclaimed Mexican restaurants — busboys and bartenders, farmers and friends, green beans and garlic chives — is welcome.
Over the 20 years of their marriage, the Baylesses have learned to combine family and work, work and play, business and friendship, entrepreneurship and idealism. So it's an obvious choice for them to throw their summer bash in their own garden, a working backyard that nourishes both the Baylesses and their restaurants, Frontera Grill and Topolobampo. "In Mexico there's an incredible generosity of spirit among the people," says Rick, 45. "We try to capture just a little of that spirit."
Photo by: Christopher Hirshimer.
Since dawn, Chuck Pine, wearing pepper-speckled Chef-wear and a look of preoccupation, has been out back tending two 80-pound pigs, the stars of this evening's menu. Pine, once a cook at Topolobampo, now owns Chuck's BBQ. But he's still a member of the Bayless extended family. "Rick's is a family plan," he says contentedly. As the pigs, burnished with adobo and barbecue rubs, slowly revolve on their spit-on-wheels, Pine commands a couple of cheerful cooks in the garage. On folding tables set up alongside a purple one-speed bike and an elderly piñata, they are basting pattypan squash, shredding pheasant, and adjusting the spices in the seafood gumbo. Around 11 a.m., Rick peeks in, stabs a fork into the potato salad, and recommends more brown mustard and cognac. "You ask him anything about food and he knows the answer," says Pine, who has been fretting over the menu all month. "It's a big honor to cook for Rick. He's my hero.''
In the afternoon sunlight, Deann, operating manager of the restaurants, is calmly, competently arranging zinnias and cosmos into a clutter of vases. She composes offbeat centerpieces, adding ragweed, corn leaves, eucalyptus, and Mexican flags. "Rick and I both love parties and we love giving parties," she says. "We have this fabulous place to do it in, but we used to do it in a 500-square-foot efficiency, too."
Photo by: Christopher Hirshimer.
Back then the couple were just beginning the journey that turned a passion for Mexican culture and cuisine into three cookbooks, two restaurants, and an expanding salsa business. Rick's culinary philosophy is simple. "I approach all of life from a very personal standpoint," he says with his characteristic, earnest enthusiasm. "I just cooked what I knew I wanted to eat." As his projects have flourished, so has the garden.
The Bayless house, formerly Polly's Polka Lounge, and its yard, once a strip of lawn sitting on a deep layer of rubble, have been transformed in two years into an oasis of calm and green tucked into Bucktown, a settled Polish and Hispanic neighborhood of brick bungalows newly discovered by young home renovators. The Baylesses' corner, padded with ivy, lulled by church bells and the whistle of a passing train, reminds the couple of Mexico. "There's a strong sense of community and tradition," says Rick. "When we moved here, we said it was like we'd died and gone to heaven."
Photo by: Christopher Hirshimer.
Urban-gardening consultant Michael Thompson helped divide the 1,000-square-foot vegetable plot into rows and "double-dig" 20-inch trenches before starting close-spaced seeds and seedlings, a technique called bio-intensive. Since the mounded rows are narrow, gardeners can avoid stepping on them, so the roots can grow straight and deep in the porous soil below while the plants flourish, dense and shady, above.
Epazote, the weed that adds pungency to many Mexican dishes, refuses to sprout here, but the Baylesses harvest baby lettuce, cherry tomatoes, lanky French beans, and armloads of Swiss chard all summer. Near the brick wall thick with wisteria and ivy, a tapestry of orange and white flecks promises scarlet runner beans and tepary beans. Winter squash and nasturtiums tangle underfoot.
Photo by: Christopher Hirshimer.
This plot could hardly keep pace with a single brisk evening at the Baylesses' restaurants. But a few homegrown beans or a spray of chive blossom anchor Rick's vision of reconnecting food production, preparation, and consumption. "It helps me respect the ingredients we use to have grown them myself," says Rick, who buys locally and organically. He lugs home 10 gallons of vegetable trimmings each day for compost. "My goal," he says, "is to bring the restaurant into the garden and the garden into the restaurant." Weeding in the early mornings, he relishes the slow-paced solitude that balances the kitchen's drama. "Here," says Rick, bending to stroke a stalk of chard, "problems aren't flaming, per se."
The first guests arrive, edging past the badminton net and around an exuberant mound of indigenous perennials that gives the yard its secluded feel. A bright stream of celandine poppies runs past wild geraniums, asters, and coneflowers. Giant tassels of Miscanthus 'Silver Feather' and straight stalks of bluestem grass jostle drifts of purple sage, bronze fennel, and prairie dock. Wedged between a dogwood and a goldfish pond, a café's worth of tiny tables is set up for the night.
Guest William Polley, who grows 30 varieties of lettuce, plus peppers, epazote, tomatoes, and tomatillos, for the Baylesses, plants himself midchard and clasps dirt-crusted fingers around the well-scrubbed palm of John La Puma, doctor and volunteer cook on the line at Frontera. "When I walk into the [Frontera] kitchen," says Polley, "it's like the Chicago Symphony Orchestra is playing beautiful music."
Photo by: Christopher Hirshimer.
As the dark thickens, Lane, the Baylesses' daughter, gathers conspirators near her radish patch and sketches out the rules for hide-and-seek. Under the bar tent, Evelia Pedroza, 11/2, keeps stumbling over to an enticing bank of black knobs and cutting off the sound system. In the ensuing lull, "The Girl from Ipanema" floats unplugged from the trio of musicians nestled near the trellis of hyacinth beans. Chef Geno Bahena, regal in his French firefighter's hat, is tapping beers for colleagues, three of them family members. His mom, who once taught the kitchen staff her tamale technique, taps her toes to the beat. Bahena grew up in a Teloloapan farm community, but when Frontera opened 12 years ago, he says, "I only knew four or five chiles. Now I know 40 varieties." He sharpens his chile-spotting skills during the annual company trip to Mexico, another opportunity for the Bayless community — 100 and growing — to connect.
"If we could have much stronger personal ties to the people around us and in the workplace, we would have better bedrock," says Rick, standing near the mosaic pool. "We would be better equipped to deal with a lot of the problems of modern society. That's another thing that drives me into real, and good, food. People sharing food bring their relationship into a completely different perspective."
Photo by: Christopher Hirshimer.
As the sunset's last rays give way to the glow of torches, Pine's golden pigs are carved into a heaping mound. Everyone piles plates high with pork and Thai noodle salad, then settles down behind the bluestem, alongside the tomato patch, on the carpet of mint under the arms of the Norway maple. Kids lean deep into the chill of the paleteria cart, emerging with two ice-cream bars, one for each fist.
"If a party is successful, there has to be a point at which you can transcend the finite nature of your own existence," says Rick. "There has to be great food, great music, and an atmosphere that allows you to escape." For Rick, that moment comes after everyone is served, when he finally sinks into a folding chair by the white boltonia. In the torchlight, the tiny blossoms become a field of stars, endlessly receding. "This is great," says Rick. "I don't ever want to move."