The Alfred Caldwell Lily Pool at Chicago's Lincoln Park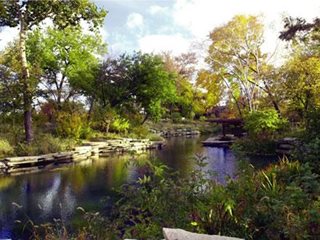 Photo by: Brook Collins/Chicago Park District.
Alfred Caldwell quietly created landscapes rivaling those of his famous mentor Jens Jensen. Now, one of Caldwell's brilliant works officially ranks among the best, on a short list that includes Jensen's Columbus Park in Chicago. The Alfred Caldwell Lily Pool at Chicago's Lincoln Park has been named a National Historic Landmark, making it one of fewer than 50 landscapes to receive the nation's highest honor for historic properties.
Designed in the 1930s as a sanctuary from what Caldwell called Megalopolis, the lily pool was intended to evoke a Midwestern prairie river and included stonework, a pavilion, waterfall, council ring and native plantings (Caldwell bought the wildflowers by cashing his life insurance policy). Sadly, in subsequent years it fell into ruin. Though a 1993 restoration stalled, at the turn of the century the garden underwent an exhaustive $2.5 million effort led by Chicago Park District and Lincoln Park Conservancy.
Caldwell, who died in 1998 at age 95, was a prolific landscape and structural architect, teacher, lecturer, artist, philosopher and poet. He never achieved during his long life the acclaim many say he deserved, although scholarship recognized him as the last great designer of the 20th century's Prairie School. "The lily pool is so incredibly beautiful," says Julia Sniderman Bachrach, Chicago Park District historian. "It is one of the few sites where you can see Caldwell's ideas fully implemented."
Charles Birnbaum, founder of The Cultural Landscape Foundation, says part of the reason why so few of the nearly 2,900 national historic landmarks are landscapes is that the 1966 National Historic Preservation Act did not focus on outdoor spaces. Not until 1989 did the National Register of Historic Places publish guidelines for these types of sites. "For many of these landscapes, it's publish or perish," Birnbaum says. Thankfully a 1997 Caldwell book edited by Dennis Domer (Alfred Caldwell: The Life and Times of a Prairie School Landscape Architect, The Johns Hopkins University Press) brought the designer's genius and his Lily Pool to public attention.
The Lily Pool is open daily; free guided tours are held Fridays and weekends, late April through October. For more information visit Chicago Parks District