Dead Ends Garden Rehabilitates Garden Castoffs
Owners Brandon and Melissa took their interest for unique, sick, and unwanted plants, and turned 4 acres of mixed forest into a sanctuary for garden castoffs.
There are places galore where you can drop off for salvage all the unwanted furniture, clothing, and toys cluttering your attic. But what do you do with the plants that no longer have a place or purpose in your garden? At Dead Ends Garden, a quaint garden and landscaping center in Charlotte, North Carolina, owners Brandon and Melissa Sleigh have found a new home for those garden odds and ends. Populated by more than 1,000 different species and cultivars collected from far and wide, the garden is also home to many rare and unusual plant varieties.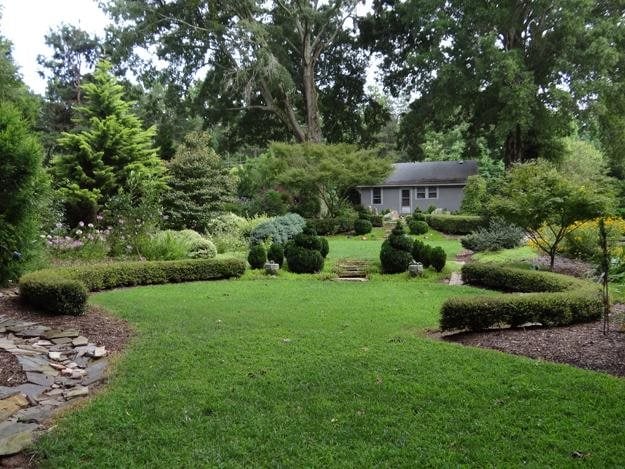 What makes Dead Ends Garden most unique are the types of plants that have found a home there, including the rare, the unusual, and the unwanted.
The Sleighs started Dead Ends Garden in 1993, soon after they met while working at a local nursery. Almost immediately, they began collecting the plants that have become the bones of their garden today. Five years later, they found the site that these plants now call home—a run-down, century-old farmhouse on almost 4 acres of mixed forest. As the garden evolved, the Sleighs applied the lessons they learned from the experience to eventually launch their own landscaping business specializing in design and consultation. Here, Brandon shares the story about how the garden came about.
"The Head" was conceived when Brandon was looking for something to occupy a space in the garden where plants refused to thrive. Assembled from stone masonry, the piece is a whimsical planter by day and a "wayfinder" at night, when its enormous eyes light up to illuminate a stone pathway.
The Sleighs like to blend different media in their hardscapes, as exemplified by this walkway made of bottles, brick, concrete pavers, and embedded lights, which illuminate the tendril-like design at night.
Hardscaping using natural stone gives the garden structure and has transformed a boring, flat grade into an undulating landscape.
GD: What were your original aspirations for Dead Ends Garden?
Sleigh: The plan was to create an example garden to display our various talents to our clientele and provide a home for our extensive plant collection. We also wanted a unique look that blended all the different garden disciplines and philosophies that influence us. The spring of 2003 was the real beginning for garden construction. Thanks to some help from a friend—and a tiller, shovels, and rake—we were able to transform the flat, boring grade of the front and left side yard into the undulating landscape over the span of just a few days. This grade changing also created the deep soil of our raised beds in these areas, creating good planting conditions for a wide variety of plant material. These newly developed areas were immediately filled with many of the plants we had been collecting for 10 years.
Can you tell us the story behind the garden's unusual name?
It's actually word play—we want to make plants live and thrive. It's our intent to get the most out of any situation. We are not wealthy, so many of our plants were throwaways at death's door, and much of the hardscaping materials were waste and excess from jobs, as well as materials demoed to create new landscapes for our clients. Over the course of our gardening careers, we have taken on many sick plants from folks in the effort to rehabilitate them, if possible, and to understand why we succeeded or failed.
The unusual layout of this staircase was intended to create a set of steps that was less bulky and imposing.
What are some of your guiding principles?
We believe in the three r's: reuse, renew, and recycle. For example, we have walls made from an old sidewalk, and walkways made from cut paver pieces. We also combine plants not normally planted together to display underutilized contrasts in texture, color, and shape. Our garden blends odd combinations of materials to provide an almost surreal feel. I always try to create things I have never seen or come about things from a completely different perspective. I also blend different media to create greater interest.
Name a few of the most unusual and treasured plants in your collection.
We go to all the nurseries and garden centers we see to find unusual plants wherever they may be. We have Taiwania cryptomerioides (Taiwan coffin plant), normally listed as a Zone 8 and hard to find. The plant was likely propagated from a lateral cutting and grew prostrate for the first 8 years. It created a leader 3 years ago and now is about 12 feet tall. We have a very large Abies firma (Momi fir), more than 22 feet tall and coning. Most species of fir do poorly in our dense soils and hot, humid summers but Abies firma has given us Raulston's ideal—palms and conifers in the same garden. We also have 40-plus-year Hinoki cypresses that are specimens without equal. Each tree takes 3 to 4 hours of careful pruning 2 or 3 times a year. A Trichocereus pasacana (a type of cactus from Argentina that grows a lot like a Saguaro) has thrived in our garden for 10 years.
You use a lot of natural stone throughout your garden. How do you strike the right balance, and what are some of your tips for the creative use of hardscaping in the landscape?
Our garden is home to over 180 tons of stone that we have brought in over the last 15 years. Hardscaping provides structure to the garden. A landscape requires more than just plants to make it complete. Paths guide us through the garden and provide borders for layers of plants. Patios give us a place to rest and contemplate. Striking a balance is difficult. When the stone is installed, the plants are small and the stone is overpowering. Patience and allowing the plants to grow provides the desired balance with time.
For more images, see a picture tour of Dead Ends Garden.
What were your biggest challenges in achieving your goals, and how did you persevere?
In July of 2000, our efforts got put on hold for about a year thanks to a painful encounter I had with yellow jackets and a commercial lawn mower. The injury I sustained left me unable to walk for a considerable time. This was probably the most profound learning experience of my life. It taught me a modicum of patience. I had time to read, read, read, and read like I had never read before. It also gave me an opportunity to start planning.
At the garden's onset, our area was under severe water restrictions. We harvested all the rain water we could. The design of the garden and beds relied on swales and creek beds to control and convey runoff around the garden to distribute it to the plants in need. Many plants were selected for their low water needs. In 2004, we realized that our plantings on the west side of the house would need to be altered on a fundamental level, due to our lack of rain and dry soil. Our experimentation with xeriscapic plants evolved quickly into a love affair that continues on through today. We found wood lilies and cacti to be our friends in those hostile growing conditions that claimed more than a few of our choice, collected plants.
Melissa and Brandon Sleigh, owners of Dead Ends Garden.
When did you finally launch your landscaping business, and what is your primary focus?
In July of 2006, Dead Ends Garden was officially sprung. Large companies with big ideas and budgets get launched but small companies with little capital get sprung, like criminals from jail. We focus our efforts on creating good plant health through fostering soil life and landscape installations that are considerate to the environment around us. I find it odd that so much of the horticulture industry is driven by many old ideas that are not the least bit "green," but that is a subject for another time.
Here are some of Dead Ends Garden's Favorite Plants:
Abies firma
Agave (many species)
Chamaecyparis nootkatensis, C. pisifera, and C. obtusa (most flexible to different conditions in our area, more forms, colors and sizes available than any other conifer)
Cryptomeria japonica
Cedrus deodara, C. libani
Juniperus rigida
Nolina 'La Siberica'
Osmanthus heterophyllus
Picea orientalis, P. omorika
Pinus densiflora, P. strobiformis
Thuja occidentalis, T. orientalis, T. plicata
Yucca (many species)