My Garden: From Folly to Fabulous
After much trial and error, gardener Bonny McKeough finally achieves her dream of growing a magnificent herb garden.
Four years ago, Bonny McKeough of Chatham, Ontario, embarked on an ambitious mission to grow the perfect herb garden, one styled after the distinguished Kew Royal Botanic Gardens in London. Starting with a 2-acre grass-covered lot, some basic design plans, and a shovel and wheelbarrow, she carved out a 60x160-foot formal garden framed by an artistic latticework of grass paths.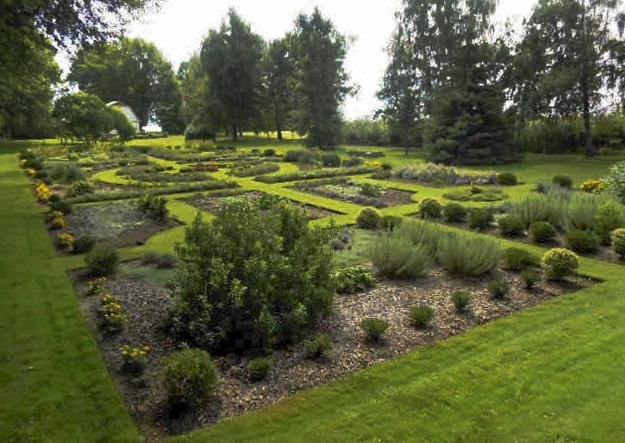 McKeough has tried growing over 100 herb varieties in her garden, but the number has dwindled down to about 40. Photo by: Bonny McKeough.
Considering that McKeough has little formal training in the art of gardening, her solo effort is truly impressive. It is the result of determination, much experimentation, and a few hurdles along the way.
"Nine years ago, I moved back to my family home on the north shore of Lake Erie to help my 90-year-old parents. That summer, in a neglected field at the lake bank, I planted an herb garden. Whimsical in design and irregular in shape, I called it 'Folly.' As result of erosion, the garden began to go over the bank, hence, the search for a new site," she says.
The aerial photo shows Bonnie McKeough's Q Garden after the first year. She plotted the grass paths for the 60x160-foot formal garden on graph paper and then transposed them onto the lawn with measuring tape, ropes and pegs. Photo by: Bonny McKeough.
Her sister's 4-acre property, located near her parent's home, turned out to be the ideal location. The rectangular shape and the relatively flat topography dictated the design and formality of her new herb plot, which McKeough calls "Q Garden." The inspiration for the one-letter name may not be obvious, but it's actually a very apt title. "Q Garden is a play on our name (pronounced McQ) and an amusing reference to the Kew Royal Botanic Gardens," she says.
Here is Q Garden today, 4 years later. Photo by: Bonny McKeough.
Initially, McKeough drew the plots and paths for her garden on graph paper, transposing them onto the lawn with measuring tape, ropes and pegs. She then removed the existing sod with a shovel and transported it via wheelbarrow to various parts of the property, creating a meandering path through the woods exiting at the garden. "This was definitely a Herculean feat, which took three months to complete, and I now wonder how I did it," she says. "I transplanted many of the established plants from the disappearing Folly. While I had plotted the location of the plants in the new garden, I was amazed how the plants placed themselves. It was like painting and was quite an amazing experience."
Over the past few years, McKeough has tried growing over 100 herb varieties in her garden, but the number has dwindled down to about 40. "Most of them are the old standards in numerous varieties. My prerequisites are not too unruly, minimal maintenance, a long growing season or ever-bearing, and great texture and color. I must admit that is a sizeable task for an herb, but I have found many," she says.
As you might expect, the bounty from McKeough's garden is immense and she encourages the neighbors to help themselves. "I have not had much success with drying the herbs – they taste like hay. Instead, I put fresh chopped herbs in softened butter and freeze them, which works well," she says. Photo by: Bonny McKeough.
Some of McKeough's favorites include various varieties of sage (Salvia officinalis), thyme (Thymus), tarragon (Artemisia dracunculus satvia), winter savory (Satureja montana), citrus southernwood (Artemisia abrotanum cv.), lavender (Lavandula angustifolia), and bayberry (Myrica pensylvanica). And of course, she also plants an array of annual herbs, such as parsley, dill and basil. To give the garden more structure and a wonderful pop of color, she planted green boxwoods to frame the corners and yellow marigolds along the edges.
After devoting four years to planning, toiling, and nurturing, McKeough has finally achieved her ambitions for Q Garden. She now looks forward to spending her time rearranging, removing and adding new plants. "At the end of the day, the main goal is that a tour of the garden puts a smile on my face," she says.
Note: All the herbs in Bonnie McKeough's garden were purchased from Richters Herbs, Goodwood, Ontario.