Destination Nursery: Roger's Gardens
This family-owned establishment in the heart of Orange County has the distinction of being the "largest single-store garden center" in America in terms of sales. People come from near and far to buy the latest or best plants; for top-quality garden furniture, accessories and decorations; and because the large staff (80 full time) is really skilled and passionate about plants.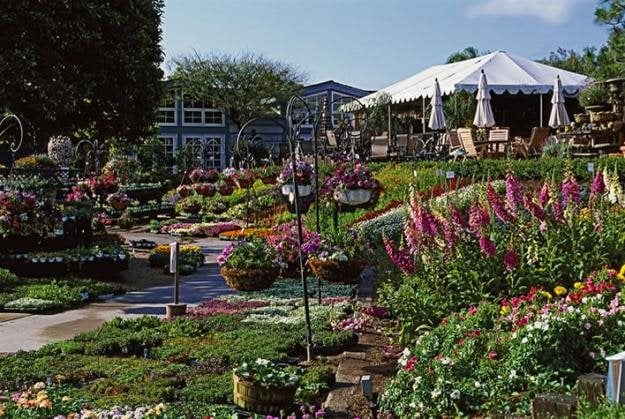 Photo by: ILONA.
"When we first opened, we were often called 'the Disneyland of garden centers,'" says Gavin Herbert Jr., president of Roger's Gardens. "Today, we like to think that we've progressed beyond a beautiful garden center to a showcase where indoor and outdoor living come together in an explosion of creativity."
Outdoor living ideas are displayed in two large buildings. The 5,000-square-foot Gallery is stocked with casual furniture, antiques, gifts, home accents and holiday merchandise. Garden Rooms features beautiful indoor plants, including orchids and basket gardens, designer silk florals and an extensive collection of books, gifts and home décor.
Outside, plants reign supreme, from the familiar to uncommon. Paths lead shoppers past display beds filled with vibrant seasonal annuals. A popular place for visitors to stop and view surrounding garden displays is the Disneyland Bandstand, where Mickey Mouse first led his 16-piece band in the pavilion at nearby Disneyland when it opened July 17, 1955. Roger's Gardens bought it in the mid-1970s after it had been retired from active use.
In spring, more than 150 different varieties of bulbs such as watsonia, ixia, sparaxis, calla, amaryllis, crocosmia and others suited for Mediterranean climates vie for attention, along with traditional tulips, daffodils and hyacinths. As part of its goal for garden trendsetting, Roger's Gardens focuses on education through informative flyers and plant-care sheets, classes, seminars, and demonstrations.
Roger's Gardens is open daily at 2301 San Joaquin Hills Road, Corona del Mar, CA 92625.
949-640-5800; www.rogersgardens.com