Garden Travel: 5 Surprising Must-Sees at The Huntington
The Botanical Gardens at The Huntington have been delighting visitors for generations. Some of the original landscapes have become iconic, including the 103-year-old Japanese Garden and the vast and botanically diverse Desert Garden. But newer and less well known areas of the gardens are well worth exploring too. Scott Kleinrock, landscape design and planning coordinator at The Huntington, shares with us his own list of must-sees. For new and returning visitors, these sometimes off-the-beaten-path excursions reveal great examples of low-water-use plants, rich cultural experiences, and more.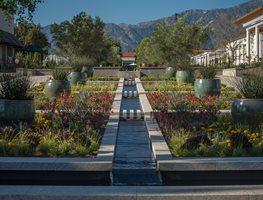 1. New entry gardens
Six and a half acres of new entry gardens opened this spring in the Steven S. Koblik Education and Visitor Center. Arriving visitors are welcomed by masses of colorful drought-tolerant plants (replacing thirsty lawn), offering inspiration and ideas for landscaping with low-water-use plants and California natives. Kleinrock worked closely with landscape architect Cheryl Barton and her team on the design of the new entry gardens, which reflect the natural history of the area and the property's agricultural roots as well as the estate's more formal European landscape traditions.
2. Hands-on Science
Inside the immersive and wonder-filled space of The Rose Hills Foundation Conservatory for Botanical Science, children and families can engage in scientific exploration of plants from around the world. The 16,000-square-foot greenhouse comprises three different habitats—a lowland tropical rain forest, a cloud forest, and a carnivorous plant bog—and a plant lab with experiment stations focusing on the functions of leaves, stems, roots, flowers, and other plant parts. Visitors can measure and compare the percentage of sugar in different nectars using a refractometer, study algae under a microscope, take a peek inside the digestive system of a carnivorous pitcher plant, and more.
3. Plants from "Down Under"
Somewhat off the beaten path in the lower part of the gardens, the Australian Garden's naturalistic 5-acre expanse of trees and flowering shrubs offers a pleasant contrast to the manicured flower beds located elsewhere on the grounds. Many of the Australian natives planted here—callistemon (bottle brush), acacia, grevillea, kangaroo paws, and others—are well suited to Southern California's dry climate, offering a wonderful source of ideas for local gardeners.
4. A Classical Chinese Landscape
Visitors will think they've been transported to another time and place after just a few minutes in Liu Fang Yuan, the Garden of Flowing Fragrance. Inspired by the Ming dynasty scholars' gardens of Suzhou, China, this classical landscape features a complex of pavilions built by artisans from China, situated around a large and picturesque lake. The landscape highlights plants native to China, including pines, plum and peach trees, lotuses, camellias, willows, bamboo, and many others. The garden is frequently enlivened by performances of traditional Chinese music and opera. Chinese tea and other refreshments can be enjoyed in the teahouse overlooking the lake.
5. An Experiment in Urban Agriculture
Promoting sustainable gardening practices is the mission of the Ranch Garden, an urban agricultural project that explores optimal approaches to gardening in Southern California's regional ecosystems and climate. Part classroom and part research lab, the Ranch Garden draws inspiration from The Huntington's agricultural heritage, while making connections with gardeners, native plant enthusiasts, landscape professionals, educators, and researchers throughout Southern California. The Ranch is not open to daily visitors but can be self-toured during open house events on the fourth Saturday of most months. See the website calendar for details.
For more information, visit huntington.org.