Innovative Landscapes in São Paulo
South America's largest city, São Paulo has evolved into a hotbed for some of the most innovative landscape designs in the country - and the world
Far from being in the shadow of the towering figure of Roberto Burle Marx, São Paulo's contemporary landscape designers have assumed his prodigious, inventive legacy and moved on. Today, braving a new language that's altogether global in spirit, they continue to press forward with high-end designs as they engage in a range of 21st-century challenges, from urban regeneration to conservation and historic preservation.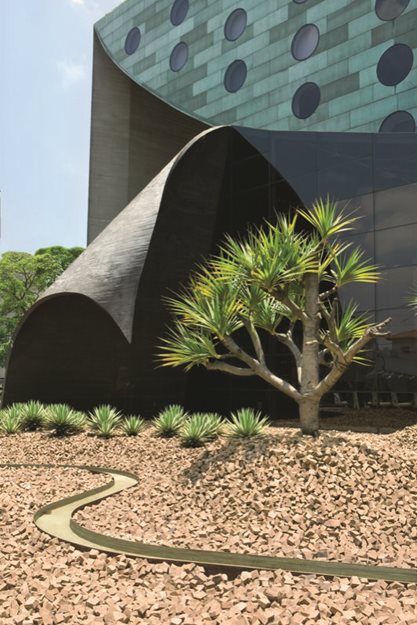 Gilberto Elkis designed this riveting, sustainable landscape as equal accompaniment to São Paulo's post-modern, copper-clad Hotel Unique, by Brazil's foremost architect, Ruy Ohtake. Photo by: Jon Whittle.

SEE MORE SÃO PAULO GARDENS
GILBERTO ELKIS
A trendsetter and one of the most well-known landscape architects in Brazil, Gilberto Elkis cuts a suave figure in and out of town. He is justly renowned for creating outdoor-living environments at chic country getaways, ambiance-setting indoor gardens for top restaurants and parks that address the red-hot architecture of São Paulo's boutique hotels. His commanding landscape for the muscular architecture of Ruy Ohtake's Hotel Unique is one of the highlights of São Paulo. Its landscape is dramatically different when viewed from various perspectives, whether from the ground floor's wall bar, the shiplike portal of a suite or the rooftop pool deck — one of the best places to see and be seen in São Paulo. From above, the snaking water channel lined with Cor-Ten steel suggests an abstract drawing, but from the ground plane, where the coursing line is barely visible, the architectural Pandanus utilis trees and Agave angustifolia seem like outcroppings of the building's commanding sculptural presence.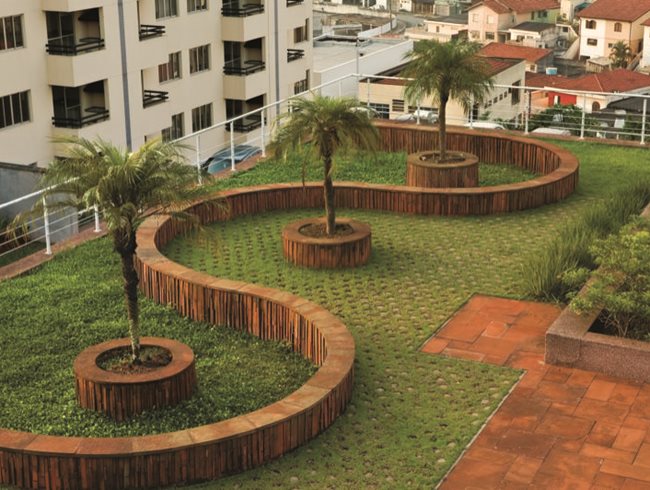 Ornamented with Phoenix palms, one of Rosa Kliass' rooftop gardens for the Fleury Laboratory functions as both a promenade and a seating area for employees. Photo by: Jon Whittle.

SEE MORE SÃO PAULO GARDENS
ROSA KLIASS
A trailblazer for Brazil's second generation of landscape architects, Rosa Kliass was a student during the 1950s, when landscape architecture was just emerging as a field of study. She was at once inspired by Burle Marx and influenced by the "other Roberto" — Roberto Coelho Cardozo, who as a Californian of Portuguese descent, brought the ideas of California modernism to the University of São Paulo. Throughout her 50-year career, she has learned by doing and has molded the profession, spearheading the São Paulo parks department and co-founding the Brazilian Association of Landscape Architects, as well as designing the landscape plan for Curitiba (perhaps the greenest city on the planet), Brazil's early rooftop terraces and large-scale environmental preservation projects throughout the country.
The gardens she designed in 1996-97 for the Fleury Laboratory in São Paulo only hint at the tremendous range of her vision. Working in tandem with the building's architects, she requested that the architectural plan include a "well," which became a round, several-stories-deep inner courtyard that could be seen, and at its ground floor entered, from within the building. Once inside, the enclosed, circular space acts like a chapel, in which visitors sitting on its plaza steps are able to contemplate the profound presence and echoing resonance of its ever-flowing three-tiered fountain. For the laboratory's rooftop, she was given the mission to design a garden that would insulate the building from the noise of the nearby airport and act as an employee recreational area. Its snakelike promenade looks like an abstract hieroglyphic when see from the planes flying above.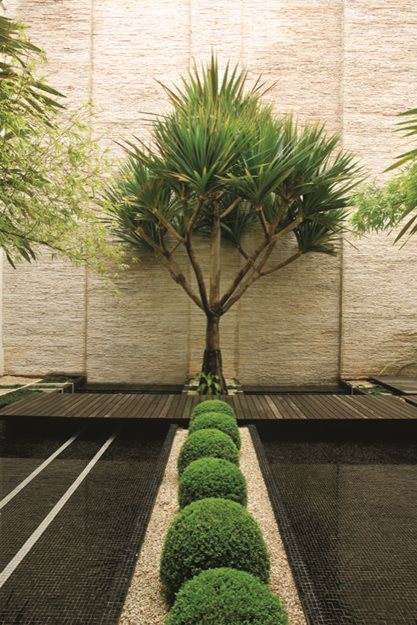 The sculptural permanence of this dramatic outdoor room is underlined by the selection of evergreen plants — Pandanus utilis, Dracaena arborea, Phyllostachys pubescens, Buxus sempervirens and the spring-flowering Neomarica caerulea. Photo by: Jon Whittle.

SEE MORE SÃO PAULO GARDENS
ALEX HANAZAKI
Almost since he first burst onto the scene in1998 as a licensed architect, Alex Hanazaki has been counted among the young lions of Brazilian landscape architecture. The theatrical outdoor rooms that he continues to debut at Brazil's annual Casa Cor, the country's most important interior-design, architecture and landscape-design showhouse, have paved the way for major commissions on four continents.
The grandson of Japanese immigrants, he often employs the traditional materials of Japanese landscape design — rocks, water and plants — with a compressed poetic simplicity spoken in an altogether contemporary idiom. Influenced as much by modern art as by the interweaving of cultures so integral to the Brazilian experience (Brazil, for example, is home to the largest Japanese population outside of Japan), Hanazaki reflects that "although I haven't created specifically Japanese gardens, Japanese influences always appear in my gardens in very subtle ways."
In a São Paulo residential courtyard, the aesthetic balance inherent in Japanese art — the subtle interplay between interior and exterior, between nature and culture — is suggested by quiet association. Both open to the air and incorporated inside the house, the garden is surrounded by glass-walled rooms on three sides and a white quartz-backed fountain on the fourth. The minimal palette of green, white and black, the austere, geometric planting design and the pool's calm water, as still as mirrored glass, compose a sustainable, low-maintenance garden in which a single Pandanus utilis stands as the meditative focal point of the house.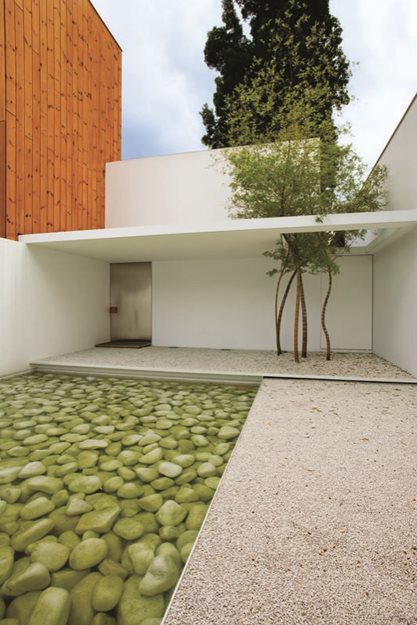 For the entrance garden of this São Paulo residence, Isabel Duprat counterpoints sculpted bamboo reaching toward the sky with river stones at rest in the pool. Photo by: Jon Whittle.

SEE MORE SÃO PAULO GARDENS
ISABEL DUPRAT
In the 1930s, Roberto Burle Marx was Brazil's first landscape designer to make a clean break with the colonial language of the past. Embracing Brazil's botanical plenty and demonstrating how perfectly possible it is to adopt a nonconfrontational attitude toward the natural world, Marx unfolded a vision of harmony between man and nature that became the root from which his garden-making evolved into art. This approach is very much alive in Brazil today, particularly in the hands of Isabel Duprat, who as a young architect worked alongside Marx to collect and study Brazil's indigenous flora, setting the stage for their lifelong friendship. In the past 25 years, she has been prolific, designing projects ranging from the restoration of Marx's garden at the Instituto Moreira Salles in Rio de Janeiro to a 21st-century park placed as the centerpiece of, rather than as the complement to, São Paulo's BankBoston building.
Rather than adopt a style that is then superimposed on the landscape, Duprat takes a naturalist approach that adapts to the unique needs of a particular space. "I love to embrace unexpected situations and take advantage of them," says Duprat. As an example, her solution for the design of the entrance of São Paulo's corporate Torre Sul building was found in excess slabs of Brazilian green quartz used for a fountain constructed at the same site. Placing the stones in careful harmony with each other, she created a language and a rhythm between the elements so that each plays its own part in a kind of musical composition.
See more Brazilian gardens.