Living Legacy: Mount Auburn
Packed with fascinating history and plants, America's first landscaped cemetery is livelier than you'd think.
Try to picture what cemeteries were like a couple hundred years ago—maybe you better not. The standard practice in Europe and the United States was interment in churchyard burial grounds, and by the late 1700s these places had reached a critical level of overcrowding, with bodies even stacked atop one another. In an effort to ease this appalling situation, and as an extension of the popular "picturesque" style of landscape design, the rural or garden cemetery movement began, in which large park-like settings were designed as non-denominational burial sites. Père Lachaise, founded in 1804 near Paris, became the model.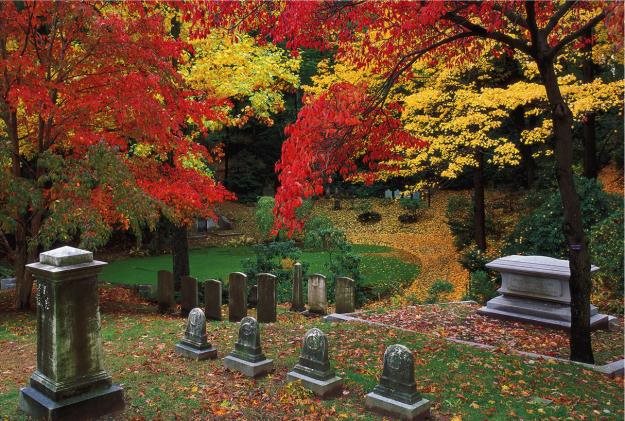 Photo by: Richard Cheek.
Mount Auburn Cemetery, outside Boston, was the first of its kind in the United States, founded by the Massachusetts Horticultural Society in 1831, setting the standard across the country. Early visitors flocked to Mount Auburn, not just to honor the dead but to stroll, picnic and socialize, a need met today by places like Central Park in New York City. And the comparison is not coincidental—garden cemeteries inspired landscape architects of the day and sparked the Urban Parks Movement beginning in the 1850s.
John Murray Monument under the golden glow of a sugar maple in fall. Photo by: Richard Cheek.
Now a National Historic Landmark, Mount Auburn is as much arboretum or botanical garden as cemetery, a goal at its inception that was reinforced in a 1993 master plan, initiated by cemetery president William C. Clendaniel. Its 175 acres are graced by some 5,000 trees representing 630 species (including 50 Massachusetts state champions), shrubs and groundcovers, all of which are being catalogued, mapped and labeled, including the cemetery's signature (and massive) beeches, oaks and sugar maples. Proximity to Arnold Arboretum has likely contributed to the fine collection of plant material.
Left: Gothic revival-style Bigelow Chapel, built in the 1800s. Right: 19th-century headstone surrounded by Scilla sibirica. Photo by: Richard Cheek.
Mount Auburn is an outdoor museum, and a walk through its grounds is a walk through the history of cemetery styles, divided into "character zones" that reflect the decades they were built—from woodlands to ornate Victorian to simple lawns. Primarily designed in-house, the gardens have also had contributions from landscape designers like Julie Moir Messervy, Reed Hilderbrand and the Halverson Design Partnership.
Rotunda-like Mary Baker Eddy Monument, designed by Egerton Swartwout, reflected in Halcyon Lake. Photo by: Richard Cheek.
And visitors are still coming—an estimated 200,000 a year. Picnicking is no longer allowed, but bird-watching has become a popular pastime at the cemetery, which prides itself on being a wildlife habitat. And there are a variety of guided tours, of plants, sculptures and famous people, including Dorothea Dix, Oliver Wendell Holmes, Henry Cabot Lodge, Bernard Malamud, Winslow Homer and R. Buckminster Fuller.
Photo by: Richard Cheek.
Still an active cemetery, Mount Auburn is using non-traditional concepts as it goes forward, creating spaces and structures that preserve and enhance the existing landscape, while paying tribute to those buried there. According to vice president of operations and horticulture David Barnett, Mount Auburn embodies "history and the future at the same time."
Photo by: Richard Cheek.
Photo by: Richard Cheek.
For more information, call 617-547-7105, see mountauburn.org, or look for the book Silent City on a Hill: Picturesque Landscapes of Memory and Boston's Mount Auburn Cemetery by Blanche M.G. Linden (University of Massachusetts Press, spring 2007).