Harvard University's Tanner Fountain
A fountain at Harvard wins the 2008 ASLA Landmark Award
Basic elements like stone and water reach us on a gut level. A sparkling fountain can mesmerize us for hours. But typical fountains, though worthy landscape features, can be problematic for institutions when it comes to maintaining them. Take the fountains of Harvard University in Cambridge, Massachusetts, for example. Over the years, water features were installed with the well-meaning intention of enhancing the campus. But invariably, once the chore of keeping them clean and running became a grind, maintenance workers would seek to alleviate some of their burden by breaking the bottoms, filling them with dirt and planting them. Fountain? What fountain? Look at the pretty flowers!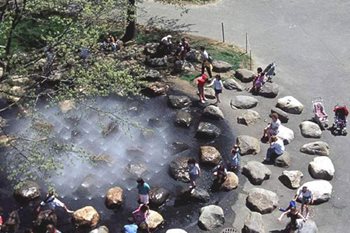 So when Harvard president Derek Bok commissioned a new fountain, he required that it be constructed so that, indeed, it remained a fountain. The result was Tanner Fountain, a basinless arrangement that proved to be groundbreaking — so much so that it won the 2008 Landmark Award from the American Society of Landscape Architects and the National Trust for Historic Preservation. Completed in 1984, it was the first institutional project in the Landscape as Art movement, and it continues to exemplify the overlap of the two disciplines.
Designed by landscape architect Peter Walker of SWA Group based in Berkeley, California, the 60-foot-diameter circle of 159 stones, placed in a loosely concentric fashion, emerges primordially from the ground, with water generated at the center by 32 nozzles. The resulting shallow, ground-level pool with its hovering mist has become a gathering place, a playground, a Zen-like respite from the labors of academia. And it's not a seen-it-once experience. The fountain has many faces — refracting rainbows through the mist on sunny summer days, lit at night, shrouded in steam from the heating plant in winter, dusted with snow.
Each of the stones — byproducts of clearing New England farmland at the turn of this past century — is a hefty 2 feet by 4 feet, but buried so that only 16 to 18 inches of their surface is above ground. Bucking tradition, the fountain is not centered or placed along an axis but straddles an interface between asphalt walkway and lawn and encompasses two trees. Aesthetically it connects constructed and natural worlds, and melds organic and artful, primeval and modern. In the world of fountain design, even after 20 years, Tanner Fountain is still outside the box, sophisticated in its simplicity, but succeeding because it is also engaging, drawing passersby into its inner circle.
For more information on Tanner Fountain and the other 2008 ASLA award winners, see asla.org/awards/2008/08winners.
RELATED:
Fountains for the Garden