Explore Gardening in a Changing World
Hardy Plant Society of Oregon's Study Weekend offers opportunities to learn about plant diversity
We are often so focused on tip-toeing through the tulips in our own backyards that we overlook what's happening in the wondrous plant world outside our boundaries. Take an opportunity to expand your horizons and explore the incredible diversity of plants found across the continents by attending the Hardy Plant Society of Oregon's 2015 Study Weekend, to be held June 26 through 28 at Portland State University.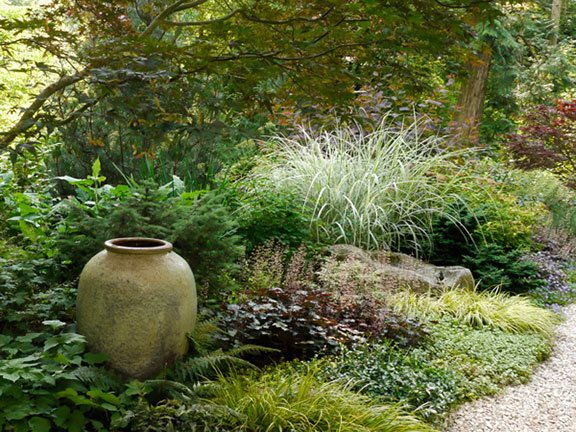 "Right plant, right place" is a gardener's axiom, but do we really put it to work for us when we design gardens and select plants? Using nature as a model, garden designer and photographer C. Colston Burrell will explore the adaptations that allow plants to cope with the breadth of conditions Mother Nature can dish out. Photo by: C. Colston Burrell
During this activity-packed three-day event, you'll have the opportunity to visit a melting pot of urban and rural Portland-area gardens, where you'll see internationally inspired landscapes with collections of plants from around the world.
Details can make or break a garden. Horticulturist Jonathan Wright will share his tips on how to ensure success in garden design, from the big picture to the smallest details. Photo by: Jonathan Wright.
Professional landscapers and horticulturists will also give presentations throughout the weekend about gardening from a global perspective. Speakers and their topics include:
Dan Hinkley - A Bit of Heaven in Hell's Despair: The Optimist's Guide to Gardening in a Changing World
C. Colston Burrell - With Nature in Mind: Redefining Right Plant/Right Place
Evelyn Hadden - Hellstrips to Havens: Paradise at the Curb
Maurice Horn - Old Dog, New Tricks
Mike Kintgen - Garden Gems from the World's Dry Regions
Thomas Rainer - Planting in a Post-Wild World: Designing Plant Communities to Evoke Nature
Jonathan Wright - Details in Design
During a talk presented by writer and landscape architect Thomas Rainer, you'll learn how naturally occurring plant communities hold the secrets for a liberated planting style that's more layered, more lush, and more full of life than conventional planting. Photo by: Thomas Rainer.
Other events include optional workshops on container gardening and handmade garden projects, botanical exhibits from HPSO member gardens, and an opportunity to purchase unusual plants offered by some of Oregon's specialty nurseries. A selection of popular gardening books, including titles by some of the speakers, will also be available at a discount during the event.
In Maurice Horn's discussion, "Old Dog, New Tricks," he will discuss how a move from a small, urban Portland garden to a large, established garden on Portland's Sauvie Island presented him with many new challenges, including gardening on a grand scale, adjusting to an entirely different soil type, and coping with a marauding wildlife. Photo by: Maurice Horn.
The cost to register for Study Weekend is $185 and includes all seminars, entry to the open gardens, plant sales, and book sales. For a complete schedule and to register online, visit the Hardy Plant Society of Oregon website.
During Open Gardens weekend, attendees will journey to Portland's Southwest Hills to view gorgeous suburban gardens, including the Jane Kerr Platt garden, one of the most significant twentieth-century gardens in Portland, featuring stunning mature specimen plants, thousands of naturalized spring ephemerals, and a glorious rock garden. Photo by: Jane Kerr Platt Garden.