Planters with Personality
Think outside the pot with these 10 quirky containers
Picking out plants for a container is only half the fun. Let the pot make as much of a statement as the plants! We've had our eye on some popular and unique containers available in shops around the country. Here's a list of our ten current favorites. Why settle for traditional planters when there's fun and funky ones available like these?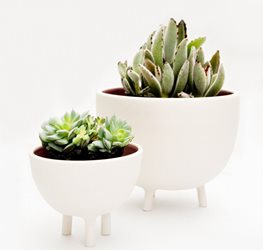 Photo by: Leif.
1. Tripot Planter
From $48 at Leif
Go retro with this mid-century modern tripod-shaped planter. Available in a rosy shade of pink or a speckled ivory, handmade in the USA.
Photo by: Lila B.
2. Succulent Shutter
$275 at Lila B.
Salvaged succulent shutters get a second chance as artistic vertical planters. Made of solid wood and colorfully painted for a fresh twist on modern wall art.
Photo by: Sprout Home.
3. Koski Terrarium
$9.50 at Sprout Home
Add a tiny bit of greenery to a tiny little space. At only 3-inches tall and wide, the Koski Terrarium is the perfect small vessel when the typical block/cube form just won't do. Available in black, white, and brown.
Photo by: Dot & Bo.
4. Ships Ahoy! Boat Planter
$179 at Dot & Bo
A castaway must-have, this fun planter is large in size and interest for beach or marina-themed rooms. Suspend it with tillandsia for an airy and coastal vibe.
Photo by: Digs Portland.
5. Tentacle Pots
From $88 at Digs Portland
Completely unique, handmade tentacle planters come in two sizes and four cool colors. Enhance their under-the-sea features with tillandsia or succulents, such as the fish hook sedum!
Photo by: Gracious Home.
6. Campo de'Fiori Conch Shell Planter
$74 at Gracious Home
A very organic vessel, this conch shell planter is made of naturally mossed terra cotta for a delightfully whimsical yet natural container.
Photo by: Ravenna Gardens.
7. Cement Cup & Saucer Planter
$11.95 at Ravenna Gardens
An adorable little home for a little succulent, this 4-inch by 3-inch planter packs a punch, minus the caffeine.
Photo by: One Kings Lane.
8. Leaf Planter
$110.00 at One Kings Lane

Made of celadon-glazed porcelain, each leaf of this planter is handmade and individually applied for an exquisitely detailed furnishing.
Photo by: Poketo.
9. Chen and Kai Stone Fruit Planter
$28 each at Poketo
Molded from real fruit by NYC-based design studio Chen Chen & Kai, these planters are cast with textures so real you can almost taste them. Available in avocado, horned melon, and orange.
Photo by: Potted.
10. Orbit Planter
From $95 at Potted
Channel your inner George Jetson with the futuristic Orbit Planter. Aptly named for its sleek, spaceship design, it can serve as a hanging planter or planted centerpiece. Group a trio for an ultramodern chandelier effect.