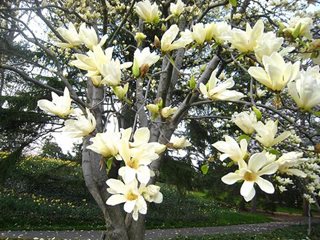 (Photo by: Adam Kuban)
In the super-snowy days of January and February, we're featuring pages from the many catalogs that are arriving in our office daily. There's really nothing better than catalog reading—it's like window shopping, but you can do it in your bed, while eating cookies. (Well, maybe don't eat cookies in bed. But you know what I mean.)
For our first Plant Lust post, we have to talk about the pages of beautiful magnolias in the Rare Find Nursery catalog. I grew up in San Francisco, where my parents had a large magnolia tree in their backyard, but I was never particularly impressed. Our kind of magnolia, which I have since learned is classified as Magnolia subgenus Magnolia, was an evergreen, and you'll often see these types of magnolia (full name: Magnolia grandiflora) in the South. These magnolias put out glossy green leaves, which will last throughout the winter, and afterward, an occasional giant white flower or two. (At least in San Francisco—I have heard that they bloom more profusely in the South.) They're impressive trees, but, in my opinion, a bit stately and serious. If I may say so, with their leaf-first attitude, they're a little bit like mullets: business up front, party in the back.
Catalog photo by Anna Stockwell.
When I moved to New York for college, I saw, for the first time, the amazing flower-first-leaves-after magnolias (or, continuing with my mullet analogy, party in the front, business in the back), known as Magnolias subgenus Yulania. These magnolia trees went from empty branches to being smothered in pink petals, in what seemed like an overnight transformation. It was the most fun, frilly, downright PRETTY tree I had ever seen and I loved it. Of course, like any party animal, flower-first magnolias take a quick trip from glorious blooming prime to fallen flower. (Generally about a week or so, I find.) But such is the transience of beauty.
Since my college years, I have always loved the flirty, all-flower-all-the-time types of magnolias, and I always search them out in April, when they generally begin to bloom here in New York, for their quick burst of amazing color.
Pink magnolia photo by Dan Dickinson.
In any case, Rare Find Nursery, based in Jackson, New Jersey, has an amazing selection of magnolias available for sale, probably the largest selection in the U.S. They work with the Brooklyn Botanic Garden, which has been doing some really innovative work with magnolia cultivars over the past few decades. They even have an almost-black magnolia flower!
FUN FACTS ABOUT MAGNOLIAS
- Having roamed* the Earth before bees evolved, magnolia trees are pollinated by beetles.
* Ents roamed in Lord of the Rings. Why can't magnolias?
-Despite the title of the popular movie Steel Magnolias, magnolia trees aren't actually delicate. (You know, how the ladies seemed like delicate magnolias, but they were actually made of steel.) Since they evolved to allow beetles to crawl all over them, magnolias are actually pretty tough and pest-resistant.
-Magnolias are the national flower of North Korea, the state flower of Mississippi and Louisiana, and the state tree of Mississippi.
Top photo: Magnolia 'Elizabeth', at the Brooklyn Botanical Garden and also pictured in the catalog spread. The catalog says: "One of the first and certainly the best-known of the yellow hybrids from a 1956 cross made at the Brooklyn Botanic Garden. Numerous butter-yellow, tulip shaped flowers open before the leaves on a fast-growing, wide upright tree. H: 20-30' W: 15-20' Zones 5-9."