See an Aerial View of the Magnificent Lake Como
French photographer Yann Arthus-Bertrand captures a scenic landscape "awake with all its colors"
A breathtaking aerial video, taken by internationally famous French photographer, filmmaker, and environmentalist Yann Arthus-Bertrand, shows the stunning landscapes of Lake Como and the surrounding pre-alpine mountains from a vantage point rarely seen. The video was taken by Arthus-Bertrand and his assistants by helicopter in May, capturing the landscape at the peak of its beauty.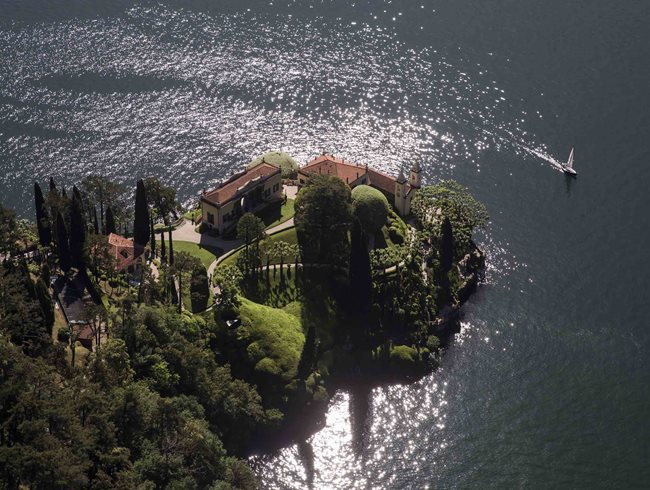 Lake Como's Villa del Balbianello, famous for its elaborate terraced gardens, is located on the tip of a small wooded promontory on the western shore. It was built in 1787 on the site of a Franciscan monastery. Photo by: Yann Arthus-Bertrand.
"My family owns a house in the north of Italy, near the Alps," says Arthus-Bertrand. "After a long time, I came back to this region that is simply amazing. I was delighted to have the chance to shoot a video on Lake Como, especially in springtime, when nature awakes with all its colors."
Located in Lombardy, Italy, Lake Como is regarded as one of the most beautiful lakes in Europe and is a popular tourist destination, famous for its picturesque villas, distinctive architecture, and lush gardens, which thrive in the mild climate. Some of the sights shown in the video include Villa del Balbianello, recognized for its elaborate terraced gardens; the magnificent Villa Dozzio, built in 1852 by architect Clericetti; and Varenna, a quaint village with picturesque lanes and fishermen's houses.
Varenna is an attractive village on the eastern shore of Lake Como, overlooking the central part of the lake towards Bellagio. Varenna's meandering lanes, old fishermen's houses, beautiful waterfront, and stone beach make it a popular tourist destination. Photo by: Yann Arthus-Bertrand.
During his career, Arthus-Bertrand has filmed some of the most beautiful landscapes in the world, shot from helicopters or hot-air balloons. Although Lake Como is world-renowned for its beauty, Arthus-Bertrand wanted to show it to the public from his unique artistic perspective. His video, Lake Como Seen by Yann Arthus-Bertrand, can be viewed on Vimeo here and YouTube here.
For French photographer and filmmaker Yann Arthus-Bertrand, the sky is a privileged point of view to admire the beauty of nature, disclosing it without barriers. Photo by: Andrea Butti/Pozzoni.
Palanzo is a sunny, picturesque village nestled halfway between Como and Bellagio, in the area between the two arms of Triangolo Lariano. Photo by: Yann Arthus-Bertrand.
Villa Dozzio was built in 1852 by architect Clericetti in the eclectic style typical of that period. Overlooking the mouth of Breggia river, it is surrounded by a magnificent garden with tall cedar pines, box hedges, and winding paths. Photo by: Yann Arthus-Bertrand.