Fourth of July Favorites from Garden Design
Here are our 10 favorite foods, flowers, and outdoor accessories for your 4th of July celebration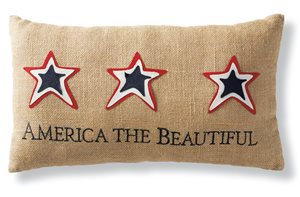 Photo by: Grandin Road
1. American Glory Decor
Accent your patio with patriotic spirit by layering red, white, and blue decor. This folk art inspired America the Beautiful pillow from Grandin Road is one of our favorites. See all stars and stripes decor from grandinroad.com.
Photo by: Kalamazoo
2. Go Gourmet Outdoors
Summer is the time to enjoy the outdoors with your guests, so don't get stuck cooking indoors! Kalamazoo's new Gaucho Grill quite literally raises your grilling to a higher level. We especially like the massive 30-inch spoked stainless-steel wheel that raises and lowers the cooking surface above the wood fire to control cooking heat and intensity. See more about the Gaucho Grill.
Photo by: Crate and Barrel
3. Set the Scene
Table settings are a simple way to get festive and add a touch of red, white, and blue to your décor. These Red Star plates from Crate and Barrel add just the right touch of patriotism. Pair them with a navy blue table runner and some punchy red pots for a festive table setting. We also like Crate and Barrel's Statue of Liberty Bust and their Fireworks Napkin Rings for extra fun. See them all here.
Photo by: Grace Design Associates
4. Outdoor Games
Make some memories with family and friends by adding a little competitive fun! Playing the game of bocce is one of our favorite ways to spend the afternoon. Get bocce installation and design tips from LandscapingNetwork.com.
Photo by: Uncommon Goods
5. Punch Up the Party
Summer fruits were meant for eating and drinking! We like to use this all-natural keg with summer melons and pull it back out for an autumn harvest with pumpkins. Just hollow out the fruit and fill with your favorite juice or cocktail. Find this Fruit Keg Tapping Kit here.
Photo by: Saveur
6. Summer Cocktail Guide
It wouldn't be an American summer without the sweet taste of fresh fruit and that's just what the recipe calls for in Saveur's new Summer Cocktail Guide. Our drink of choice is the Lady Suffolk with the juice of peaches, a kick of black pepper, and a touch of egg white for a smooth finish. Get the recipes and see more of Saveur's reinvented classic summer drinks here.
Photo by Amazingribs.com
7. Regional Styles of BBQ Sauces
Some would argue that good barbecue is all about the sauce, and every region of the U.S. seems to have their own style. From Pig Chaser BBQ sauce in Chicago to Blackberry Wine BBQ sauce in Florida, this guide provides a list of commercial BBQ sauces around the country. Check it out here.

Photo by Proven Winners
8. Patriotic Inspiration
Of course, one search on Pinterest for patriotic ideas will turn up a nearly endless list. We like Proven Winners' Patriotic Gardening Ideas board for a variety of ideas and inspiration. From the fireworks cookies to the dynamite container ideas, it's a good place to start.

Photo by Armstrong Gardens
9. A Parade of Plants
Put your containers and planting beds on parade with a mixture of these flowering red, white, and blue plants. We like the show-stopping recipe of patriotic plants from Armstrong Gardens for colorful containers, or try a mix of these festive varieties:
Red - zinnia, roses, celosia, verbena, geranium, pentas, begonias, and Nasturtium 'Red Wonder'
White - Phlox paniculata 'David', geranium, alyssum, salvia, verbena, zinnias, and shasta daisy
Blue - hydrangea, Rozanne geranium, salvia, lobelia, and verbena

Photo by: Whole Foods Market
10. Spice Things Up
Elevate your mustard by stirring in some fresh summertime dill or a splash of juicy lemon, or create a perfect balance of honey and heat with a hot honey mustard recipe. This blog post from Whole Foods Market shares great secrets on sublime summer condiments.