Explore the Nature and Design of Living Landscapes at Hollister House
Hollister House Garden Study Weekend will explore the nature and design of living landscapes on September 12 and 13
This September 12 and 13, Hollister House Garden in Washington, Connecticut, and the Garden Conservancy will present their fifth garden study weekend, an event that brings together avid gardeners and professionals alike to exchange ideas, tour local gardens, listen to leading experts in landscape design and garden preservation, and shop for rare and unusual plants.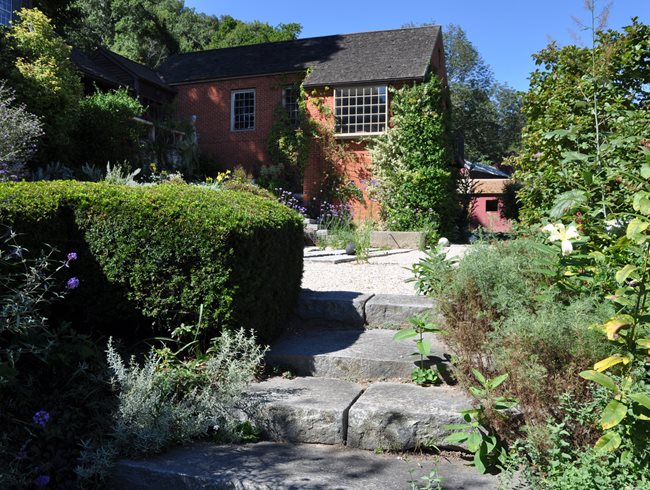 During Hollister House Garden's 2015 garden study weekend, gardeners of all experience levels can exchange ideas, tour local gardens, listen to leading experts in landscape design and garden preservation, and shop for rare and unusual plants. Situated on a terraced site overlooking the rolling hills of Litchfield County in northwestern Connecticut, Hollister House Garden is an American interpretation of such classic English gardens as Sissinghurst, Great Dixter, and Hidcote. Photo by: Hollister House Garden.
"Our 2015 symposium, The Living Garden: Nature and Design, reflects themes common to the featured presentations: blending art, ecology, and cultural geography in the design and stewardship of living landscapes; ecological principles that ground landscape designs in their local and regional context; and gardens with compelling artistic visions that are worthy of being preserved so they continue to inspire future generations," says George Shakespear, the Garden Conservancy's director of communications.
Garden Study Weekend has become a popular event for garden lovers from the Northeast and beyond and is attended by gardeners of all experience levels. On Saturday, September 12, the day begins with a series of presentations by author, photographer, and lecturer Rick Darke, who will talk about designing for beauty, biodiversity and function; landscape architect Sheila Brady, who will discuss the impact of ecological principles on garden designs; and garden designer and preservation professional Bill Noble, who will explore the creation of extraordinary gardens that are both eloquent and useful. There will be ample opportunity for participant interaction, including Q&As with the speakers, information-sharing with other participants over lunch, and a plant workshop on perennials and shrubs for the fall garden, conducted by Broken Arrow Nursery. An evening reception and cocktail party in the garden with early buying at the rare-plant sale is included for symposium attendees and is also open to the public by reservation.
On Sunday, during the Garden Conservancy Open Day, there will be a self-guided tour of outstanding gardens in picturesque Litchfield County and a rare and unusual plant sale at Hollister House featuring selections for the late-season garden from some of the Northeast's leading specialty nurseries.
"We're excited about the strong lineup of trail-blazing speakers for the symposium, and we look forward to exchanging tips and new ideas and new plants with gardeners from the whole region on both days," says George Schoellkopf, owner of Hollister House Garden.
Registration for the symposium and cocktail party, including early buying at the sale of rare and unusual plants, is $180 for members of Hollister House Garden and the Garden Conservancy. Registration for non-members is $195. Tickets for cocktails and early buying at the sale of rare and unusual plants are $40 for Hollister House Garden and Garden Conservancy members and $45 for others.
"The symposium seats only 180, but many more people can be accommodated during Sunday's Litchfield County Open Day, which is part of the weekend's festivities. Last year, more than 1,500 people visited four different gardens during Open Day," says Shakespear. Admission on Sunday is $7; no pre-registration is necessary. For more information or to register online, visit hollisterhousegarden.org
From left to right: Rick Darke, Bill Noble, Sheila Brady. Photos by: Rick Darke LLC, Roger Foley, and Oehme, van Sweden & Associates.
Meet the Speakers
Drawing on his background in field botany, ecology, horticulture, and design, keynote speaker Rick Darke will describe and illustrate how to conserve, create, and manage multifunctional private and public landscapes that are beautiful, biologically diverse, and joyfully livable.
Garden designer and preservation professional Bill Noble will explore extraordinary plantsmen and women who have grasped the raw material of a site and, through their engagement with place, have created gardens both eloquent and useful.
Landscape architect Sheila Brady will talk about the ecological principles that influence local and regional garden designs. She will also illustrate how the visual arts can inspire the way we see and experience the garden and integrate form and space.