Harvest Table Arrangements with an Abundance of Style
Our friends at Studio Choo, Sullivan Owen, and Asrai Gardens share some great tips for a professional twist on your fall centerpieces and table decor
Put a spin on your fall decor this year with ideas for turning traditional arrangements into trendy tablescapes. Our friends at Studio Choo, Sullivan Owen, and Asrai Garden share their harvest centerpieces in trend-setting peach and gold tones, mood-setting foliage, and abundantly full florals. With decor tips for table linens, china, stemware, and clusters of accents, your harvest table will be overflowing in style.
More is More
"I love an abundant Thanksgiving table!" says Elizabeth Cronin owner of Asrai Garden, a fairy-tale like shop described as "a botanical cabinet of curiosities" delivering gorgeous bouquets throughout Chicago.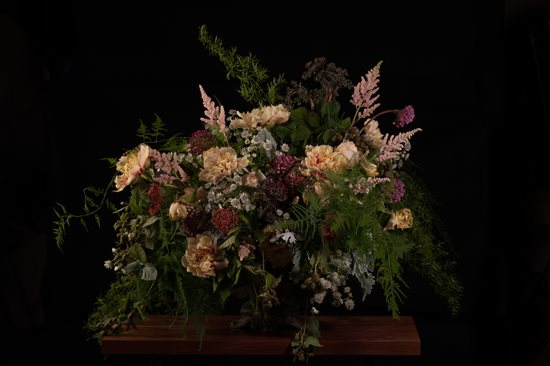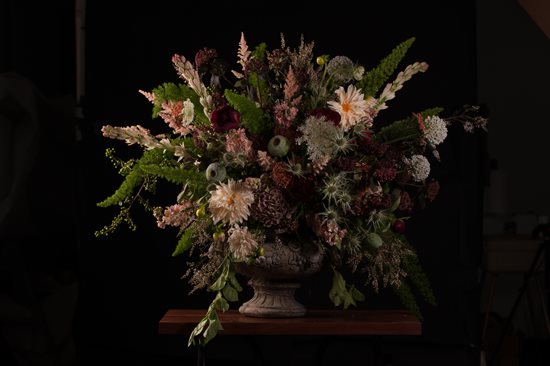 Floral Materials Include: Asparagus fern, astilbe, tree peony, astrantia, scabiosa, garden roses, and sedum. Photo by: David Sampson.
Floral Materials Include: Foxtail fern, tuberose, calycina, Queen Anne's lace, astilbe, poppy capsules, 'Café au Lait' dahlias, yarrow, eryngium. Photo by: David Sampson.
A combination of amazing Dutch master paintings and Victorian centerpieces inspired Cronin for these fall florals.
Cronin's Styling Tips: Arrange clusters of grapes along your table. Persimmons and pomegranates make great fall decor. A set of antlers would add a glam touch to the table.
Moody Lustre
At Studio Choo in San Francisco, Jill Rizzo creates mixed-garden compositions with local flowers, plants and foraged natural treasures. A play of dark shades and light colors sets her ideal tablescape. "We love using dark fall foliage to mute a pastel palette," she says. When arranging florals, Rizzo shares this tip: "Turning the large blooms so they face inward and upward activates the interior of the arrangement."
Floral Materials Include: 'Café au Lait' dahlias, garden rose, Japanese anemone, clematis, hydrangea, hellebore, foliage of purple-leaf plum and Chinese pistache. Photo by: Jill Rizzo/Studio Choo.
The composition of this arrangement by Jill Rizzo at Studio Choo shows off her technique of arranging inward-facing blooms. Photo by: Jill Rizzo/Studio Choo.
Rizzo's Styling Tips: Create a moody landscape with a collection of dark leaves running down the table and a few bowls of beautiful dark figs or plums.
Golden Undertones
At her Philadelphia-based studio, floral designer Sullivan Owen creates what she calls "disheveled but fashion-forward" arrangements, a straight-from-the-garden approach that has put her in the spotlight in Martha Stewart Weddings. When it comes to floral design, Owen says, "It's about the composition, not the ingredients." She prefers longer, narrow oval or rectangular-shaped containers for family dinners. "They fill the space visually and allow room for all the food," she says. Her recent florals are inspired with peach and golden tones who Owen says "remind me of my great aunt Dolly who hosted all of us for Thanksgiving for years. I always keep her in mind when I'm thinking of what to make."
Floral Materials Include: Dahlias, peony, ranunculus, chocolate cosmos, roses, viburnum berries, clematis seed heads, and magnolia leaves. Photo by: Sullivan Owen.
Floral Materials Include: Amaryllis, tulips snapdragons, variegated (peppermint) roses, apricot spray roses, ranunculus, lisianthus, astilbe, single peony, ilex (holly) berries, sweet gum leaves. Photo by: Sullivan Owen.
Owen's Styling Tips: (1) Pair an arrangement of this style (pictured left) with beige or ivory linens, mustard yellow taper candles, and mismatched blue and white china. (2) A folkloric print tablecloth would pair well with this design (pictured right) as well as modern bone china and stemware.