2015 Tour Series Explores Celebrated European Gardens
Plan a trip to some of Europe's most stunning gardens with garden designer Carolyn Mullet as your guide. In May visit Chelsea Flower Show & English Gardens, A Designer's Tour of Contemporary English Gardens in August, and Piet Oudolf & Dutch Wave Gardens in September. Are we packed yet?
If you love wandering through beautiful gardens and have a passion for travel, then don't miss an unforgettable series of tours that will show you some of the best examples of traditional and contemporary European gardens. Beginning this May, professional garden designer Carolyn Mullet of Carex Garden Design will host three separate week-long tours that will follow the evolution of garden design, from historic European gardens to modern masters. She will take you to England, The Netherlands, and Germany to see the work of iconic garden designers from the early 20th century to modern day, including Gertrude Jekyll, Lawrence Johnston, Vita Sackville-West, Tom Stuart-Smith, Kim Wilkie, and Piet Oudolf. Each of the tours can be booked individually and include hotel accommodations and admission to all the gardens.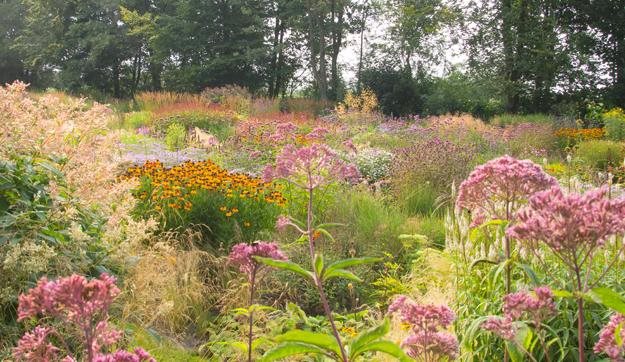 One of the gardens featured on the tour is Jakobstuin, owned and designed by Jaap de Vries, who calls it an "Ode to the Dutch Wave." In addition to warm-season grasses typical of the North American Prairie, de Vries also uses many perennials favored in the New Perennial movement and arranges the plants in the popular matrix pattern. (Photo by: Jaap de Vries).
Mullet was inspired to create this tour series based on feedback from her active Facebook community, which has more than a million garden enthusiasts who share her passion for exploring beautiful gardens. "I'm inspired to see what more can come of bringing people together in the context of real gardens. I wanted to craft my idea of a perfect vacation and see who would join me for the adventure," she says.
Veddw House Garden is a must-see Welsh garden designed by husband and wife team Anne Wareham and photographer Charles Hawes. Using traditional hedging to create structure, they have infused these intimate spaces with modern ideas and plantings. A highlight of the tour is this pool garden, with its dark water reflecting the undulating hedges rising up the slope.
Among the adventures she has in store include a tour of 12 classic English gardens and a visit to the world-famous Royal Horticultural Society Chelsea Flower Show (May 19-25), a designer's tour of 17 contemporary English gardens (August 11-19), and a visit to Piet Oudolf's home garden and 17 other gardens influenced by the "Dutch Wave" style of gardening (September 17-24).
The famous Royal Horticultural Society Garden, Wisley, spans 240 acres and features a diversity of garden types, from rock gardens to stunning borders. On the tour, expect to see colorful May flowers in all their glory, including rhododendrons, azaleas, tulips, allium, camassia, and iris. You'll also explore the Glasshouse, a recent addition to Wisley, and the nearby perennial borders created by influential planting designers Piet Oudolf and Tom Stuart-Smith.
"It wasn't until later in life that I was able to do garden travel and the experience was very impactful," says Mullet. "Being able to see first-hand how the gardens sit in their larger landscape and historical context explained much about the design choices and made my appreciation richer. I came away more convinced than ever that gardens are a tremendously valuable asset to the creation of a rich cultural life."
With Mullet as your host, you will learn the influences of the garden designers, get more information about the plants used, and discover each garden's unique features. For more information and a complete tour itinerary, visit Carex Tours.
Professional garden designer and tour director Carolyn Mullet.