Felled Tree Inspires Beaming Sculpture
Patterson Webster creates a work of art around the trunk of an ancient maple
When strong winds blew the top off an ancient maple tree close to their home in Quebec's Eastern Townships, Pat and Norman Webster decided to leave the trunk standing.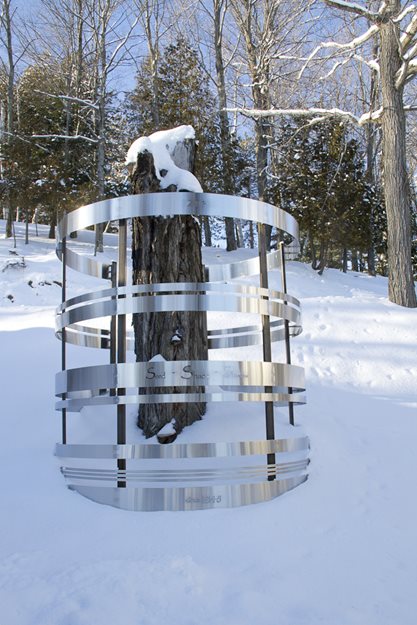 Tree Rings, 2015. A sculpture by Patterson Webster. Photo by: Patterson Webster.
Pat, a visual artist, garden writer and speaker, decided upon a sculpture for the site. "I believe that representing the history of a site and the people who inhabit it strengthens an emotional response and allows people to look deeper into the beauty that surrounds them."
Tree Rings rises up from the ground like the maple itself. Ten laser-cut stainless steel rings circle the remaining trunk, with gaps between the rings displaying the deeply furrowed bark and bracket fungi that give the tree its special character. Rings of different widths suggest how the tree grew, with wider rings in good years, narrower in bad.
Words and dates were laser-cut into the steel rings to tell the tree's story. Photo by: Patterson Webster.
Words laser-cut into three rings chronicle the life of the tree. On the lowest ring is Pat's estimate of the tree's germination, circa 1848. The highest ring dates the tree's demise in 2014. At a mid-point, three words provide a synopsis of the tree's role during its lifetime—Seed, Shade, Shadow.
Tree Rings is the most recent of Pat's sculptures. More of her work can be seen on her website at www.siteandinsight.com/art/
Editors notes:
Pat's blog at www.siteandinsight.com/blog/ is one of Garden Design magazine's favorites and you will want to follow her if you are not already.
You can learn more about Pat and Norman Webster's astonishing Glen Villa garden here: www.siteandinsight.com/glen-villa/
Pat is also an active speaker and leads garden tours: www.siteandinsight.com/talk/
See more garden art