Stacked Stone Garden Sphere Is a Whirlwind of Color
"A ball of living energy, made from multiple colors of stone swirling about," is how Devin Devine describes his latest garden art creation, a large 4-foot sphere made of fragments of stone arranged in a circular eddy of waves. His company, Devine Escapes in Effort, Pa., specializes in using natural stone to design unique and inspiring outdoor landscapes. Artistic projects such as this one make up about half of his work, with the rest of his time devoted to building flagstone patios, walls, and other types of hardscaping.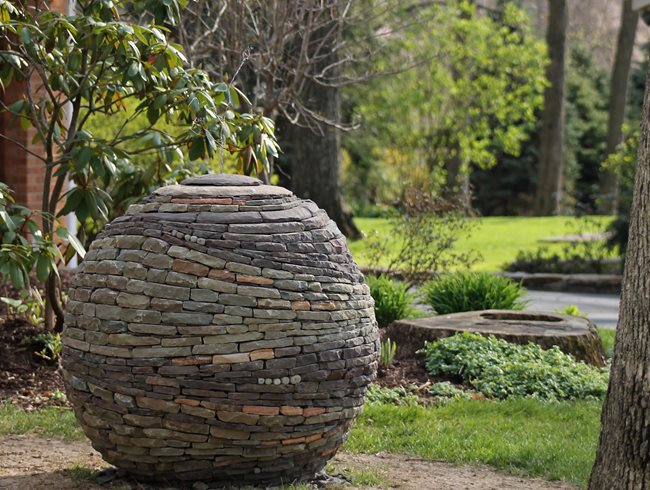 This 4-foot-diameter garden sculpture was created with various colors of stone stacked and woven together in a spherical pattern. "The sphere is about as universal of a shape as it gets. There's a primal response to it, some fascination I can't really describe," says stone artisan Devin Devine. Photo by: Devin Devine.

See more garden-inspired art.
Before starting his company in 2007, Devine worked as a mason to pay the bills. After practicing the trade for many years, he began expressing his artistic vision through stone, making hand-crafted spheres, vases, and other garden sculptures. The piece shown here is Devine's third sphere, a shape he finds particularly alluring. "The sphere is about as universal of a shape as it gets. There's a primal response to it, some fascination I can't really describe. I've been drawing and painting sphere-shaped objects for years. Now I build them too," he says.
Devine creates his spheres and other sculptural pieces using dry stacked stone, usually leftover fragments of flagstone that remain after he builds patios and walls. His work was inspired by a similar stone sphere he saw in a book by Dan Snow (of Dan Snow Stoneworks). "It was awesome, and I wondered-how'd he do it? As I gained experience working with stone, I figured out how it was done. At the same time, I figured out how to build stone walls where the stones flowed, like waves, rather than just being stacked level, with each stone woven together in such a way that it can hold itself together," he explains.
For this sphere, which Devine calls the "Dry Stone Hypersphere, the Thirdlymost" he used green-gray stones and plum-lilac stones for the bulk of the piece. Yellow and white stones were used sparingly as accent points, along with groupings of blue circular stones inserted here and there. "The yellow and white stones are from here in the Poconos. The thicker, somewhat redder of the plum-colored stones were found on the client's property," says Devine.
Devine's stacked stone spheres, which are typically held together with no mortar or cement, are a challenge to assemble, he admits. "The risk of collapse is there, especially at the half-way point. And getting the flow just right is not something I take very lightly. This type of project does involve a bit of play, but overall it really is not so much whimsical or spontaneous, but rather thoughtful and calculated."
To read more about the creation of this sphere and to view the work in progress, visit Devine's blog post about the project.