7 Tips for Sculpture in the Garden
Learn how to select and place sculpture in the garden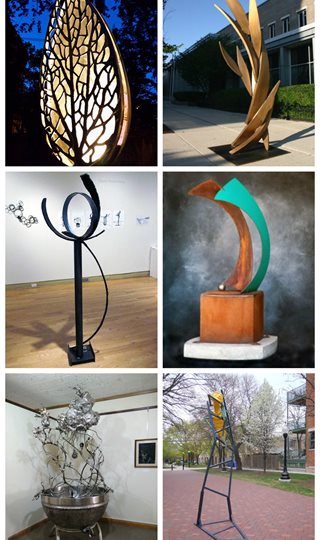 These six large-scale pieces of public art will be on display amidst beds of roses at the 2016 Chicago Flower and Garden show. Photo by: (Top left, clockwise) 'Chicago Peace Tree' by Nicole Beck, 'Looking Up' by Michael Young, 'Facilitated Spark' by Dusty Folwarczny, 'Night in Tunisia' by Ron Gard, 'The Turtle, The World, The Garden and Bullwinkle' by Mike Helbing, and 'Dream Seeker' by Shencheng Xu.
Brian Dreher, landscape designer with Patch Landscaping shared with us these tips for properly selecting and placing sculpture in the garden.
Selecting a Sculpture
Choose something you love. A sculpture can enhance a landscape but it's not required. Don't get caught up in something trendy. A sculpture can be contemporary, realistic, native, religious, traditional, personal, abstract, or an heirloom. If you like it, go for it.


Sticking with a Style
The style of your home or garden can influence which sculpture you pick. For example, if you have a Japanese style garden, it's best to stick with lanterns, or a buddha statue to enhance and maintain that theme. For a contemporary style home, an abstract sculpture fits well. For a traditional style home, you might choose a formal statue or an abstract art piece.


Placement
Consider these options when deciding where to place a sculpture. Larger pieces act as a focal point and draw the eye to an area. Abstract sculptures make great focal points because they can be seen from all angles. Choose something to evoke emotion and consider the view in front, around, and in the distance.

Smaller sculptures bring you close to the garden. Place smaller sculptures in a mass of flowers to surprise and encounter wonderful works of art on a stroll through the garden.

In the midwest and similar climates, sculpture adds a point of interest in the winter among the snow, making it a striking focal point.


Material Choices
Sculptures come in a variety of materials including limestone and concrete which are suited well for traditional or formal gardens in color and style. Bronze, fiberglass and metal offer more flexibility in terms of design. Metals will be the most durable. Limestone and concrete will weather over time.


Size Considerations
The size of the sculpture can make your garden feel smaller or larger. On smaller lots, don't choose a large piece that takes up most of the garden. For a focal point, larger is better. For an accent, smaller is better. Use a large cardboard box or build a wood box to size to place and see how it looks in proportion to the yard.


Adding Additional Elements
Sculpture can introduce another element to the garden in the form of a water feature. Sculptures with water or incorporated with feeders attract wildlife and bring action to the garden. Lighting within the sculpture or on it can also enhance the garden.


Choosing Plants
Massing plants around a sculpture is a no-fail way to landscape. Plants can be chosen to complement the color of the art piece or to contrast with it. Choose plants that are smaller to not block the sculpture or backdrop. It's also important to think about seasonal interest, such as when do they flower, is there foliage all year long, do they have interest in winter, and how do they coincide with the different views of the sculpture throughout the year.
RELATED:
Sculpture + Roses that Are 'Easy to Love' at the Chicago Flower and Garden Show
Garden Art