Cal Lane's Garden Tools
Are artist Cal Lane's garden tools art or implements? Her "Wheelbarrows and Shovels" series is on display through June 16, 2012, at the Art Mûr gallery in Montreal.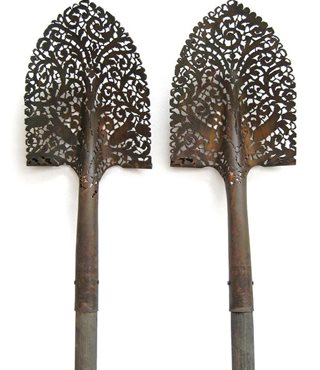 Two daintily feminine but otherwise familiar objects from Cal Lane's "Wheelbarrows and Shovels" series. Photo by: Guy L'Heureux.
The disconnect between pretty and powerful in Cal Lane's "Wheelbarrows and Shovels" series, in which she etches designs into ordinary garden tools, raises the question: Which side is the artist on? Hint: Lane makes her pieces using an industrial blowtorch.
Growing up in a small town in British Columbia, Lane felt out of place in the feminine atmosphere of her mother's hair salon. "I was a woman who wanted adventure, to get dirty and have a foul mouth," she says, impulses that induced her to go to trade school to become a welder. After several years working in factories, Lane attended Nova Scotia College of Art & Design, where she worked in a broad range of materials: rubber, plaster, rust, even toilet paper and toast. "I didn't want to focus so much on one material that it limited my ideas," she explains.
But she kept coming back to steel, and over the past decade she's made her name recreating utilitarian found objects—gardening tools, oil cans, steel beams, car parts—into fanciful objets d'art shot through with delicate lace patterns and religious imagery.
The contradictions in her pieces are precisely the point. "I like how an old object comes with its own story and place in the culture," says Lane. "I use contrasting imagery to show a contrary side." Lane's latest work, on display April 28 through June 16 at the Art Mûr gallery in Montreal, applies her lace patterns to dissected ammunition boxes.
Housed in private collections around the world, her shovels and wheelbarrows have been shown widely, most recently in December at the 2011 Pulse Miami Contemporary Art Fair. A group of her pieces will be on display this summer at Nottingham Castle in England.
See more garden-inspired art.