Q&A with a Botanical Muralist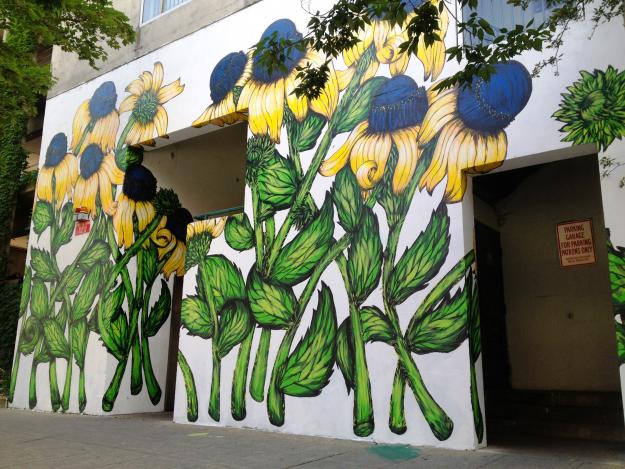 We recently received photos from Kellie Cox-Brady, a botanical muralist in Ithaca, New York. With work so unique, we couldn't pass up learning more. Below is a recap of our conversation with Kellie.
How did you become a muralist?I grew up in a family with a strong horticultural influence. My mom ran a gift shop that specialized in fresh and dried floral arrangements. I also remember drawing flowers with her and my grandmother at a very young age. In high school I helped out at the shop and worked part time at a garden center. After graduation, I went to the University of Delaware to study landscape horticulture and plant science, thinking I would become a landscape designer.
Little did I know that I would soon have the opportunity to bring together my love for art and my passion for plants. Through a project called 21 Boxes, I became involved with Ithaca's Public Art Commission. This project involved multiple artists painting electrical boxes throughout the city, of course mine was covered with flowers and plants. This was the beginning of my journey as a muralist.
Why have you chosen botanical subjects? What makes flowers good subjects for art?Because of my background, it was natural for me to choose botanical subjects. Flowers make great subjects for art because they are beautiful, come in many varieties, appeal to just about everyone, and evoke an array of feelings. For one of my recent murals, also a project through the Public Art Commission, I chose Rudbeckia hirta (black-eyed Susans) as my subject. They are a personal favorite and native to this area of New York. I wanted the mural to bring awareness to the residents of Ithaca by showing them how beautiful natives are. Hopefully some people who see the mural will plant black-eyed Susans at home as a result.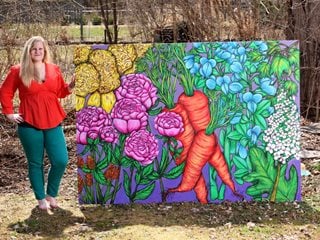 Kellie Cox-Brady next to one of her portable murals for Cornell University.
One interesting aspect of painting botanical murals is the attention to detail that is required. Since my subjects are larger than life, many details become obvious that are easily overlooked on the actual plant. It is almost like putting a specimen under a microscope, but instead I'm painting them on walls. This is where my education in plant science comes in handy. I make sure the veins, stems and petals are all scientifically accurate.
The oversized nature of my work also leads to a whimsical feel; some people have even compared it to Alice in Wonderland. I especially like the way it takes me back to my childhood, when plants seemed so large and fascinating.
Do you paint from a photograph, use actual plants, or work from memory?For the black-eyed Susan mural, the installation was done from memory. However, when working on the concept, I researched the plant and observed photos and living specimens before submitting a sketch to the Public Art Commission. Many people ask how I determined the proper scale for this mural and are surprised to find out that I don't do a lot of measuring or mathematical calculations to get it right. I let my eye determine where certain parts of the plant belong and how large to make them.
How does creating a mural differ from designing a garden? How is it the same?Creating a mural and designing a garden both involve creativity and science. When I design a garden, I am more precise with the math and pay closer attention to the scaling. On the other hand, I love the freedom that comes with mural creation; fewer limitations allow me to express myself in a personal way.
Tell us about the process of creating the black-eyed Susan mural.I started on this project about 8 months ago and finished painting in early July. Here is a step-by-step of my process for creating this mural:
First, I submitted my proposal to the Public Art Commission and waited for their approval.
Once approved, we had to find funding to pay for the project. I explored grants, but ended up doing a fundraiser through USA Projects, an online community that helps artists fund projects through donations. I am so thankful to those who contributed.
With funding collected, I bought supplies and began painting. I used exterior paints so they would hold up for many years.
I started painting the mural on scaffolding, but wasn't comfortable so I switched to a large extension ladder.
I primed the wall to give myself a nice, clean canvas.
Next, I laid out the painting free-hand with a light yellow sketch.
From there I filled in the black-eyed Susans with the various colors of paint.
The final step was to apply a varnish to the completed mural as an extra layer of protection from the elements.
The installation took me two and a half weeks, a total of more than 70 hours of painting.
What's your dream mural?I don't have a specific dream mural, but I would like to do many more projects of this sort. I'm scheduled to do another public mural on a bridge in Ithaca that I'm looking forward to. I also recently did a project for Cornell University where I created portable murals for their Plant Science Department. I would like to do more work for universities and schools. I also plan to move to Washington D.C. later this year and am hoping to find opportunities to paint botanical murals there as well.
Kellie Cox-Brady can be contacted via her website: kelliecox.com.
See more garden-inspired art.