Northern Star: A Journey Through Sweden's Gardens
In Sweden, a garden-obsessed writer finds a land of natural inspiration.
One thing I've learned after almost a decade in Sweden is this: Under no circumstances should you move here in November. I did. I left New York, a city that glitters year-round and where there's almost always some green in Central Park, and moved to Stockholm. Life went from Technicolor to black and white. If you've seen Ingmar Bergman's The Seventh Seal, in which a man plays chess with Death, that's how I feel as I walk around the house switching on lights at 3 o'clock on a November afternoon.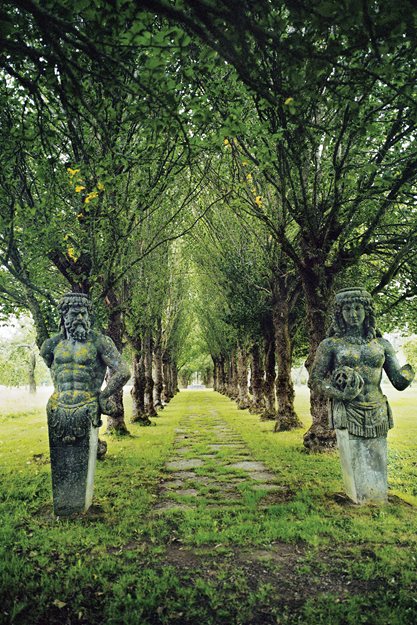 Limestone Nordic gods guard the grounds of Häringe Slott, a hotel located on a nature reserve south of Stockholm, Sweden. Photo by: Pia Ulin and Gemma and Andrew Ingalls.

SEE MORE PHOTOS OF THIS GARDEN
For someone whose career as a writer and editor involved a great deal of time spent in gardens in England and America, it wasn't just the darkness that came as a shock. Sweden, one of the less-populated countries in Europe, has an abundance of land but what seemed to me a shortage of gardens. Was it possible that the Swedes, unlike the British, simply preferred their nature untamed?
"Gardening in Sweden is a rather new field," explains Ulf Nordfjell, one of Sweden's most prominent landscape designers and winner of the Best in Show award at the 2009 Chelsea Flower Show. "It was started with a need to produce vegetables after World War II. You can't compare a Swedish garden with one in Britain or France or Italy; it's not possible. We have country gardens where people spend time during their summer, but it's a rather unique relationship — more a piece of nature, maybe with some strawberries and roses."
Since the 1800s, Rosendals Trädgård, a garden located on an island in central Stockholm, has boasted an extensive collection of rare plants, including, at one point, some 400 fruit trees. Today, the garden offers vegetables and cut flowers for sale and classes on biodynamic gardening. Below, dahlias and calendula grow in rows outside a greenhouse. Photo by: Pia Ulin and Gemma and Andrew Ingalls.

SEE MORE PHOTOS OF THIS GARDEN
Ah, the Swedish summer. As with winter, nothing prepares you for it, but this time the shock is a nice one. Days are long, nights are warm, and the light has a silver quality you find nowhere else. After its long winter slumber, nature goes into overdrive, and Swedes want to be in the thick of it. Suddenly, life is lived outdoors.
Even though Stockholm has one of the highest rates of second-home ownership in the world, locals don't need to leave to get back to nature. At various spots around the city there are koloni — one-room wooden shacks with gardens around them, rather like British allotment gardens. People sign up on waiting lists for koloni and lavish love on them when they get them. The city's parks are also full in the summer, and there are places like Rosendals Trädgård, a public garden with a cafe and nursery on the island of Djurgården that is packed whenever the sun shines. People picnic in the orchard, cut flowers, buy plants, or eat lunch in one of the glass houses.
Before I moved here, I thought of Swedish design as being all about white minimalism. It is, in fact, full of references to the natural world. "Nature is a great inspiration," says Victoria Skoglund, owner of Stockholm's hippest plant nursery, Zetas. "Many artists, designers, and creators use wood, plants, and water as the basis of their creations." You can see this at Svenskt Tenn, an interior design store in downtown Stockholm best known for its collection of furnishings and fabrics by Josef Frank. Frank, an Austrian designer who fled to Sweden in 1933 as the Nazis rose to power, drew heavily on nature, designing vivid patterns filled with tulips, lotus flowers, ferns, and all sorts of imaginary varieties. One of his most iconic pieces is his Flora cabinet that's entirely covered with botanical prints. His influence on Swedish design and architecture is immeasurable, and even at Ikea you'll find all sorts of pieces inspired by Frank's work.
At Grythyttans Gästgivaregård, or Grythyttan Inn, established in 1640, a shed's grassy roof represents an old-school take on the green roof concept while the brick red, or Falu red, exterior exemplifies the go-to color for wood buildings throughout Sweden. Photo by: Pia Ulin and Gemma and Andrew Ingalls.

SEE MORE PHOTOS OF THIS GARDEN
So while even one of the most famous gardens in the land — that of Carl Linnaeus, the pioneer of taxonomy, in the town of Uppsala — is quite modest when compared to English or Italian specimens, the natural world permeates this country's aesthetics in a way that rivals even the most garden-centric societies. This can be seen on a domestic level — there's never a shortage of beautiful flowers in Swedish homes, no matter the time of year — and on a deeper cultural plain in the etymology of so many Swedish surnames. Hasselblad, for instance, means "hazel leaf," and the hero of Stieg Larsson's The Girl With the Dragon Tattoo trilogy, Mikael Blomkvist, has a last name that roughly translates as "flower twig."
Nowadays, as Skoglund points out, the ever-practical Swedes are putting their gardens to increasing use to grow unusual foods. "Demand for useful berries like goji and buckthorn has never been greater, and people's interest in growing their own vegetables seems to just get bigger and bigger," she says. "Customers are no longer satisfied with traditional potatoes; they ask for the French delicacy potatoes. Different kinds of chilies, tomatoes, and lettuce varieties are on their shopping lists."
Nordfjell notes that there's also an increased interest in design among Swedish gardeners, who now experiment with plant varieties, shapes, and materials. "Attitudes have been changing over the last 20 years," he says. "People are using timber, steel, and granite." And while gardeners here have an eye on what's happening in the rest of the world, Swedish landscapes remain unique. "Six months of snow," says Nordfjell, "influences a lot of what you can do in your garden."
A Swedish SojournTo best enjoy Sweden's natural beauty, plan to visit between May and September (though be forewarned: Many Swedes take a month-long vacation in July, leaving the cities feeling empty and many of the restaurants shuttered).
For accommodations in Stockholm, consider the well-designed newcomer Hotel Skeppsholmen, located on a small island connected to the city center by a bridge. Neighbors include the Museum of Modern Art and the Swedish Museum of Architecture. Stallmästaregården is a 49-room inn dating from the 1600s abutting the Royal Park of Haga (Hagaparken), which features walking paths and a large tropical greenhouse. To sample Sweden's take on the "new Nordic" cuisine, which favors naturalistic techniques and Scandinavian ingredients, head to Mathias Dahlgren at the Grand Hôtel, where one can sample a signature dish of raw and smoked reindeer with whitefish roe. At Restaurang Volt, the likes of lamb tongue, spruce, sea buckthorn, gooseberries, and ash are served in a cool, minimalist space.
If you're traveling to Sweden, check into any of c/o Hotels' impressive, unique properties scattered around the country, including Häringe Slott, Krägga Herrgård, and Grythyttan Inn, among others (careofhotels.com).
Stephen Whitlock was once an associate editor at Garden Design. He lives in Stockholm and writes for numerous magazines.