Reinventing the Tropical Garden
In mid-20th-century Sri Lanka, two siblings—the Brothers Bawa—took their own inimitable paths to redefining the tropical garden. This is their story.
Be the first to know about new day trips and guided tours from GardenDesign.com and our partners. Sign up here!
Two eccentric brothers create wonderfully idiosyncratic gardens an hour's distance apart on an enchanted island off the tip of India. Sibling rivalry? Perhaps. The results: spectacular. I visited both gardens recently, unprepared not only for their beauty and originality but for the distinctive nature of the two men's designs, each as revealing as diary entries. The brothers, brilliant in their own ways and as different from one another as their gardens, are gone. But here, in vernal splendor, the two documents of their lives bloom on.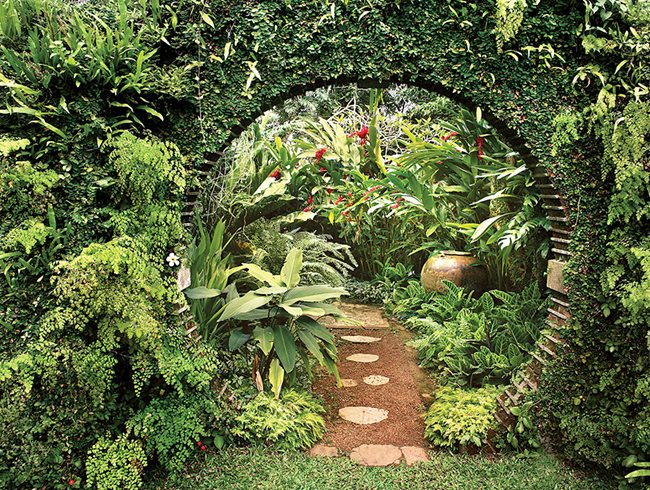 Japanese moon gate at Brief Garden. Photo by: Luca Tettoni/Corbis.

SEE MORE PHOTOS OF THIS GARDEN
The island is Sri Lanka, often described as a teardrop hanging off India's southern coast. Slightly larger than West Virginia, the former Portuguese, Dutch, and British colony, lately torn by civil war, retains the staples of a colonial-era paradise—jungles, tea plantations, beaches, colorful cities, ancient ruins and rock formations, spices in the air, and hundreds of Buddhist shrines and temples. In this stunning tropical landscape, near the southern coastal town of Bentota, the brothers Geoffrey and Bevis Bawa carved out the two gardens that have become their legacies.
Sri Lanka's is a diverse culture, home to Veddas, Tamils, Burghers, and Moors, known locally as Muslims. The Bawa family was connected to the wealthy, elite Burgher society, whose ancestry can be traced to 17th-century Europeans who settled in Ceylon (as the island was called before 1972). Geoffrey and Bevis' father's ancestry was British and Muslim; their mother was of European and Sinhalese stock. (Sri Lankan-born author Michael Ondaatje, who comes from a Burgher family, wrote vividly about this free-spirited, hedonistic world in his memoir, Running in the Family.)
Bevis' modest house, painted a soft apricot with terra cotta tiles, allows the jungle in through wood-paneled double doors. Photo by: Dominic Sansoni.

SEE MORE PHOTOS OF THIS GARDEN
Geoffrey (1919-2003) is far better known than his brother. After training in England to be a lawyer, he turned to architecture. He designed the island's Parliament complex as well as many other public buildings but made his reputation with his hotels, like the mile-long Heritance Kandalama outside of Dambulla, which seems to grow out of the jungle, and the Jetwing Lighthouse in the coastal city of Galle. Geoffrey's practice of combining native materials with international modernist style has become hugely influential around the world.
Geoffrey began his garden, called Lunuganga, in the late 1940s. Sited on a former rubber plantation, its main feature is a large lake at the bottom of a steep hill. The English landscape movement heavily influenced his plan. Wide swathes of lawn stretch toward the lake from the original house (now a hotel), dotted with Frisian cows (Geoffrey loved black and white everywhere and adored Dalmatian dogs), water gardens, and miniature rice paddies. A crenelated folly, prettily painted guest bungalows, and artfully placed statuary add to the English feel.
Geoffrey had no doubts about the relationship between a designer and his garden. His philosophy was dedicated to the notion of man's domination over nature; he moved water, hills, and trees without hesitation. "The long view to the south ended with the temple," Geoffrey wrote, "but in the middle distance was a ridge with a splendid ancient moonamal tree, and when I placed a large Chinese jar under it, the hand of man was established in this middle distance." Yet Geoffrey's genius was to create a landscape so naturalistic that it could hardly be identified as man-made. Ondaatje tells the story of a visitor to Lunuganga exclaiming, "But Mr. Bawa, wouldn't this be a lovely place to turn into a garden?" Geoffrey said this was the best compliment he ever received.
Bevis Bawa (1909-1992) used his authority in a different way. Called the Brief Garden because his father purchased the land after a successful legal brief, Bevis' garden is farther inland than his brother's, and though it embraces the same tropical landscape, it reflects Bevis' unruly temperament and casual approach to life.
A wall separates meadow and heavily planted bank. Photo by: Dominic Sansoni.

SEE MORE PHOTOS OF THIS GARDEN
Ten years older than Geoffrey and handsome at 6 feet 7 inches, Bevis volunteered for the Ceylon Light Infantry, serving until his artistic pursuits and his garden won the day. Bevis started his garden (also a former rubber plantation) in 1929, almost 20 years before his brother. His design follows narrow winding pathways through dense tropical foliage, runs up and down slopes, then suddenly opens onto a staircase, a patio, a pond, or a strategically placed piece of sculpture. Walking through it one feels that Bevis somehow tamed the jungle for his purposes, but only momentarily—stray from the path and you are back in the forest.
Visiting both gardens in one day, I was struck by the variety of emotions they elicited. Bevis' garden, which I saw first, was the wilder of the two but somehow more comforting and intimate. A drenching monsoon rain had just ended, leaving a steamy and muggy atmosphere with drops of water still trembling on the palm fronds and rivulets of rain racing across the paths like little snakes. No other tourists ventured out in such torridly humid weather, and no guide appeared to accompany me. Yet I did not feel lonely. The paths took me from vista to vista, each more breathtaking than the last. I felt I was being led by an invisible docent who told me where to stop and look or where to sit and rest. It was magical. At every turn I was aware of the giant palms and tropical plants looming overhead, ready to pounce and return to the jungle the land Bevis had so cunningly captured.
Geoffrey's garden had the opposite effect. A guide walked me through the long landscaped vistas of paddy fields with the lake as a backdrop, through the carefully arranged clumps of trees, up Cinnamon Hill past the Frisians grazing in the meadow. At the top of the hill, I enjoyed the long view back toward the main house. Everything felt open to the sky. This garden felt almost familiar to this Englishwoman, particularly the presence of the happily grazing cows. Only occasionally did glimpses of tropical plants in the interstices of the garden remind me of where I was.
As I strolled back through Geoffrey's elegant, controlled landscape, images of the rather more outrageous elements of Bevis' garden flashed through my mind and I began to laugh. Later, I asked David Robson, author of Bawa: The Sri Lanka Gardens, how he felt about the two gardens. "Brief is introspective," he wrote to me, "a series of outdoor rooms with almost no views toward the outside. It is the more decorative, more eclectic of the two. Geoffrey Bawa may have set out to create a Sri Lankan version of a European garden, but in the end he created something that owes more to Sri Lankan garden-making and landscape traditions."
So Bevis made his garden and Geoffrey made his, and after seeing the results, even if you knew nothing about the men who made them, you could do some pretty accurate speculating about their personalities. Whatever their differences, Bevis and Geoffrey dug out two incontestable masterpieces from the rich Sri Lankan soil, producing two separately inspired gardens that belong together as a family record for generations to come.
OTHER PLACES TO SEE
The Royal Botanic Gardens in Peradeniya, Sri Lanka, northeast of Colombo, cover 147 acres along the Mahaweli River and has allées of more than 200 species of palms, an orchid house, a giant Java fig tree, and a Victorian-style annual garden. Geoffrey Bawa-designed hotels can be found throughout Sri Lanka. For a completely different experience, visit the town of Nuwara Eliya in the mountainous central region of the island where most colonial tea plantations were established. The town is full of English-style cottages and is a great base from which to explore the plantations (some offer tastings) and see the gorgeous spectacle of tea bushes planted in neat rows along the hillsides.
Be the first to know about new day trips and guided tours from GardenDesign.com and our partners. Sign up here!