African Oasis
Near Cape Town, a farmstead hotel restores gardens and spirits.
Babylonstoren means "Tower of Babel" in Dutch, and the eight acres of gardens at this restored 18th-century Cape Dutch farmstead and hotel in South Africa's Drakenstein Valley are, like their namesake, both monumental and tantalizingly unfinished. And yet, a walk through the grounds may help visitors do what that skyscraper of legend could not: touch heaven.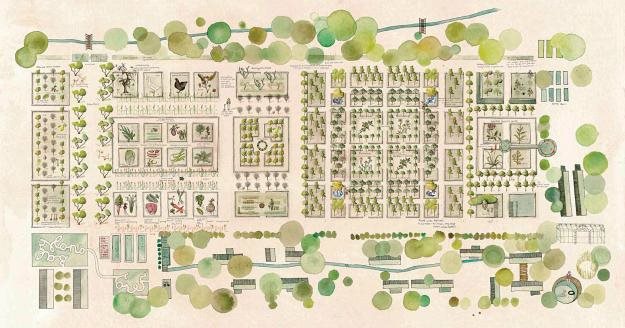 A map of the garden. Photo by: Babylonstoren.
"Perhaps people find it peaceful because it's not aggressive," says Babylonstoren's landscape designer, French architect Patrice Taravella. "Beauty is not an objective, it is the result."
In the geometric gardens of Babylonstoren, a farmstead and hotel near Cape Town, South Africa, pathways paved with recycled peach pits crunch underfoot beside a gurgling, stone-lined stream that serves as the gardens' gravity-aided irrigation system. Photo by: Cactus Branding (courtesy of Babylonstoren).
In 2007, owner Karen Roos reached out to Taravella—who impressed her with his work at Prieuré d'Orsan, his reimagined cloistered garden on the grounds of a restored 12th-century monastery in France's Berry province—and tasked him with creating a completely edible and medicinal garden. Roos, a former editor for Elle Decoration South Africa, dreamt of reinterpreting the storied Company's Garden of the Dutch East India Co. The spice route traders founded nearby Cape Town in 1652, and the farms surrounding the colony provided sailing traders with fresh fruits and vegetables.
Taravella began by giving the garden great bones. A straight line from the converted kraal, where livestock were once kept, to the Babylonstoren koppie, or hill, serves as the axis of the grounds. Based on that backbone, the garden beams out in a perfect grid with neat, ample rows of fruit trees, vegetable patches, and herb hedges. "For me, it's not the plants that make the garden," says Taravella. "In China and Japan, they don't use plants at all. They use water and stones. The most important thing is the structure."
The Western Cape's vibrant native species thrive in the garden. Photo by: Dookphoto.com (courtesy of Babylonstoren).
Like a Wonderland chessboard, each tidy square is brimming with curiosities. Pergolas covered in climbing roses or grapevines tower above disciplined rows of twisted guava trees. More than 50 varieties of trellis-trained stone fruits are planted sequentially by order of flowering—they bloom in a wave from one row to the next. In one square, three varieties of prickly pear cacti form a maze of jade; in a neighboring block, visitors can walk barefoot through meditation patches of calming chamomile. Worker ducks, kept to patrol the vineyards for pests, flap and babble spiritedly from their pen.
Students of local flora can explore 10 hectares of endangered indigenous species, including examples of Western Cape's diverse fynbos floral kingdom. For three weeks in spring, visitors enjoy thousands of auburn and butter-color clivia that blanket the banks of Babylonstoren's stream like "a river of blooms," says Taravella.
Cape farms once offered their bounty to sailors traveling to and from the Far East. Photo by: Babylonstoren.
The property will evolve with the growth of new plantings, such as milkwood trees that may live for 1,000 years and fast-growing carob trees near the guest cottages. But for Taravella, there is no reason to look toward the future. "A garden is like a human," he says. "A man or woman is always interesting, whether at two months, two years, 20 years, or 50 years. And like a human, there is not a time when the garden becomes finished."
Ganda Suthivarakom is the site director of Saveur.com.