Singapore's Gardens by the Bay
Singapore's futuristic Gardens by the Bay may look like a scene of out of the Jetsons, but rest assured, it's real.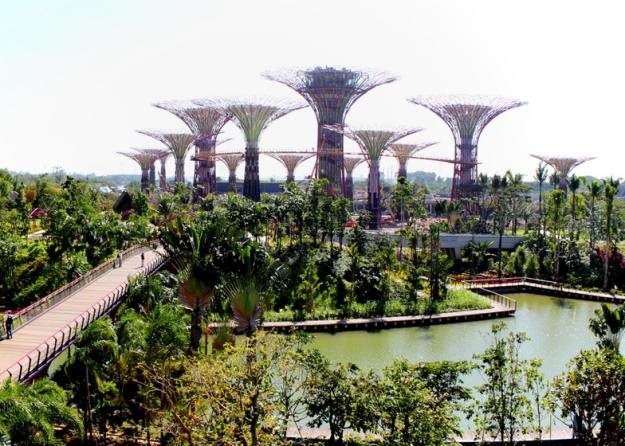 Photos by: Robert Such, Darren Chin, Craig Sheppard.
With its supertrees, biodomes and skywalks, Gardens by the Bay is part of an overall strategy to develop and create a new downtown district in Singapore's Marina Bay. The government funded project is meant as a celebration for the ever-evolving city, and though Singapore is surrounded by water, the urban terrain of its tall buildings has left a desire to bring horticulture and green into its metropolis-environment, with the ultimate goal of turning Singpore into a "city in a garden." When the 250-acre Gardens by the Bay is complete, it will be comprised of three sections: Bay South, Bay East and Bay Central.
Photos by: Robert Such, Darren Chin, Craig Sheppard.
This past week, Bay South-the largest of the three-was finally opened to the public. The centerpieces of the 103-acre garden are the 18 manmade "supertrees" which are vertical structures covered in tropical flowers and ferns. Designed by British architects Wilkinson Eyre and landscape architects Grant Associates, the 25 to 50 meters high structures just dont look omnisciently fantastic, but they also serve a purpose: they generate solar power, act as air vent ducts for the conservatories nearby and collect rainwater. Connected by "skywalks" the supertrees were designed to impress-and they certainly do.
While access to the outdoor gardens at Bay South is free, there is an admission to enter the shell-shaped conservatories, of which there are two: Flower Dome and Cloud Forest. Equivalent to 2.2 football fields, the cool-dry climate controlled Flower Dome houses plants from deserts around the world, while the cool-moist Cloud Forest showcases a manmade mountain that you can ascend, experiencing the lush, tropical vegetation in nine different zones. Cloud Forest also features a 30-meter-high manmade waterfall that helps maintain the climate.
Photos by: Robert Such, Darren Chin, Craig Sheppard.
Also of note are the Heritage Gardens, four gardens that take you through the history and cultures of Singapore, and the Dragonfly and Kingfisher lakes.