La Louve
La Louve (The She-Wolf), Nicole de Vésian's house and garden in Provence is up for sale. This influential garden was designed by a former designer for Hermès—we take a look at how you can buy or visit this amazing garden.
Lindsey Taylor, our style director at GARDEN DESIGN, and who sits next to me in the office, waved an issue of the Financial Times at me last last week. "Look!" she said, "Nicole de Vésian's house and garden is for sale!" Flipping throught the real estate ads of the newspaper, Taylor had noticed that one of the estates in an advertisement was none other than La Louve (The She-Wolf), the famous garden in Provence created by Nicole de Vésian.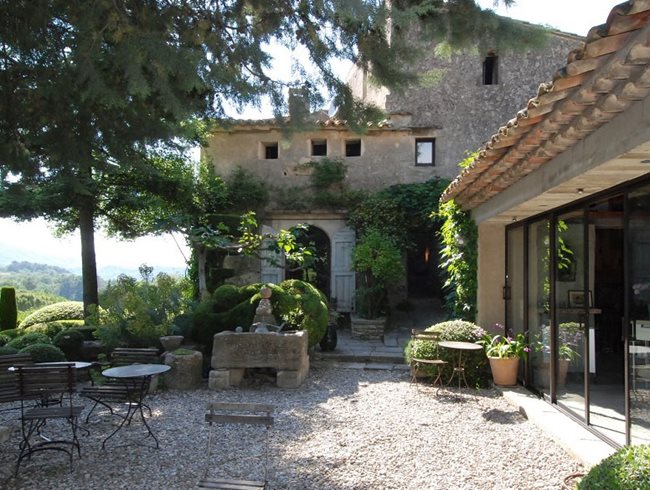 The garden has several different gardens, planted in a series of terraces that blend in with the surrounding landscape. Photo by: EmileGarcin.fr.

SEE MORE PHOTOS OF THIS GARDEN
Nicole de Vésian was a designer for the iconic French brand Hermès in the 1950s and 1960s, working alongside a young designer named Christian Lacroix. After the death of her husband, she moved away from Paris, to Provence, where she bought a house in Bonnieux. Located in the Luberon, a pretty and picturesque area of hilltop towns, de Vésian's dilapidated estate was transformed into an amazing and influential garden. De Vésian's legacy is her gardens: Ina Garten (aka the Barefoot Contessa) told House Beautiful, "I was very influenced by a woman named Nicole de Vésian. ...She worked in just four materials—stone, linen, leather, and wood. I have a little envelope of articles about her." We even featured La Louve in our May/June issue, in our story about topiary (in print editions only).
The rarely seen pool is part of this amazing property. Photo by: EmileGarcin.fr.

SEE MORE PHOTOS OF THIS GARDEN
The property, which is now owned by Judith Pillsbury, a print dealer in Paris. You can normally visit the garden, by appointment, once a month (closed in July and August) for an hour. Groups of at least 10 people should reserve through the tourist office of Bonnieux, and the property has traditionally been open for garden visits during the first weekend in June. Tickets are 10€ per person and more information is available through the Commitee of Parks and Gardens in France.
De Vésian liked subtle, natural colors, and liked the texture of stone as a focal point in her gardens. Photo by: EmileGarcin.fr.

SEE MORE PHOTOS OF THIS GARDEN
On the other hand, if you're interested in buying the property, the estate is being handled by French realtors Emile Garcin, and the property is listed as being in the "2,300,000€ to 5,000,000€" category. (For Americans, this is between $3.3 million and $7.2 million.) We've put together a slide show of the gardens from the realtor's site-a beautiful place to daydream about on this Monday afternoon.