Rebuilding the Gardens of the American Academy in Rome
They came, the saw, they gardened, and now that the dust has settled, The American Academy in Rome is more glorious than ever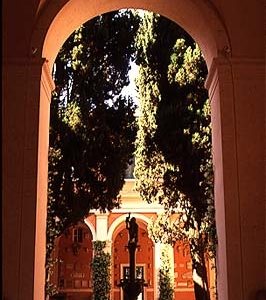 Photo by: John Kernick.
"Take what you need; it's here to be used!" It sounded sacrilegious, but Alessandra Vinciguerra, horticulturist of the American Academy in Rome, was urging me to cut flowers on the newly restored academy grounds. Once I realized that she meant what she said, it struck me that her generosity came from the heart of the century-old institution that she serves. Each year, the academy appoints 29 fellows (Americans who pursue projects in the arts and humanities that typically last 12 months) and welcomes other scholars, such as Fulbright fellows, as well. The group lives in an 11-acre hilltop complex of villas overlooking Rome, with all of the city's aesthetic and intellectual riches at its disposal.
Photo by: John Kernick.
Before taking my campus tour, as the wife of a recently arrived fellow in design arts, I'd studied the list of fellows past, a roster that includes artists, writers, and musicians as diverse as Frank Stella and Mary Miss, William Styron and Mark Helprin, Aaron Copland and Lukas Foss. An architect myself, I could easily see how a stay amid the powerful cityscape of Rome has left its mark on contemporary designers such as architects Robert Venturi and Michael Graves and landscape architects Michael Van Valkenburgh and Laurie Olin. In very different ways, each of these former fellows still draws upon the ageless order and sensuousity of Italian tradition to redefine the shape of our world.
Photo by: John Kernick.
Olin's name came up right away as I talked with Vinciguerra, who is responsible for carrying out the Philadelphian's ambitious garden restoration plan. Academy President Adele Chatfield-Taylor praises Olin as "one of the most poetic, experienced, and sought-after landscape architects in America." Now an academy trustee, he recalls, "I'd gotten to know the site when I was a fellow during the '70s. The Villa Aurelia [a 17th-century building that became the Academy's first permanent home in 1909] was so beautiful then, and the garden of the main building, with its vegetable plots, flower beds, and gardener's hut, was like the long-lost rural landscape around Rome. Then one day in 1989, while sitting in a trustees' meeting, I looked out the window and saw dying trees." Olin walked the grounds. "The harder I looked, the worse, I realized, it was. So I raised the alarm."
Photo by: John Kernick.
Chatfield-Taylor, who shuttles between the academy's offices in Rome and New York City, agreed with him: "If the neglect had continued, the grounds would soon have become a barren hillside." She assembled an all-star team of trustees, including Millicent Johnson, past president of the Garden Club of America; Mercedes Bass and Arthur Ross, who each provided generous funding, enthusiasm, and advice; and Marella Agnelli, a noted gardener and an authority on the Italian landscape.
Photo by: John Kernick.
This was not the first time the grounds had been rescued from oblivion. Cannon fire savaged the Villa Aurelia in 1849, when Garibaldi made it his headquarters for the defense of Rome against French invaders. The villa was rebuilt in the 1880s by a Philadelphia dowager, who littered its classic Italian landscape with Victorian gazebos and fussy rockeries. The main academy building got off to a good start: J.P. Morgan donated a piece of land near the Villa Aurelia, and the celebrated New York architects McKim Mead and White, leaders in the turn-of-the-century Neoclassical movement, produced an impressive design (partner Charles McKim helped found the academy in 1894, along with illustrious compatriots such as sculptors Augustus Saint-Gaudens and Daniel Chester French). Fate intervened again, however, just as the building was nearing completion in 1913. The outbreak of World War I scuttled plans for splendid gardens with grand allées and axially oriented greenswards. And during World War II the complex was plundered, delivering yet another blow.
Photo by: John Kernick.
In succeeding decades, changes to the landscape occurred "without benefit of an overall plan," says Olin. Many plants died, and others were put in helter-skelter, as were a playground, tractor sheds, and sundry ad hoc installations. Discarded gardening equipment and construction debris piled up against walls and under trees. Besides sweeping away the detritus and simplifying the layout for each segment of the landscape, Olin's plan outlined plant-maintenance programs and called for the hiring of a seasoned plantsperson to supervise these activities.
Photo by: John Kernick.
Enter Vinciguerra, an art historian as well as a horticulturist who had worked at the famed gardens of Ninfa, south of Rome. At the Villa Aurelia, she and a crew of three removed bay laurel hedges that obscured the main façade, demolished sheds, refurbished tattered boxwood edging, pruned diseased Quercus ilex, added to a magnificent grove of umbrella pines, and renovated a bay laurel bower. Vinciguerra also planted flowers. "Many think the Italian garden is — and always was — just structure and greenery because that's what survived the centuries," she says. "But, in fact, the great gardens of the 1600s and 1700s had flowers, and Italians, like other Europeans, were avid collectors of the botanical treasures that plant hunters were bringing back from abroad."
Photo by: John Kernick.
A blue-and-white color scheme specified by the Olin plan complements the Villa Aurelia's classic Roman ocher stucco. South African daisies (blue Felicia amelloides and white Osteospermum ecklonis) spill over stone retaining walls and line the drive. Silver-leaved Convolvulus cneorum and wisteria scale the walls. Lavender, Lantana montevidensis, and hebe, a New Zealand native, bloom in the warm months, while Iberis sempervirens flowers during chilly ones. Vinciguerra explains: "I chose predictable Mediterranean plants — the lavender and rosemary — as well as varieties from similar climates in places like South Africa, Australia, New Zealand, and California, because they all demand little of the gardener here in Rome." Nearby benches give fellows a quiet place to muse on the view of the Sabine Hills and the distant snow-capped Apennines. But this garden is also a spectacular setting for parties. A new fountain designed by sculptor Simon Verity flowed with wine during its dedication festivities in 1996.
Photo by: Maura Mcevoy.
For the entry to the main academy building, Olin reinterpreted a design for a travertine fountain that figured in McKim Mead and White's original scheme. As soon as visitors approach that handsome basin, however, the scent of jasmine draws them to an inner courtyard where they find a bronze fountain from the 1920s. In contrast to this formality, a meandering path and rolling lawn outside the building recall the vanished Roman campagna. A popular refuge of fellows and their families, this almost rural expanse is dotted with fruit trees: peach, fig, cherry, persimmon, quince, and olive. "Italians look at this landscape, which has been made by Americans," says Olin, "and feel that it carries on Roman horticultural traditions."
Before leaving the academy at the end of my husband's stay, we threw an alfresco birthday party for our 4-year-old son. As the children ran relay races on the lawn in the shadow of golden walls, their laughter reminded us that in Italy, landscape embracing architecture is one of the ordinary miracles of daily life.