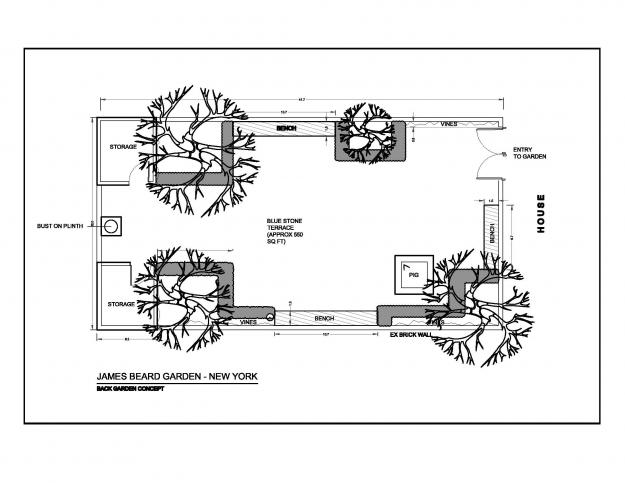 GARDEN DESIGN is working with several partners to renovate the James Beard Foundation house's garden. We'll be posting updates each week for six weeks to show the gradual transformation.
Week 1: Introducing the renovation
Week 2: Working with a landscape architect, designer, and drawing up plans
Week 3: Working with professional arborists
Week 4: Time-lapse videos of the renovation
Week 5: Installing refrigerators
Week 6: The final sneak peek
As you can see in these plans and the photo below, the Beard house's garden has several benches around the edge of the garden, some of which will be sanded and re-finished, while two benches will be replaced, courtesy of Barlow Tyrie. The trees will be pruned and two sculptures in the garden—a bust of James Beard (peeking through the tree) and a golden pig—will be more prominently displayed. New boxwood shrubs are being planted and the existing bluestone patio will be repaired and renovated.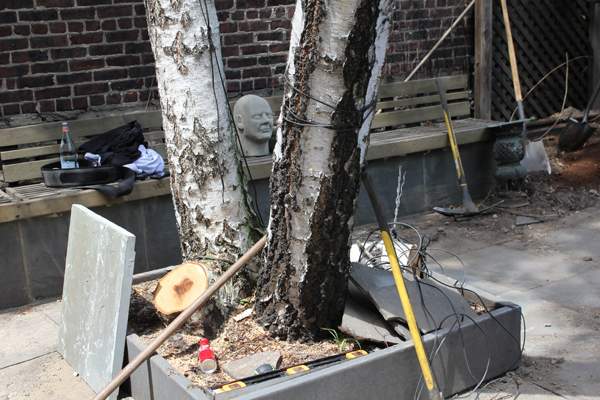 Photo: Claire Lui
The Foundation uses the garden mostly for parties and so it needed a large open space in the middle of the garden to be kept clear for guests to mingle. Also, though the existing benches were great for seating, they had become dilapidated and worn. Paul Keyes and Lindsey Taylor, the style director of GARDEN DESIGN, decided to put in two new benches and refinish the original built-in benches to create a modern and welcoming look for the garden.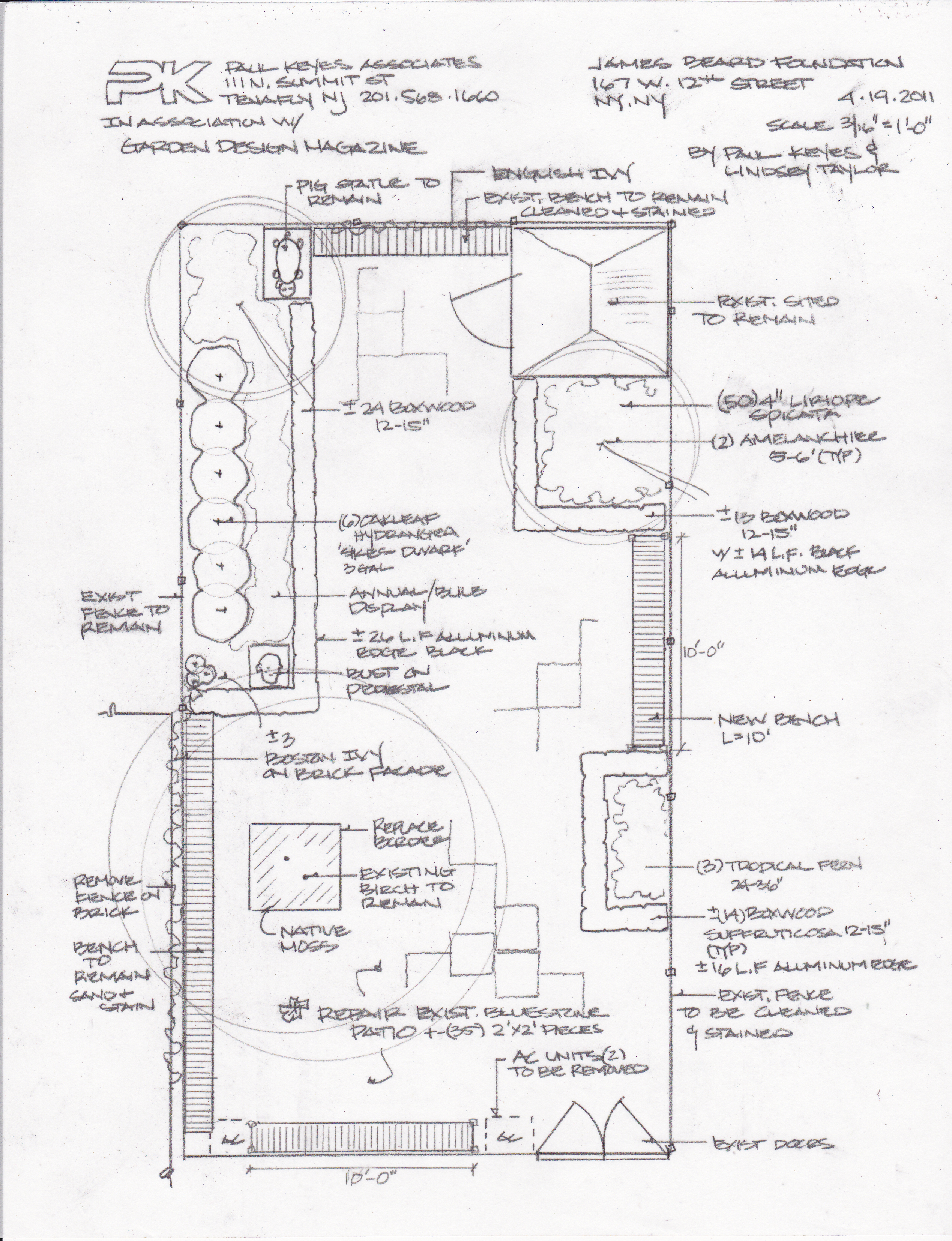 Plan by Paul Keyes. This hand-drawn plan was an earlier version of the renovation plan.

Though the garden is connected to the house's kitchen, the Foundation wanted access to refrigerators directly in the garden. Courtesy of True Refrigeration, three undercounter units will be installed directly into the garden and two single-door units will be put into the storage unit in the back right corner of the space to make outdoor entertaining easier.
The thinking behind the plan
While planning the garden, Keyes and Taylor focused on the objectives of the remodel (to create a stylish spot to meet the entertaining needs of the James Beard Foundation); the budget (small, so many of the existing features were refinished or in the case of the trees, pruned, rather than replaced); and the condition of the garden (small and overgrown, as well as being next to a busy school yard), before drawing up a plan.
Whether you're working with a designer or overhauling your garden yourself, your plan should take into account your objectives, budget, and current condition of your garden as you draw your ideas. And as shown by the two plans for the garden shown, a garden renovation plan will evolve as you start thinking more about what is feasible for your space.
Next week: Working with an arborist and tree care company.