Small Garden Ideas
See how gardeners around the country have created wonderful gardens in small spaces
Small gardens have a lot more potential than you realize. This collection proves just that. Whether dealing with a long narrow space behind a vintage home, a cramped backyard that lacks privacy, or a shabby garden at the rear of a brownstone the possibilities are endless. So don't write off your 40-foot by 20-foot outdoor area just yet — with the right design, it could be an incredible garden.
Landscaping Roof Terraces
When it comes to design-as long as your roof can bear the load of furniture, foot traffic, and plantings-the sky's the limit
Container Gardens
Dress up your tiny garden with these ideas for gorgeous planters full of flowers, veggies and more.
Vertical Gardens
When you're short on space, even the walls can be turned into a garden bursting with succulents, air plants, and more.
Five Excellent Small Garden Designs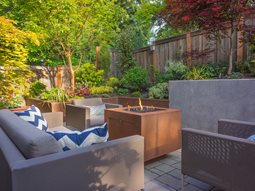 Going Beyond the Straight and Narrow
Size: 65-feet-wide | Location: Portland
Design Tip: You can maximize the livability of a small yard by taking advantage of changes in terrain to segment the space into different living areas. Dividing a garden, even when small, often has the paradoxical effect of making it seem larger.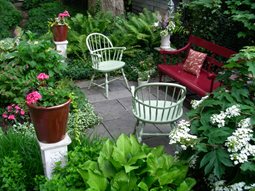 Size: 18 feet wide by 150 feet long | Location: Philadelphia
Design Tip: In small gardens where space is too limited for major focal points, compose a series of mini views within the garden itself, offering interest in every direction while using plants to provide a framework.
Lisa Romerein
Size: 24-by-45-foot | Location: West Hollywood
Design Tip: Divide the garden into outdoor rooms that echo and expand upon the home's interior, giving both inside and out more purpose and making everything feel larger.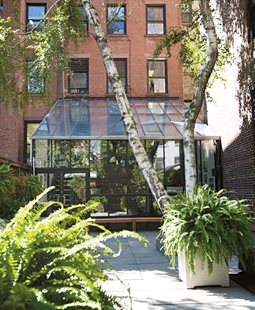 Robin Blair Riley
Size: 45 by 22 feet | Location: New York City's Greenwich Village
Design Tip: If you plan to entertain groups, keep the furniture and plantings along the perimeter of the garden to allow for mingling in the center of the space.
Alexandra Abuza
Size: 25' x 21' | Location: Greenpoint, Brooklyn
Design Tip: When selecting plants for a relatively small space, don't go color crazy - stick with a more monochromatic scheme of cooler colors (such as blues, violets, yellows and silvery greens) - otherwise you may end up with a garden that feels close and confined.
More Small Gardens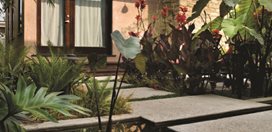 Garden Laboratory
A small courtyard in Venice serves as a showcase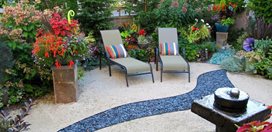 From Dull to Distinctive
A small suburban lot becomes a colorful oasis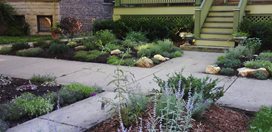 Growing Locally and Sustainably
A small Chicago garden deters from the norm