Designing a Rose Garden
Learn about roses and see pictures showing how they are used in real-life gardens
Swipe to view slides
The red rose has long been a symbol of love (learn more about the meaning of a rose). But the world of roses is much more diverse, with many varieties and colors to choose from. Depending on how they are planted, roses can be used as part of a formal garden, like the famous Versailles, or an informal one such as a cottage garden that also includes perennials. Roses are available in shrub form, as climbers and can even be planted in containers. There is a rose suited for just about any spot in your garden, as long as there is adequate sunlight.
Roses came to popularity due to their beautiful flowers and alluring fragrance. They have stayed popular because they are a tough plant that is long-lived. Repeat-blooming roses will put on a show for many months, but they do require more upkeep as they tend to be more susceptible to insects and disease. Single-blooming roses are great for those who don't want to worry about maintenance, or for those who desire a strong fragrance. In recent years, rose breeders have been working to cross the modern repeat-bloomers with the old roses to create the ideal mix of continuous blooms and disease resistance (to learn more, see this article: David Austin's Garden Roses).
Below we have compiled beautiful rose gardens, ideas for using roses in floral arrangements, and answers to our readers' questions about roses. We hope you enjoy these resources and get ideas for using roses in your own garden.
Rose GardensHere are examples of rose gardens, both public and private, that we find inspiring:
Kevin Lee Jacobs
From Parking Lot to Rose Garden
See how this backyard was transformed from a parking lot to a spectacular rose garden, featuring mainly David Austin varieties.
Claire Lui
This garden, which is open to the public, contains some 500 roses in all shades growing in twenty-four crescent-shaped beds.
Christopher Whelan
Casey Pradelli
In this front garden perennials such as catmint, lady's mantle, foxglove, delphinium, hollyhocks, and peonies mingle with the roses.
Anna Laurent
Floral Design with RosesSee why roses make excellent cut flowers to use in arrangements for special events or everyday life: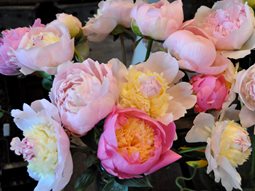 Katherine Anderson
Get inspiration for pairing peonies and garden roses for arrangements for a wedding or a simple vase arrangement.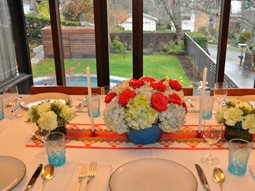 Katherine Anderson
See how Katherine Anderson of Marigold and Mint combines hydrangeas and roses for a classic holiday centerpiece.
Reader Questions
I'm afraid I overpruned my climbing roses this spring. Twelve weeks later, the rose plants still look terrible. Is there any hope that they will bloom again?
See answer
I love the blooms of roses, but the plants look so stark growing alone in a bed. Can I combine roses with other plants for a better effect?
See answer
I put in a dozen hybrid teas five years ago, and they looked awesome for three years. But two years ago they began having trouble. There is severe black spotting on the leaves, which eventually fall off; that leads to weak cane growth and poor roses in general.
See answer
What kinds of perennials do you recommend with roses — low creepers or tall spires?
See answer
Get more gardening advice.