Raised Garden Beds
Often thought of as utilitarian, these raised beds break the mold with their good looks
Raised bed gardens are one of the most productive ways to grow your own food. They give you better control over the soil conditions and allow for quick and easy harvesting of your crops. Raised beds can be simple or quite elaborate depending on your needs and the overall aesthetic you wish to create. Use the information below to determine what type of raised beds you would like in your own garden.
Creating a Raised Bed Garden
Our columnist Kevin Lee Jacobs shows us how to build a raised bed garden and explains why it's easy to grow vegetables, flowers, and herbs in these convenient elevated beds.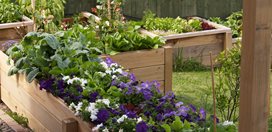 My Garden: Vegetables in New Zealand
A compact garden of raised beds near the beach in New Zealand produces "six packs" of vegetables all year round for this couple, a pair of fine art photographers.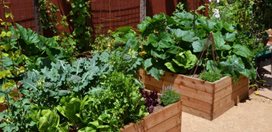 Gardening Advice: Raised Vegetable Beds
A reader's question about designing and building raised beds is answered with tips for creating the ideal raised bed.
Raised Bed Design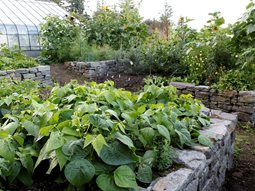 Photo by: Susan Seubert.
Stacked Stone
These raised beds, shown at the height of the growing season, are made from stacked stone. Some gardeners prefer stone to wood for their beds because there is less maintenance. Others chose stone because they love the way it looks. The only downside is that the upfront investment is typically more with stone.
See more of this garden: Portland Garden by a Dream Team of Eco-Friendly Designers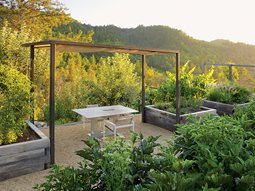 Photo by: Marion Brenner.
Recycled Redwood
These eco-conscious raised beds hold eggplant, squash, tomato, and herb plants. Redwood is a good choice for planters like these because it is more resistant to rot than most types of wood. In fact, this wood has held up so well that it has found a second life in this application. A small shaded table provides an idyllic spot to sample produce at its freshest-straight from the garden.
See more: Eat, Play, Lounge
Photo by: Tim Gainey/Gap Photos LTD.
Woven Wattle
Nothing is ordinary about these raised beds. First, they veer from the norm with their circular shape. Second, they are made of twigs woven together in a basket-like fashion. To complete the look, handmade tepee trellises add vertical support for climbers.
Learn more: Arbors, Trellises, and the Edible Garden
Photo by: Gemma & Andrew Ingalls.
Redwood Box
If you'd like to grow veggies on your deck or patio, try a redwood planter box like this one. Much like raised beds, self-contained planters, offer better soil control and easier harvesting, plus they can be moved around if necessary.
See more of this garden: The Path Less Taken: A Silver Lake Garden
Related ReadingHow to Grow Potatoes in Raised Beds
Design Ideas for Raised Vegetable Gardens