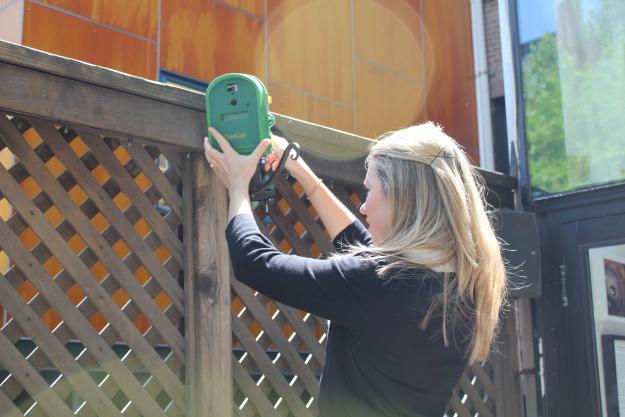 Keri Wilson, GARDEN DESIGN's Integrated Marketing Manager, installs one of the PlantCams in a corner of the garden.
GARDEN DESIGN is working with several partners to renovate the James Beard Foundation house's garden. We'll be posting updates each week for six weeks to show the gradual transformation.
Week 1: Introducing the renovation
Week 2: Working with a landscape architect, designer, and drawing up plans
Week 3: Working with professional arborists
Week 4: Time-lapse videos of the renovation
Week 5: Installing refrigerators
Week 6: The final sneak peek
Time-lapse videos have always been a great way to document plants—if you remember elementary school videos, there was always a segment with a flower blooming and wilting, all within a minute or so.
You can create your own time-lapse movie with the PlantCam, which is designed to create time-lapse movies. Wingscapes, which also sells a BirdCam and ProjectCam, generously gave GARDEN DESIGN two of these cameras and we set them up in the James Beard garden so we could make our own little movies of the renovation in progress.
The resulting three videos show the landscaping crew of Paul Keyes Associates clearing away fallen branches, replacing broken bluestone tile, and planting new hedges and plants. (Don't worry—we'll share the exact plants with you soon.)
Each video, which takes place over a few hours (the time is stamped on the bottom of each video), is a mesmerizing glimpse at the garden. The renovation speeds by like a fast-forwarded version of life and an amazing visual of how a dramatic change can be created in your garden over a short period of time.