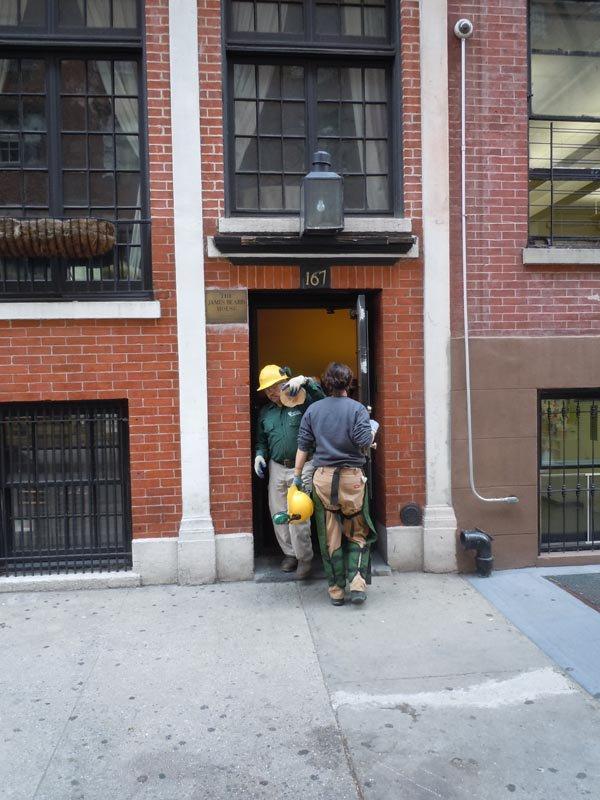 Photo by:
Bartlett Tree Experts
GARDEN DESIGN is working with several partners to renovate the James Beard Foundation house's garden. We'll be posting updates each week for six weeks to show the gradual transformation.
Week 1: Introducing the renovation
Week 2: Working with a landscape architect, designer, and drawing up plans
Week 3: Working with professional arborists
Week 4: Time-lapse videos of the renovation
Week 5: Installing refrigerators
Week 6: The final sneak peek
For pruning and tree removal, GARDEN DESIGN worked with Bartlett Tree Experts to prune the birch tree at the end of the garden into a healthier and more manageable shape.

Bartlett Tree Experts working in the garden. Photo by Todd Coleman.
With a job of this complexity, it was important to work with a certified arborist, which refers to professionals who have maintained credentials with the International Society of Arboriculture. In general, it is recommended that home gardeners leave the pruning of large and established trees to professional arborists who have the proper skills and equipment to trim a large tree.
Photo of a Bartlett Tree Expert worker in the tree. Photo by Bartlett Tree Experts.
Before hiring a tree care firm, you should check to see if your state requires any special licensing for tree services and to make sure that the company that you have hired is fully licensed, as well as carrying personal and property insurance. And of course, go with your gut—interview the company, ask for references, and make sure that you have a good feeling about their qualifications.

Tree branches getting fed into the wood chipper, parked outside the James Beard Foundation House. Photo by Bartlett Tree Experts.
Part of the reason why tree pruning and removal can be tricky has to do with safety. It's important that the people that you hire take the necessary safety precautions to ensure that the arborists are safe, as well as ensuring that there is little damage to your property.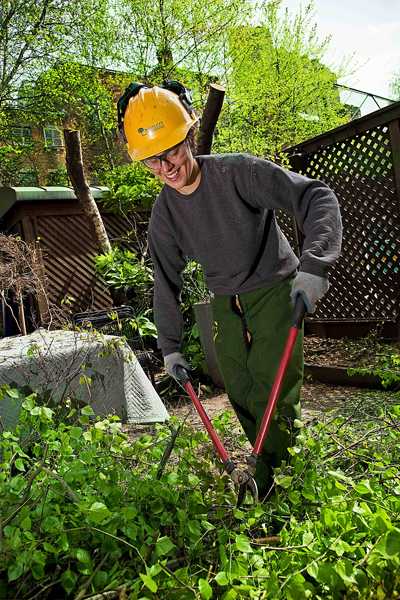 Cutting the branches. Photo by Todd Coleman.
In these photos, you can see the arborists pruning and removing large parts of the birch tree that had become overgrown in the James Beard Foundation's garden. There are more photos on Bartlett Tree Experts Facebook page as well.
Next week: Videos of the renovation!