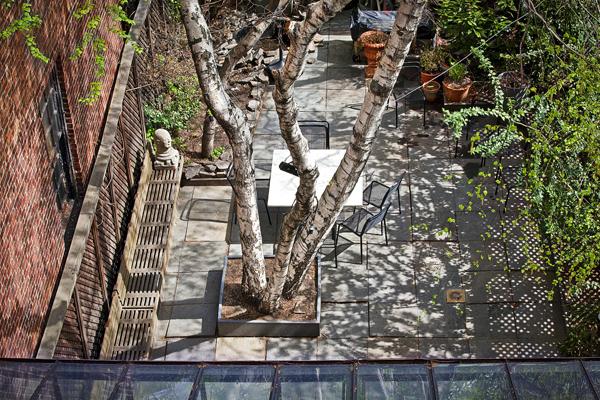 GARDEN DESIGN is working with several partners to renovate the James Beard Foundation house's garden. We'll be posting updates each week for six weeks to show the gradual transformation.
Week 1: Introducing the renovation
Week 2: Working with a landscape architect, designer, and drawing up plans
Week 3: Working with professional arborists
Week 4: Time-lapse videos of the renovation
Week 5: Installing refrigerators
Week 6: The final sneak peek
The James Beard Foundation house, here in New York's West Village, is the former home of James Beard, the pioneering food writer, chef, and personality. After Beard's death in 1985, a group of his friends started the foundation and purchased Beard's house from his estate. Since 1986, the house has been the home of the foundation and the headquarters for the foundation's activities.
Like many New York brownstones, the Beard House has a small and narrow garden, which the Foundation often used for parties. Unfortunately, the garden had fallen into disrepair over the years and needed both structural and cosmetic changes.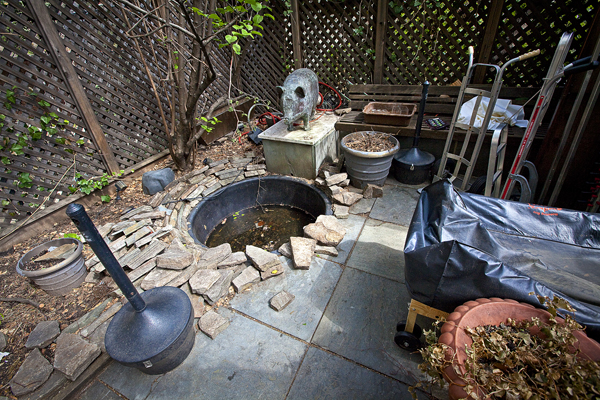 The pig statue in the corner of the garden, before the renovation began. Photo: Todd Coleman
GARDEN DESIGN, partnering with landscape designer Paul Keyes, and with input from our style director, Lindsey Taylor, and her sister, landscape architect Victoria Taylor, helped create a new look for the garden, while trying to retain many of the original elements of the garden, as well as trying to keep costs down. A number of companies, including Bartlett Tree Experts, generously donated their services and goods to help transform the garden as well.
We'll be chronicling the evolution of the garden over the next few weeks, showing the before-and-after of the garden, as well as shots of the renovation in progress. We hope you'll be able draw some ideas from our renovation for your garden and how a small budget can make a big difference in a garden renovation, when matched with careful planning and thoughtful design.
Week 2: Drawing up the plans for the renovation and what to keep in mind when working with a landscape designer.