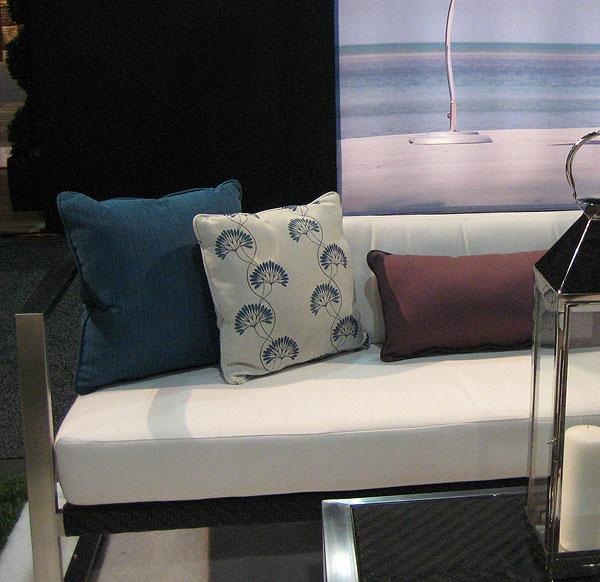 Photo by:
courtesy of Sunbrella
Not everything that happens in Vegas stays in Vegas. The 2010 Hospitality Design Expo took place May 19 – 21 in Las Vegas, and it featured so many new outdoor products from fabric to umbrellas to new furniture frames, that it's impossible not to talk about it. Exciting new color combinations and innovative product solutions were around every corner making this THE show for serious designers, architects and specifiers.
Foundation colors continued their shift toward cooler neutrals from cool whites to silver, pewter and charcoal. Even browns were a little less warm. The cooler neutrals were perfectly paired with the orange, light and dark turquoise, pink and purple which were also prevalent on the show floor. As shown in the image above, Andrew Richard Designs made an elegant statement with grey, dark turquoise and plum.
JANUS et Cie and Deltropico both showcased new frames in bright pink while Veneman put their eggs in the orange basket featuring both frames and fabrics in a perfectly livable orange. Neoteric Luxury combined innovative frame design with an on-trend palette of turquoise and orange.
For your poolside enjoyment, Floating Luxuries promoted their cushions that also function as floats, while TUUCI presented their new Manta umbrella design as well as a host of other umbrellas, cabanas and shade solutions.
The Sunbrella booth, a one stop shop for designers trying to locate the perfect fabric, featured fabrics from a host of new decorative jobber collections including the new Silver State / Alaxi Kate Korten and Tommy Bahama collections as well as new fabrics available through S. Harris and Sina Pearson.
Vegas is a fun and sometimes distracting location for a trade show, but the show floor was buzzing for the entire two and a half day expo, and I'm sure everyone will be talking about the new products and designs for a while to come.