Our Guide to Conifers
Learn how evergreen trees can be used to create a beautiful backbone for a four-season garden
The versatile conifer has no rival for adding year-round interest to a garden. Since many species are naturally quite variable, an almost infinite selection of ornamental selections-in a broad range of sizes, forms, colors, and textures-assure that there's a conifer to suit nearly every garden.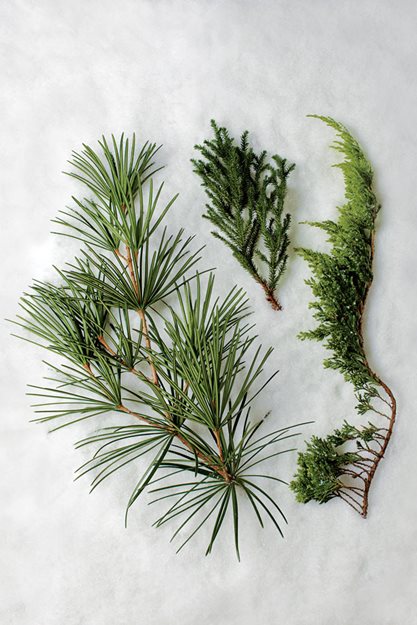 From left to right:

1: The whorled foliage of the Japanese umbrella-pine (Sciadopitys verticallata 'Wintergreen') remains dark green throughout the winter.

2: One of many dwarf forms of Japanese cedar (Cryptomeria japonica 'Hino'), this cultivar has tiny needles and a dense form.

3: Gold-tinged creeping juniper (Juniperus horizontalis 'Mother Lode') is a slow-growing form of this hardy ground cover that tolerates hot, dry locations.

(Photo by: Jose Picayo)
Miniature or dwarf forms work well where space is limited, and these slow growers—they do continue to grow beyond dwarf size—often vary in form from the full-size varieties of the species, creating striking shapes.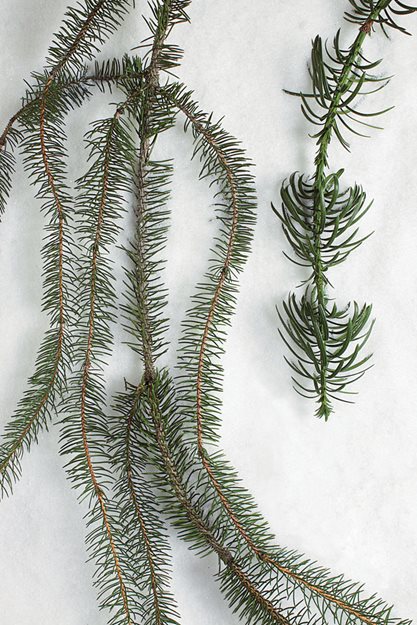 Left: Snake branch spruce's (Picea abies 'Virgata') draping branches have a dramatic appearance.

Right: Spiral plum yew (Cephalotaxus harringtonii 'Fastigiata'), right, is shade-tolerant.

(Photo by: Jose Picayo)
Bright golds and silvery blues belie the name "evergreen," as does variegated foliage with splashes and stripes of white or yellow. Skilled gardeners use seasonal color changes—such as contrasting new growth and winter bronzing—as well as the broad and varied assortment of textures to complement or contrast existing plants.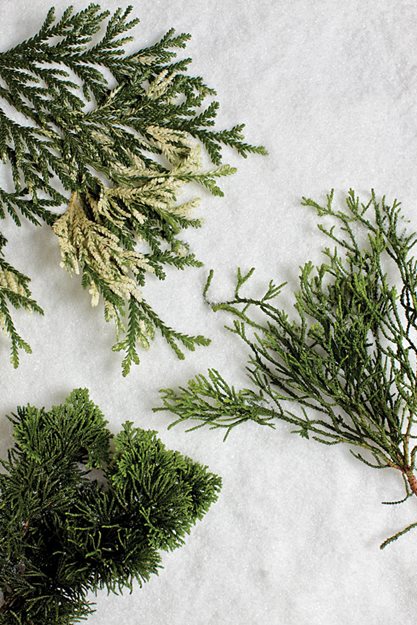 All three of these varieties tolerate partial shade.

Top left: Hiba arborvitae (Thujopsis dolabrata 'Variegata').

Bottom left and right: Hinoki cypress (Chamaecyparis obtusa 'Verdon' and 'Tsatsumi Gold').

(Photo by: Jose Picayo)
Conifers are unusual plants and excel in unexpected uses. As traditional ground covers spilling over the side of container planting or as a hedge enlivened with a mixture of species or cultivars, conifers can create a four-season tapestry of texture and color.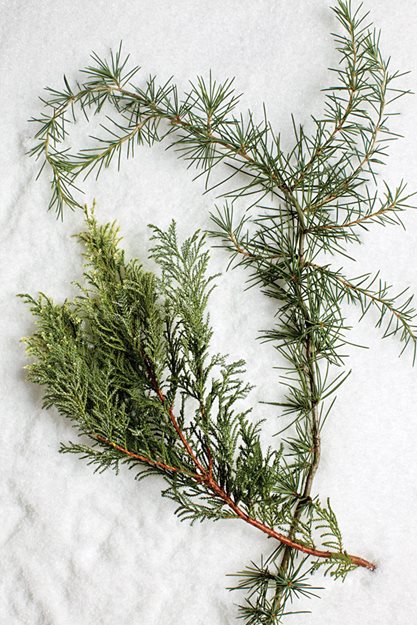 Left: Variegated sawara cypress (Chamaecyparis pisifera 'Argenteovariegata') has feathery foliage.

Right: A contorted deodar cedar (Cedrus deodara 'Twisted Growth').

(Photo by: Jose Picayo)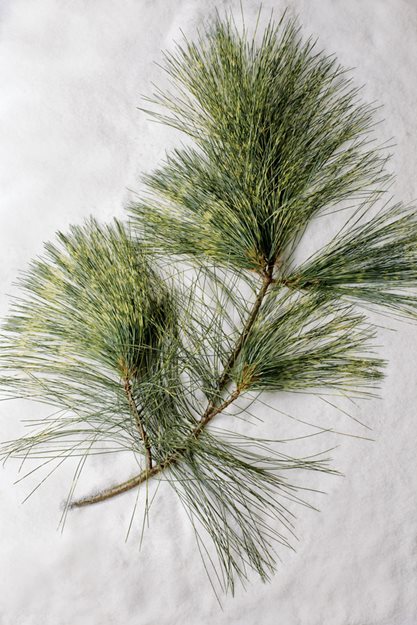 The long pendulous needles of the variegated Himalayan pine (Pinus wallichiana 'Zebrina') are marked with yellow bands, giving this elegant species a unique striped look.

(Photo by: Jose Picayo)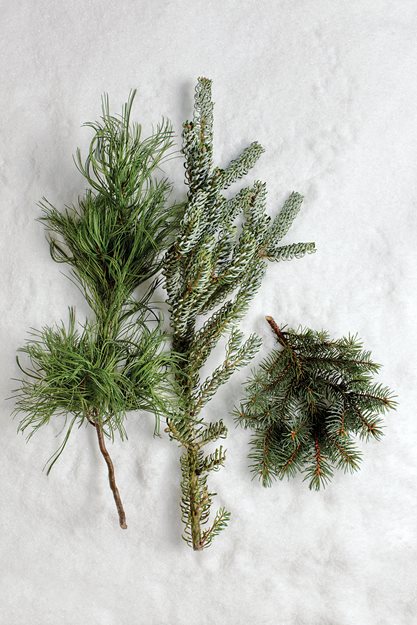 Left: The soft twisted needles of contorted white pine (Pinus stobus 'Contorta') offer a unique texture to this commonly planted species.

Center: The needles of the silver Korean fir (Abies koreana 'Silberlocke') curl up around the branches, showing off the silvery undersides of this fir species.

Right: The popular dwarf blue Colorado spruce (Picea pungens 'R.H. Montgomery') is a compact pyramidal form named for Col. R.H. Montgomery, who donated his legendary conifer collection to the New York Botanical Garden, where the original plant still grows today.

(Photo by: Jose Picayo)
All cuttings were taken from the Benenson Ornamental Conifers, a collection of cultivated conifers at the New York Botanical Garden. Deanna F. Curtis is an associate curator at the NYBG.
More Evergreens for your Garden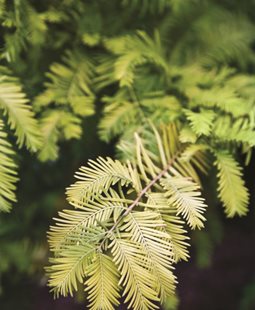 Chelsea Stickel
Metasequoia glyptostroboides (Dawn Redwood)
A golden form of this ancient species (fossil records date back some 90 million years), Metasequoia glyptostroboides 'Gold Rush' has dawn redwood's signature pyramidal profile and feathery foliage. Needles hold their color throughout the growing season, then turn amber in autumn and fall from the tree (dawn redwood, like the similar bald cypress, is a deciduous conifer). Reaches 12 to 15 feet in 10 years. Zones 5 to 8.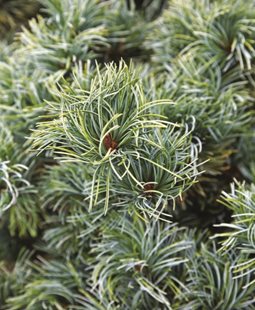 Chelsea Stickel
Pinus parviflora (Japanese White Pine)
Reaching 2 to 3 feet tall and 6 to 8 feet wide in 10 years, Pinus parviflora 'Fuku-zu-mi' is a slow grower, with lush tufts of twisted, blue-green foliage. An ideal specimen plant, this medium-size tree naturally has an unusual, irregular, spreading form that makes it look windswept. Zones 5 to 8.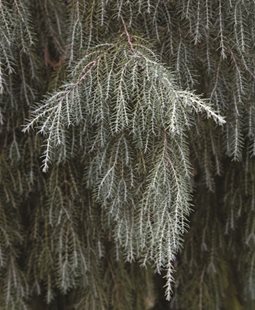 Chelsea Stickel
Juniperus cedrus (Canary Islands Juniper)
Native to the Canary Islands and Madeira — Juniperus cedrus has been listed as endangered since 2000 by the International Union for the Conservation of Nature, but it is starting to regain ground. Both tall and broad, ultimately reaching more than 50 feet in height, this juniper is cloaked with graceful, dramatic swags of pendulous blue-green foliage. Zones 7 to 9.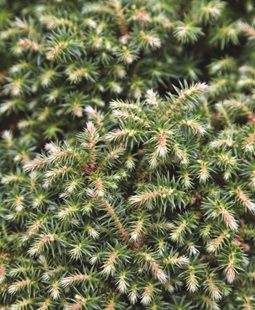 Chelsea Stickel
Cunninghamia lanceolata (Hayata Tree)
A dwarf form of Taiwan-native Cunninghamia lanceolata, 'Little Leo' forms a globe of soft, densely packed needles, looking like a pincushion. After 10 years, this rare conifer will still be less than 3 feet tall. Leaves are dark green during the growing season, taking on a bronzy, purplish cast in winter. Zones 7 to 9.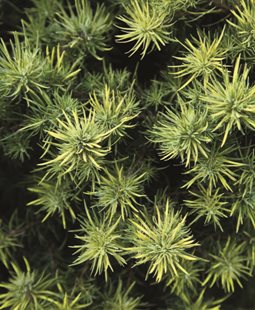 Chelsea Stickel
Larix gmelinii (Dahurian Larch)
Another deciduous conifer, Larix gmelinii 'Romberg Park' is a dwarf form of Dahurian larch, comprising parts of the northernmost forest strands in the world and found in the vast taiga forests of Siberia and northeastern Asia. Creates an irregular mound, 2 to 3 feet tall and 4 to 5 feet wide, and is covered with short tufts of bright-green needles. Foliage turns yellow in autumn before making its exit. Zones 2 to Pacific Northwest 9.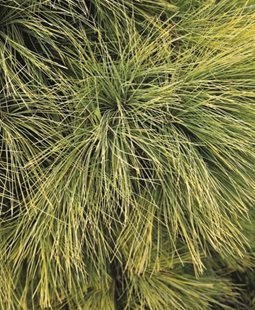 Chelsea Stickel
Pinus strobus (Eastern White Pine)
Discovered growing in Vermont, Pinus strobus 'Louie' has brilliant golden needles, which hold their color year-round and really pop against the darker foliage in the shaded interior of the tree. Grows into a broad pyramid, about 10 feet tall and 6 feet wide in 10 years. Zones 3 to 8.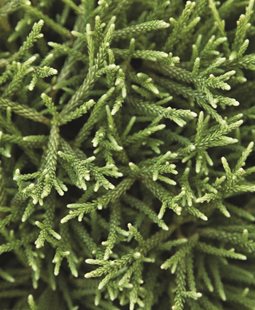 Chelsea Stickel
Cryptomeria japonica (Japanese Cedar)
Discovered as a witch's broom on Cryptomeria japonica 'Gracilis', C. japonica 'Little Champion' is a dwarf form with a tidy globular shape, about 1 to 2 feet tall and 2 to 3 feet wide in 10 years. The finely textured needles, pale-green color and compact size make this a perfect container or rock-garden plant. Zones 6 to 8.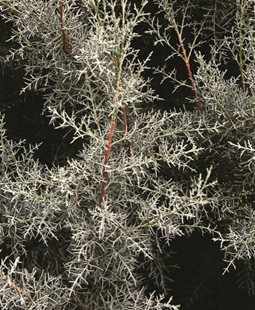 Chelsea Stickel
Cupressus arizonica var. glabra (Blue Arizona Cypress)
Frosted-blue foliage on delicate branches makes a striking contrast against the brown bark of Cupressus arizonica var. glabra 'Blue Pyramid'. Much taller than wide, this upright, symmetrical form of Arizona cypress can reach 20 to 25 feet high by 10 to 12 feet wide in 10 years. Zones 6 to 9.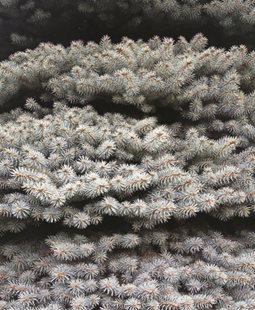 Chelsea Stickel
Picea pungens (Colorado Spruce)
An elegant, slow-growing small tree, Picea pungens 'Hillside' is a dwarf form, reaching 3 to 6 feet tall in 10 years, creating a flattened pyramid. Stiff bottlebrushes of needles are blue-gray-green. Zones 3 to 7.