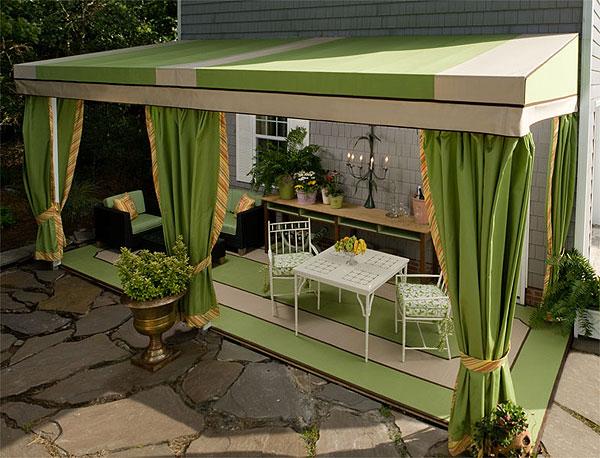 Photo by:
photo courtesy of Sunbrella
People love living outdoors – it's really that simple. Whether you dream of an elegant space for dining, a relaxed sitting area to enjoy your morning newspaper or an outdoor entertainment area, the possibilities are endless. And while a perfectly placed deck or patio serves as a great foundation, there are other ways to create the outdoor room that you've always imagined.
Take a look around your yard - do you have a detached garage or storage building that can support a retractable or fixed awning? If so, consider creating a shady outdoor oasis that is a little further away from your house. Think of it as a "destination outdoor room," and let it serve as the focal point in your backyard. Create a winding walkway, and landscape it to draw guests towards your shady retreat. Randy Trull, owner of Classic Designs of Wilmingon, in North Carolina created the oasis shown here.
Don't have a detached building? Maybe you have a walkway that could be widened to accommodate a covered arbor or pergola along with a bench or chaise lounge. If building a pergola exceeds your handy-man capabilities or budget, don't give up. Many companies offer outdoor sofas, daybeds or chaise lounges with attached canopies, an elegant solution to both your seating and shade needs.
Whether you live in the Northwest or South Florida, you'll want the protection of an awning or shade structure to extend the seasonality of your outdoor living space. The added bonus is that all Sunbrella awning fabrics have a UPF of at least 50, garnering the Skin Cancer Foundation's Seal of Recommendation.
Once you've created your sheltered space, add furniture and accessories in beautiful, durable Sunbrella fabric for a cohesive look. Then, sit back with a cool drink and a good book, relax and think of your shady space as a true retreat away from home.