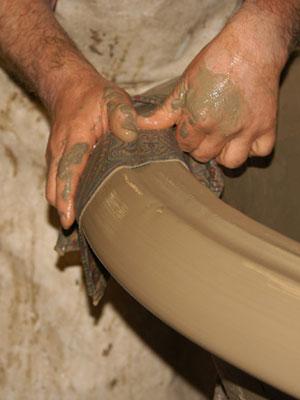 Kirk Laing, owner of Tuscan Imports, Inc., sat down with us last week to answer all of our questions about terracotta, one of our favorite classics. Read on for insider tips, plus learn how to spot quality terracotta. To view the full Tuscan Imports product line, visit tuscanimports.com.
First of all, why choose terracotta?
Terracotta is timeless. It's not trendy—it's been around for thousands of years and has withstood the test of time. What worked ages ago still looks great today. Terracotta is a true classic, and that's why people love it. Plus, quality terracotta is highly durable. If you buy a high-quality piece of terracotta, it will last a lifetime.
How can you tell if a piece of terracotta is high-quality?
There are two factors that affect the quality of terracotta.
The first and foremost is the quality of the clay. You might see two similar items made from clay from different regions, and these two items may be drastically different from a quality perspective. This happens because different clays have different chemical compositions. The clay in Impruneta, Italy is the best in the world. It's high in iron and makes incredibly durable terracotta.
The second factor is craftsmanship and detail. True artisans have a keen eye and pay close attention to proportion and detail. Less accomplished workshops produce items that have wrong proportions and mediocre detail work.
It's important to purchase your terracotta from someone who knows and sells quality products.
What exactly makes a clay more refined?
The mineral composition of clay is everything. The clay from Impruneta is high in iron and is ground onsite, which makes it unique. Other regions use clay purchased in blocks from huge factories which produce very consistent processed clay. Impruneta clay is a natural clay that is mined locally. That's what makes it exceptionally beautiful—no two pots will be alike.
Do you have any insider tips for terracotta care?
If you buy quality terracotta, then you don't have to do anything to make it last. Impruneta pots, in fact, are guaranteed for life not to flake or crumble. The one recommendation I do have is to make sure that you have proper drainage holes in your pots. Standing water in freezing temperatures is terracotta's worst enemy.
Should you clean terracotta?
This question makes me cringe, because most people dream of beautifully aged terracotta pots, and that sort of weathered look takes years to achieve. That's the beauty of terracotta: you can have it for years, and it changes as it ages. The older a piece of high-quality terracotta, the more beautiful, in my opinion, it can be.
For more information on Tuscan Imports, Inc., or for specific requests, email info@tuscanimports.com or call (843) 667-9101.