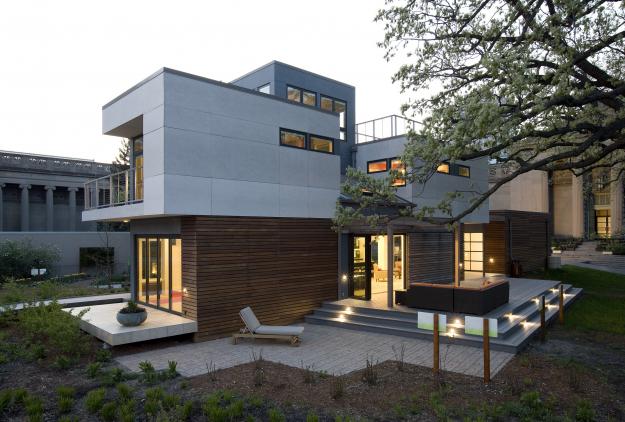 Photo by:
courtesy Museum of Science and Industry
Since opening to the public in 2008, the Smart Home of Chicago's Museum of Science & Industry has seen 200,000 guests and undergone two redesigns and its most recent makeover will be unveiled on March 4, 2010.
Next up? Smart Home 2010 featuring interiors by Midwest Living features a more contemporary style, reflecting the lifestyle of an empty-nester couple and follows last year's successful family-friendly design that included a "green" baby nursery and a video-monitoring system for parents.
Visitors this year will see "smart" technologies with a continued focus on energy efficiency. "Our objective was to enhance the already strong green message of the Smart Home with an interior design that highlights the natural environmental beauty of earth and visually demonstrates the importance of preserving its many natural resources," said Carol Schalla, senior home and projects editor at Midwest Living. The landscape surrounding the home, created and maintained with the help of the University of Illinois Extension, will feature native plantings and a sustainable vegetable garden, among other eco-friendly gardening ideas.
The home, designed by architect Michelle Kaufmann Designs and built by All American Homes of Decatur, fits into a standard city lot, and illustrates how sustainability and elegance don't have to be sacrificed in an urban environment. This focus on the empty-nester demographic was a perfect fit for the Smart Home, which was named "Chicago's Greenest Home": minimizing home maintenance and maximizing efficiency while keeping natural elements in mind. However, people from every stage of life can still look to this exhibit for inspiration on how to make their homes more efficient.
The exhibit opens March 4, 2010, and runs through January 2, 2011. Visit msichicago.org or call (800)GO-TO-MSI for more information.