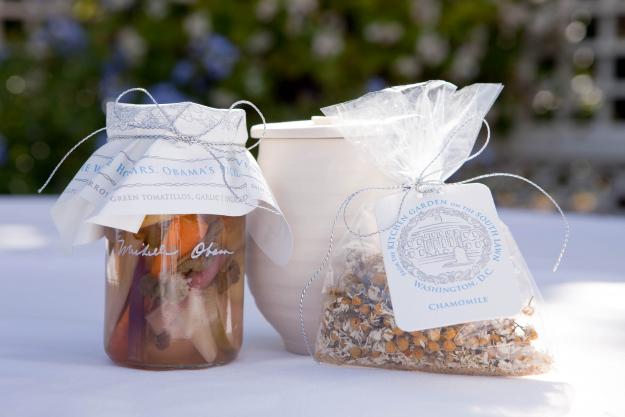 photo: Chuck Kennedy
Homemade gifts from our gardens are a wonderful idea for holiday presents, preserving summer's bounty as tasty treats all winter long. And First Lady Michelle Obama, like any proud gardener, took the opportunity to hand out her pickles and chamomile tea, made from plants grown in her White House Garden, at her recent lunch at Stone Barns Center for Food and Agriculture with the spouses of visiting U.N. dignitaries.
Each guest received a basket with a jar of pickled vegetables, including sun gold tomatoes, okra, cucumbers, chocolate bell peppers, carrots, lemon verbena, and fresh herbs, as well as a bag of chamomile seeds (and a tea canister, too). And it looks like someone at the White House has been reading design blogs, with each jar and bag tied with blue-and-white baker's twine and topped with custom illustrated tags and wrappers from California design team CRONAN. As a final personalized touch, it seems like Michelle Obama signed each jar with a silver pen--a sweet and easy way for any gardener to add an elegant detail to homemade pickles, jams, or preserves.