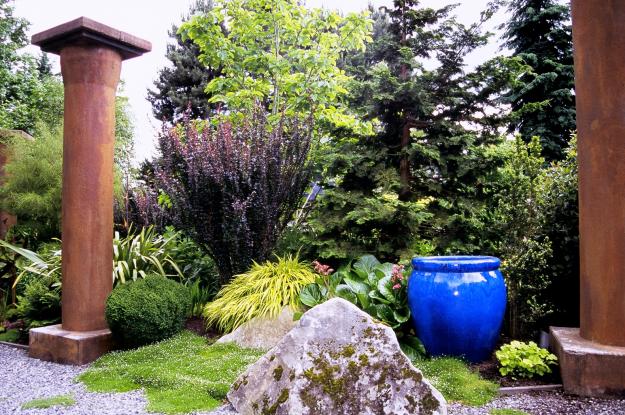 In 2007, Garden Design magazine awarded Seattle container designer Tina Dixon of Plants a la Cart, and her colleague Mike Jeppesen of Sammamish Landscape the annual Golden Trowel Award in the professional category for their renovation of the residential landscape owned by Tina and her husband Paul Stredwick.
The garden is filled with mostly foliage plants - in golds, burgundies and greens - that are revealed in pleasing layers of texture. Tina's penchant for the vibrant spectrum of blue dominates the architectural elements, including a dramatic arbor, background walls, fencing and a charming entry gate. No fewer than 20 container plantings accentuate the palette and show off Tina's many talents as a designer of potted landscapes. Whimsical garden sculpture is used to delight and surprise, including an oversized set of blue concrete pears, a 7-foot fork by metal artist Wil Case (which holds an oversize nasturtium) called Tinus Herbavoris, and a full-sized concrete sheep.
"I knew blue would be a great foil for the plants," she says."It's one of those colors that sets off and complements so many other colors" in the garden.
This intensely-hued garden is rarely open to the public, but next weekend, Tina and Paul are hosting two garden events to benefit Hopelink, a local social service agency that helps families in transition.
On Sunday, August 15, 2010, you can feast your eyes on this delightful landscape and help people in need.
From noon to 5 p.m., there is an Open Garden tour, with tickets at $50 per person; click here for ticket information.
From 6-8 p.m., a private Garden Party will be held, $150 per person. The Garden Party benefit for Hopelink includes wine, hors d'oeuvres and music by The Chromatics. Knowledgeable docents will be on hand to answer questions during the festivities. For Garden Party details and ticket reservations, follow this link. Or call 425-897-3703.
For a gallery of my photos of Tina's garden, follow this link to my web site: