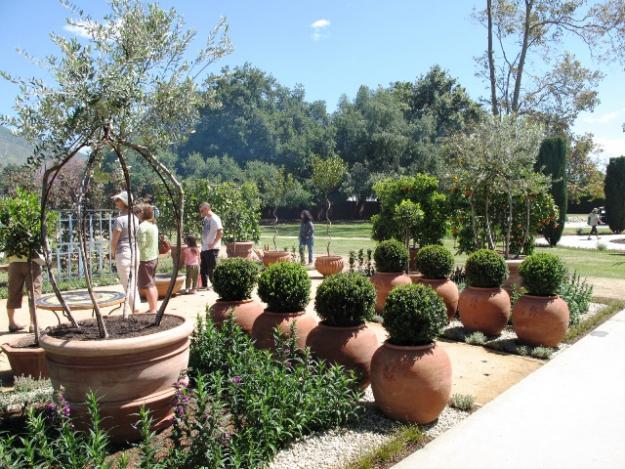 I'm a sucker for a flower show, but I'm especially drawn to the LA Garden Show, a three-day outdoor event at the Los Angeles Arboretum and Botanical Garden in Arcadia, just east of Pasadena. Held April 30, May 1 & 2, the event drew thousands of gardening fans to see al fresco-style gardens displays, listen to informative lectures, shop for uncommon plants, and perhaps pick up one-of-a-kind garden art, sculpture, pottery and other must-have objects for their own gardens.
With echoes of Garden Design's popular feature, also called "Living Green," this year's theme was "Living Green: Essentials for the Home Gardener." The eleven designer gardens featured achievable ideas for homeowners in search of better ways to use their backyards. Sustainable practices, recycled materials, edible features, Mediterranean and California low-water use plants, and even a stylish shed highlighted some of the best concepts for the Southern California landscape.
Members of the Greater LA chapter of the Association of Professional Landscape Designers (APLD) teamed up to create a fabulous group installation called "The New California Garden." With beautiful and sustainable ways to improve a residential landscape, the garden featured distinct vignettes such as a citrus orchard, a rain garden, a perennial border of waterwise Australian and South African plants, a California native plant border, a succulent wall, a Woolly Pocket wall-system containing habitat plants and nectar sources for pollinators, a small-scale vegetable garden, a meditation garden, a permeable patio and Laura Morton's clever dog shelter with a green roof.
Shown in the photograph above, the "Terra Cotta Garden" also caught my imagination. The thoroughly Mediterranean-styled space was a collaboration between Pasadena landscape designer Sally Farnum and Eye of the Day, a garden art and Italian pottery emporium based in Carpinteria, Calif. By limiting her palette to evergreen foliage plants such as boxwood, rosemary, olive trees and citrus, and pairing them with terra cotta, Sally created a semiformal landscape well-suited to California's outdoor lifestyle. Her design appealed to all of the senses. In its simplicity it was also quite elegant.
You can read my full report and see many more photographs from the show here.