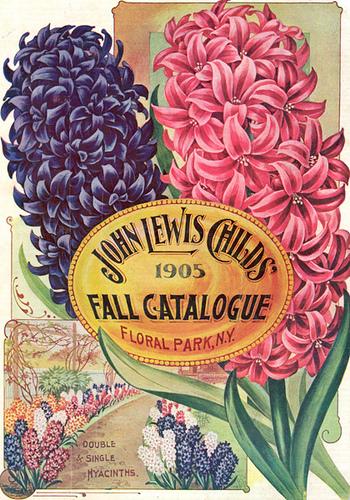 THERE WERE GARDENERS here before us, and they cultivated a much wider assortment of plants than we can find today in most of our nurseries and garden catalogues. In 1886, the D.M.Ferry company offered 135 varieties of hyacinth. How many are there today in our common bulb catalogues? Just a few.
Old House Gardens is a small company that sells antique heirloom bulbs, founded by landscape historian Scott Hurst. In 1983, he bought a derelict Queen Anne house in Ann Arbor, Michigan. Discovering forgotten peonies and tiger lilies in his backyard, he realized that many bulb varieties, growing in old gardens and graveyards across America, were in danger of becoming extinct.
Unlike most of the bulbs we order from catalogues and plant at this time of year, 99% of which are from the Netherlands, many of the historic bulbs sold by Old House Gardens are native and regional, from small growers in 14 states and their own urban micro-farms in Ann Arbor. Some date back hundreds of years...
Click right here to pop over to casaCARA, where you can read more about antique bulbs and find out 8 good reasons to grow them.