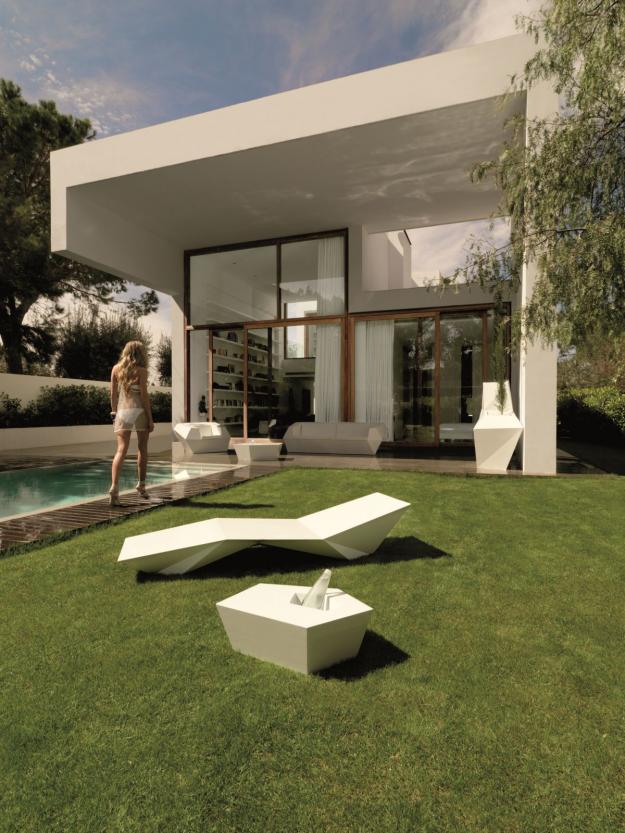 The irony of outdoor spaces is that when it gets too hot they are almost worse than indoors! Getting a little fresh air becomes impossible. However, over the past few years clever designs have made the hunt for shade easier. We have seen the rise of new options: the individual parasol, creative shade furniture, amazing sun sails, etc...
This year, designers seem to have taken on the challenge of hydration and cool drinks.
The cooler/table
Quite naturally as we get used to multi-tasking furniture, an increasing number of low tables either include a rack for drinks and bottles or actually incorporate an ice bucket or cooler 'slot'. Designed by Domani, the always chic Belgian brand, the Cool Table is just what its name suggests! In zinc, the oval shaped low table has a 'slot' to keep your drinks fresh. Perfect for pool parties!
Now Vondom, the Spanish creative leaders, have also included in their super edgy new Faz collection a low table (pictured) with such a feature. I am pretty certain this is about to be a standard feature!
The over-sized ice bucket
I think it is fair to say that Belgian brand Extremis was the first to bring one of these to the market. The very successful IceCube works as an oversized ice bucket for parties but can be used the rest of the time as a seat or a space divider.
This year at the Milan furniture fair, Serralunga followed in their footsteps with the new LLUNA Ice. Again, it seems this will soon be a must have for all ranges!
Given that it has just been announced that June was the hottest month ever, I hope it will encourage more designers to help us beat the heatwave!