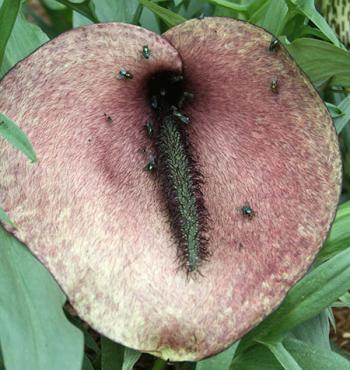 Photo by:
Plant Delights Nursery
This post might be better titled Plant Repulsion, rather than Plant Lust, but our featured plant is still pretty awesome.
When I went to the Brooklyn Botanic Garden yesterday for Plant-O-Rama, I went to Tony Avent's lecture, which was hilarious, informative, and surprisingly ranchy. While showing a slide show of plants from his Plants Delights nursery and catalog, he would cheerfully describe certain plants as not being fit for children's eyes and others as the result of two plants having gotten together at night, after listening to a little Barry White. But the plant that stole the show was the Helicodiceros muscivorus, or the Pig Butt Arum. (Other people call it the Dead Horse Arum, which is hardly a more flattering name.)
As Avent said, it looks like a pig's butt and it smells like a pig butt. According to the catalog it's quite easy to grow, for zones 6-10, in part sun and light shade, if you want a fly-attracting, smelly, hairy, and ugly butt growth in your garden.
The catalog copy says: "The open flower resembles the backside of a flatulent pig...in image and in fragrance. If you grow this, it's best not to mention it on your eHarmony profile."
Chromolithograph from Dutch antique flower books and print dealer Antiquariaat Jan Meemelink. Available for €75.
And here's an engraving of the same plant from 1849, from Flore des serres et des jardins de l'Europe, by Charles Lemaire and others. Published by Louis van Houtte, Flore des serres et des jardins was a monthly magazine that also served as a very fancy catalog for the publisher's nursery, which was the largest nursery of its time in Europe. It appeared for almost forty years, with these amazing chromolithographs. Can you imagine receiving such a catalog every month today? Wow. In any case, it's good to know that this plant has been grossing people out for centuries.