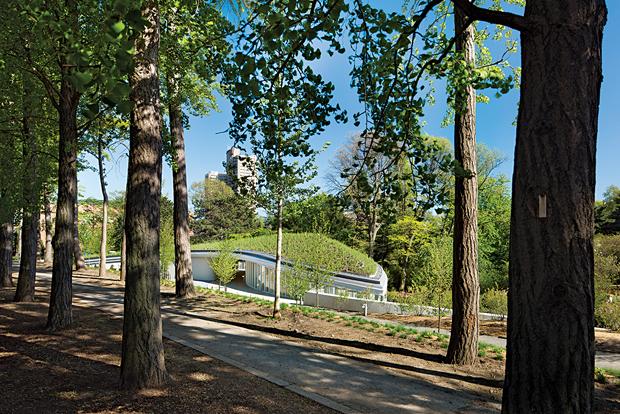 Photo by:
Albert Vecerka/ESTO
The Brooklyn Botanic Garden is experiencing a growth spurt. This 52-acre urban Eden, located in the heart of the borough and separated by a parking lot from the Brooklyn Museum, opened a new visitors center in May that defies easy categorization.
The 20,000-square-foot, 400-foot-long sinuous structure integrates itself into the landscape with 60 percent of it embedded in an existing hillside. "There's an element of seduction," explains architect Michael Manfredi of Weiss/Manfredi. "You never see the building in its entirety. It's building as topography—the roof curves and walls twist."
The serpentine structure's most notable feature is its two roofs: one covered in copper, echoing that of the garden's McKim Mead & White administration building, the other, a leaf-shape green roof (pictured above). Typically, planted rooftops have a limited number of species. But here, a 10,000-square-foot garden is covered with 40,000 plants, spring bulbs, and perennial wildflowers. "It's like a planted hillside, experientially unfolding," says Marion Weiss. "It's chameleonlike; it changes in different seasons like a Möbius strip." Visitors can easily access the roof as well as a terraced garden flanking the hill in which the building is nestled.
Inside, the building includes interactive exhibits, a gardening shop where plants are sold, and a soaring leaf-shape event space. The surrounding grounds will be landscaped with 60,000 plants, including cherry, sweet bay, and black gum trees, viburnum, native roses, and water-loving rain garden plants.