Photo by:
RHS Chelsea Flower Show
The 2012 RHS Chelsea Flower Show started today and will run through May 26. The best site for information is probably the official RHS Chelsea Flower show site, which lists information about how to get tickets, winners, videos, and more.
-Best in Show went to Cleve West, for his Brewin Dolphin garden (above).
-Chelsea Flower Show 2012, live as it happened [The Telegraph]
-Slide show of new plants introduced this year at the Chelsea Flower Show, including a close-up of the RHS plant of the year, Digitalis 'Illumination,' bred by Thompson & Morgan, a foxglove with tropical coloring. [The Guardian]
-Why you should consider going to the Chelsea Fringe Festival. [The Independent] (Plus: Our take on the Fringe Festival.)
-Even the Duchess of Cornwall (aka Camilla) will be visiting the Chelsea Fringe Festival! Will she partake in the bicycling beer garden? [The Telegraph]
-Gossip from the Chelsea Flower Show. [The Guardian]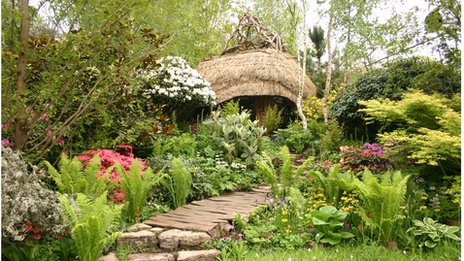 -Gold prize winners include the Furzey Gardens (above), created by a team of young adults with learning disabilities, despite including rhododendrons, which are "considered widely out of fashion by the horticultural elite" [BBC] and Sarah Price's Telegraph garden (below). And read our Q&A with Sarah Price!

-Gardeners struggle to make flowers bloom for the show. [The Telegraph]
-Video of the show. [BBC]
-David Austin unveils five new varieties of roses. [Shopshire Star]
-Peter Beales's roses win the gold, though. [BBC]
-The Queen visits the Chelsea Flower Show... [Hello!]
-...and stands in front of Diarmuid Gavin's 24 meter-high garden, complete with Chelsea pensioners on every level. [Mirror]