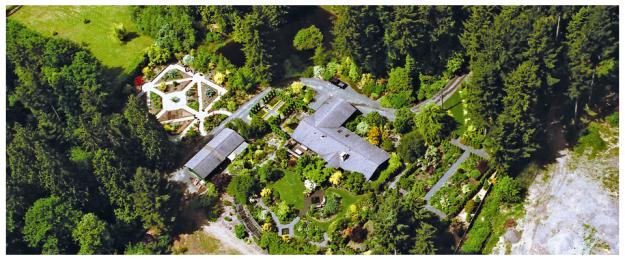 If you saw our slide show last week about the sale of Heronswood, the famed nursery garden near Seattle, you might be intersted in knowing the outcome. After the auction that was held on June 15, a buyer has been announced. The assets of Heronswood Gardens and Heronswood Nursery were sold to the Port Gamble S'Klallam Tribe, the Native American Tribe that has its ancestral land on the location of the garden's 15 acres on the Kitsap Peninsula, in Kingston, Washington.
The final selling price has not yet been disclosed. In the press release about the sale, George Ball, Chairman, W. Atlee Burpee & Co., which has owned Heronswood for the past 12 years, said, "The Port Gamble S'Klallam Tribe has agreed both to preserve the historic gardens, and to use the facilities to educate their members, as well as the public, about native plants. We hope to assist it in carrying out its mission, with support from the Burpee Foundation, since it is entirely consistent with the work we are currently involved in throughout
the nation."
The nursery and its assets, including the website, the catalogs, and the trademarks were included in the sale, but Burpee will continue selling the past Heronswood varieties and collections.